The Bitcoin price suddenly jumped past the $26,000 mark on March 14, reaching a nine-month high in the process. The largest cryptocurrency by market capitalization, Bitcoin (BTC), extended its rally, surpassing the $26,000 mark for the first time since June 2022.
BTC surged to intraday highs of $26,553 according to the TradingView chart, and at the time of writing, it was up 16.67% over the past 24 hours to $26,089.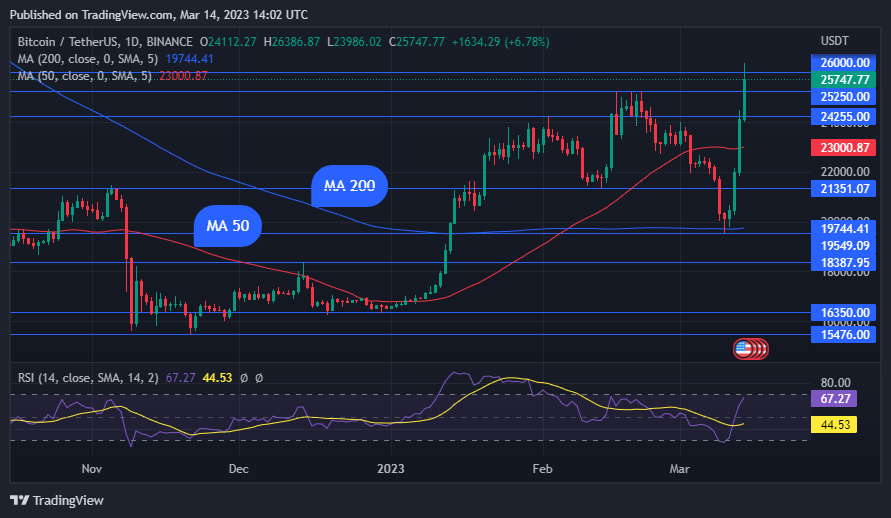 The recent gains follow the latest Consumer Price Index (CPI) release for February, which saw inflation fall to 0.4% from 0.5% in January, in line with economists' estimates.
In line with expectations, inflation decreased from 6.4% to 6.0% on the year-over-year basis from the previous month. Markets had anticipated that the Fed would approve an additional 0.25 percentage point hike to its rate benchmark going into the announcement.
With the CPI report, that likelihood grew, and traders are now estimating that there are higher chances that the Fed will raise interest rates by a quarter point.
According to Coinglass, $158 million of short positions or bets were liquidated in the last 24 hours as Bitcoin's rally came as a surprise to many, who had anticipated falling prices following the closure of two important crypto-friendly banks last week and the USDC stablecoin depeg over the weekend.
Other factors
Bitcoin had fallen to lows of $19,568 on March 10 following the sudden SVB collapse. Its price started a nice rebound from the lows while on track to mark its fourth consecutive day of gains from March 11.
Contributing to this is the Federal Deposit Insurance Corporation's recent announcement that Silicon Valley Bank depositors will have complete access to their money after confirming a successful transfer of deposits to a new bridge bank.
Also, Binance's conversion of $1 billion worth of Binance USD (BUSD) to support the market might have boosted buying pressure.