As the New Year's ball is about to drop, Bitcoin enthusiasts will have one wish – a major bull run. In this article, we are delving into the top 2019 Bitcoin price predictions.
Prepare for a January slump
It doesn't take a seasoned technical analyst or a crystal ball to determine what to expect from Bitcoin this January. Historically, every single year starts with a bloodbath for the world's biggest cryptocurrency. The media coverage of Bitcoin peaked in early 2017 when the much-hyped digital currency suddenly dropped by - 47%. However, that wasn't even the biggest January drop that BTC has experienced over the past five years.
| | |
| --- | --- |
| Year | January drop |
| 2014 | -23.5 percent |
| 2015 | -48.5 percent |
| 2016 | -23.5 percent |
| 2017 | -36.5 percent |
| 2018 | -47 percent |
Another instance of Bitcoin's seasonality pertains to Chinese New Year (or Lunar New Year). In fact, Bitcoin has followed the same pattern for the past three years, setting new lows that were immediately followed by price upticks.
Expert predictions for 2019: Bitcoin bulls
Fran Strajnar: $200,000 by Jan. 1, 2020
How high Bitcoin will go? We are starting with an uber-bullish prediction made by the CEO of Brave New Coin who made an outlandish forecast, claiming that Bitcoin could reach $200,000 by the start of 2020. A constantly growing Bitcoin adoption will be the main driving force behind the price of the currency.
Ronnie Moas: $28,000
During the World Crypto Con, Ronnie Moas shared his forecast for the end of 2019: $28,000. He further explained that the 2018 price slump was merely a bump in the road due to the fact that many investors went on a sell-off spree. Moas also encouraged hodlsters not to lose faith in the currency.

Mike Kayamori: a brand-new new ATH in 2019
Mike Kayamori, the CEO of major Japanese exchange Quoine, predicts that Bitcoin could repeak in 2019 given that 'the bottom is near.' Japan's Financial Services Agency (FSA) is actively cooperating with the cryptocurrency industry, which gives ground for Kayamori's bullish forecast.

Sonny Singh: $20,000 by the end of 2019
Bitpay's Sonny Singh has come up with one of the most bullish forecasts as he thinks that Bitcoin will climb to $20,000 next year, thus matching its current ATH. Bakkt launching Bitcoin futures in January is among the main reasons why this target is not far-fetched.
Andy Cheung: $20,000
Andy Cheung is yet another industry expert who believes that Bitcoin could match its current ATH of $20,000 the following year. Cheung calls it a 'conservative' future value prediction of Bitcoin. Moreover, he believes that Ethereum, one of the biggest losers of 2018, will shine even brighter after the upcoming hard fork.

Notably, Kevin Murcko, CEO of CoinMetro, has also recently shared his $20,000 prediction if Bitcoin ETFs are eventually approved by the SEC.

Mitch Blakeway: $12,000
Just like Singh, Mitch Blakeway of Quantatex sees the launch of Bitcoin futures by Bakkt and NASDAQ will be the main catalyst for Bitcoin's growth in 2019. With that being said, the price of Bitcoin could go up to $12,000, and crypto evangelists can expect it to grow even further in 2020 when the next Bitcoin halving occurs.

Mike Novogratz: $10,000 in Q1 2019
In September, Mike Novogratz, the huge Bitcoin proponent from Wall Street, claimed that the coin would be able to crack $10,000 in Q1 2019 because of an influx of institutional money. Once there are more custodian solutions, Bitcoin will be eventually viewed as a store of value.

Notably, Novogratz was ridiculed because of constantly trimming his short-term predictions for 2018 but he still believes that BTC could even reach $20,000.
Entering the bearish territory
Anthony Pompliano: $3,000 in Q3
It is quite strange to hear a disheartening price prediction from the permabull Anthony Pompliano. The head of Morgan Creek Digital Assets believes that the cryptocurrency market will remain in the doldrums until Q3 2019 with Bitcoin potentially finding the bottom below the $3,000 level. After that, the sky's the limit for Bitcoin – Pomp predicts that it could eventually breach the $50,000 mark in the nearest future.

Bobby Lee: $2500 in Q1 2019
Bobby Lee, the brother of Fundstrat's Tom Lee, who also happens to be the founder of China's first exchange, BTCC, is certain that Bitcoin could bottom out as early as in Q1 2019 with its price tanking below the $2,500 level.

Arthur Hayes: bears will remain supreme in 2019
BitMEX CEO Arthur Hayes, who earlier thought that Bitcoin would be able to surpass the $50,000 mark this year, has recently done a U-turn. Now, Hayes doesn't see Bitcoin recovering from the current predicament in 2019 with the BTC price falling below $2,000.

Peter Brandt: $1,200
Technical trading vet Peter Brandt also doesn't see Bitcoin recovering in 2019 – his prediction stands at $1,200 if the price of Bitcoin drops below the psychologically important $3,000 mark (the flagship cryptocurrency was already on the cusp of doing this year).

At the same time, the possibility of Bitcoin skyrocketing above its current peak is also on the table, Brandt states. He emphasizes that he doesn't want to be perceived as a Bitcoin hater.

Notably, Brandt accurately called the 80 drop in Bitcoin price back in January. If the price does drop to the level of $1,200, he is certain that even most ardent crypto enthusiasts will consider jumping ship.
Is Bitcoin going to $0? Join the Bitcoin hater party
Calvin Ayre, the founder of Bitcoin Cash, is on the same wavelength with 'Bitcoin Jesus' Roger Ver, claiming that BCH will make its older brother completely irrelevant. Recently, Ayre voiced his bold prediction that the Bitcoin price will plunge to $0 in 2019 due to its low scalability. At the same time, he doesn't think that the BSV fork participated in November's market crash.
Ironically, Erik Finman, teenager millionaire who made over $4 mln during Bitcoin's peak, is also turning his back on Bitcoin, claiming that the top currency will be eventually replaced by Bitcoin Cash (BCH). Finman says that tons of infighting 'killed' Bitcoin.
Speaking of doomsayers, one should also mention the notorious Bitcoin critic Nouriel Roubini who's certain that Bitcoin will be worth null 'in due time'. American stock broker Peter Shiff, who is particularly famous for predicting the housing market crash, is also certain that Bitcoin could tank to zero. Moreover, he recently shredded CNBC anchor Brian Kelly for shorting Bitcoin after his endless shilling.
What can push Bitcoin price in 2019?
A spike in real-life adoption. Binance CEO Changpeng Zhao (CZ) admits that this year was a 'tough' year for Bitcoin but he expects more real applications of Bitcoin in 2018. However, that could change in 2019 and eventually push the BTC price much higher. The adoption of xRapid by global banks is also expected to have a knock-on effect for Bitcoin.

Institutional investors coming on board. A lot of experts are in agreement with Mike Novogratz – 2019 will be the year of institutional money. The launch of Bakkt's Bitcoin futures is, of course, one of the most anticipated events of early 2019 given that the launch of Bitcoin futures by CME, the largest futures exchange in the world, was one of the reasons behind the unprecedented spike. The baby steps of Fidelity, Yale, and other big-name players were already a precursor to what will happen next year.

The US SEC giving green light to a Bitcoin ETF. One should bear in mind that the SEC postponed its decision on the much-anticipated Bitcoin ETF. The final decision is expected not earlier than in February 2019, clarifying its so-far 'rocky' relationships with Bitcoin ETFs.

Regaining dominance. Many smaller altcoins are crashing, and it's a good opportunity for Bitcoin to regain its dominance (which is currently sitting at 53.1%). Bitcoin is shedding billions but the whole crypto market is in an even worse position with 70 percent of all ICOs failing to surpass their initial valuation. Global management consulting company A.T. Kearney predicts that Bitcoin will be controlling 2/3 of the whole cryptocurrency market.

Regulatory clarity. While the US remains the main market for Bitcoin, the country's lawmakers have yet to bring more clarity to the table, which prevents large institutions from fully diving into crypto. 2018 was the year of a heated congressional hearing and the first crypto bills. Will there be a major shift in 2019?
Bitcoin price predictions: then and now
The definition of a bullish Bitcoin price prediction has definitely changed since the historic bull run of 2017. In 2016, a $2,200 forecast for 2018 was considered to be 'nice and bullish' but any experts who would dare to voice these numbers today would automatically join the bear club.
In all fairness, not everyone was super-rational about a Bitcoin price prediction even in the pre-ATH era. For instance, a Coindesk poll found out that 56 percent of Bitcoin enthusiasts were certain that Bitcoin would reach $10,000. Of course, Bitcoin naysayers were quick in I-told-you-so-ing but little did they know about what would happen to Bitcoin in just two years. The only difference is that this prediction was borderline crazy in 2014 while anything below the Bitcoin's current ATH won't even pass for bullish anymore.
In 2013, the Winklevoss brothers also made a bold prediction that Bitcoin would be able to reach a whopping $40,000 but they didn't specify the exact date. There have also been predictions that Bitcoin could even hit $1 mln. On the flip side, there have been numerous occasions when the price was predicted to plunge to zero. Actually, Bitcoin pessimists have already done that for more than 317 times but somehow the king of crypto always stays there. For instance, this infamous article was published in 2011 (!).
Just to stay on the safe side, one can predict that the Bitcoin price could skyrocket to $1 mln or tank to $0.
Time traveler from the future: Bitcoin will hit 100,000 in 2019
Now that we've covered the past predictions for Bitcoin, let's get a bit desperate and recall the viral time traveling post on r/Bitcoin that was published in 2013. A random Reddit user claimed that he was typing his predictions straight from 2025. His price forecasts for 2015 and 2017 turned out to be more accurate than those of the CNBC experts (sorry, Tom Lee). The time traveler believes that Bitcoin will be able to breach the $100,000 milestone in 2019, making it the most bullish prediction on our list sans Fran Strajnar.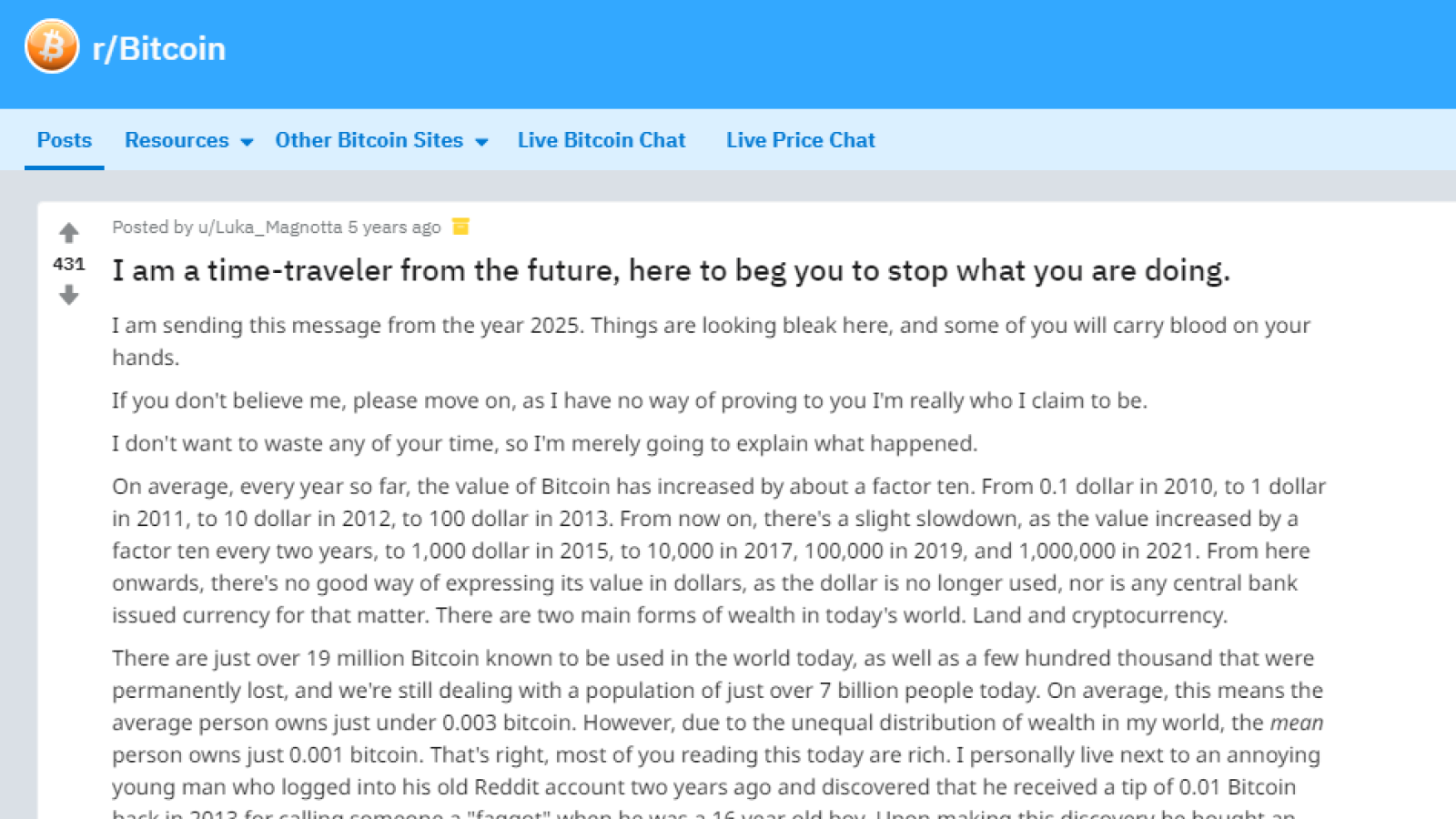 Is it even worth making Bitcoin price predictions?
On Dec. 13, crypto bull Tom Lee said that he won't make any Bitcoin-related forecasts. The Fundstrat CEO explains that the reason behind this decision is the inherent volatility of Bitcoin. Earlier, Lee predicted that the world's largest crypto would reach $25,000 by the end of 2018. U.Today also recollects the most embarrassing Bitcoin price predictions of 2018: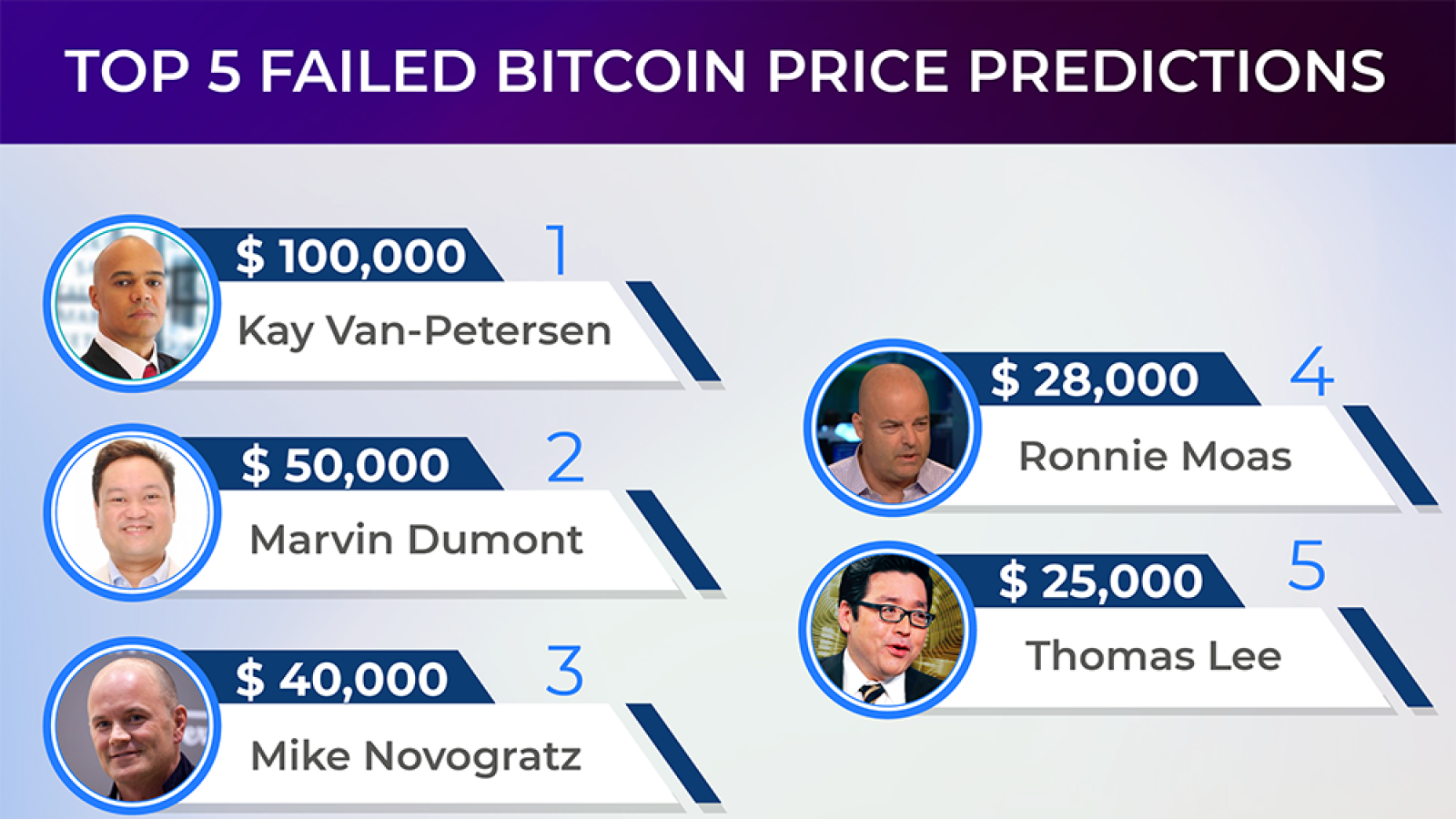 He later changed his prediction to $15,000 when Bitcoin entered the death spiral, but this figure is still a far cry from where Bitcoin stands today – $3,886 at press time.

While it may seem like Lee is throwing a temper tantrum, we cannot blame him – Bitcoin has a penchant for wild price fluctuations. Furthermore, the nascence of the crypto industry makes it very sensitive to the current news cycle (for instance, the announcement about Winklevoss' ETF rejection instantly made it to mainstream news outlets and tanked the Bitcoin price).
However, bad (and frankly random price predictions) extend across the whole asset class. Gold, for instance, is only valued at $1,200, while many industry experts in the likes of Peter Schiff predicted that one ounce would be worth $5,000. 2018 also had many surprises for the stock market, with most analysts predicting that the S&P 500 would end up at 3,000 by the end of this year (at press time, it is standing at 2,416).
Since most of these predictions do not translate into reality, the real question is why these forecasters even bother.