The first rule of investing is "Buy low, sell high," or rather "Don't invest more than you can afford to lose," or…. ah, what's the point of knowing which one is the first and most important rule? It's known that Ups and Downs are normal, i.e. bullish and bearish market states, so we don't have to get all panicky about it.
Yes, Bitcoin is bleeding value, but pessimists have claimed it died 316 times before, so why believe it will stay dead the 317th time? "Buy low, sell high," as they say. Is this low enough? There isn't anything major behind the drop other than the BCH fork, panic, and some FUD here and there, so there's no sure way of telling.
Bitmex is still in charge of 40% of the entire Bitcoin trading volume, and if we are dealing with manipulation as some have speculated, it may go even lower before rising from the ashes.
Charts at a Glance — BTC/USD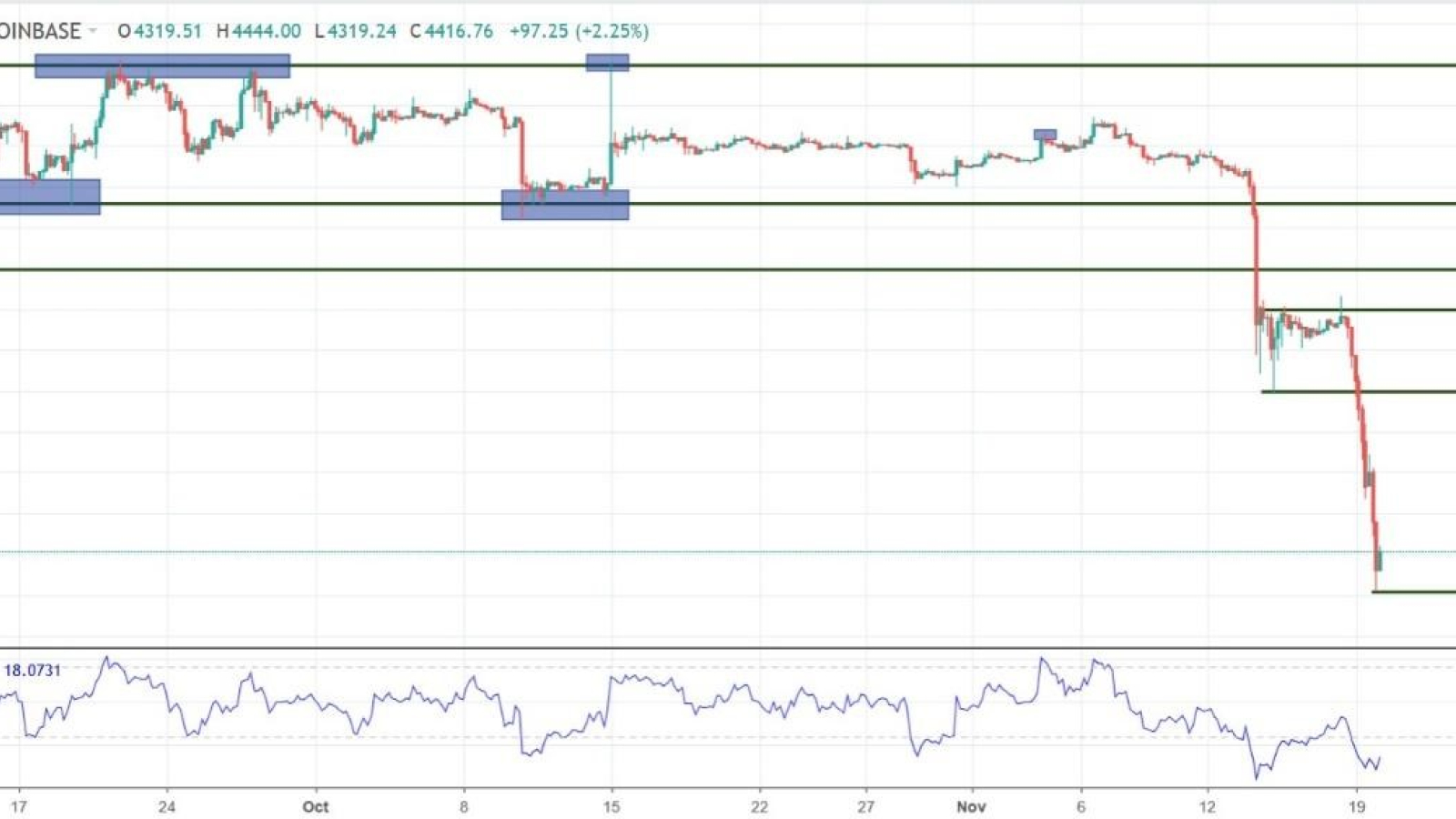 The OG cryptocurrency has lost 15 percent during the last 24 hours and almost 30 percent during the last 7 days, trading close to $4,400 at the time of writing. The market cap for Bitcoin is also dwindling and some have even predicted that XRP will soon overtake it. And while this is not a very likely scenario (at least not in the short term), there is still room for BTC to slide.
The low at 4200 is offering some support for the time being, but considering how things have been developing, we are likely to see a drop into the key psychological level at 4000. On the upside, the previous support is located at 5200, which is obviously a long distance to travel during one or two days, so a more realistic target is 4500 as BRN (big round number).
For the time being the outlook is bearish, but keep in mind the RSI is oversold and 4000 is close by, so we may see a stronger bounce around that area.
Support zone: 4200 followed by 4000
Resistance zone: 4500
Most likely scenario: drop through current support to reach 4000
Alternative scenario: sideways, choppy movement at current levels