Trading bots are computer programs that automate the execution of trades on the market. They are extremely useful for beginner-level traders who aren't capable of making an in-depth analysis of the charts. You cannot solely rely on Bitcoin trading bots, since they may go haywire and bring you substantial loses, but it still an effective tool for backtesting that provides you an ability to thoroughly test out a trading strategy without actually risking your own money.
It is worth mentioning that trading bots get a rather good reception from major cryptocurrency exchanges because they help them reach higher trading volumes and increase liquidity. There are trading bots for both inexperienced and advanced traders. Beginner trading bots are more suitable for individuals without programming skills. The article will focus on different types of bots.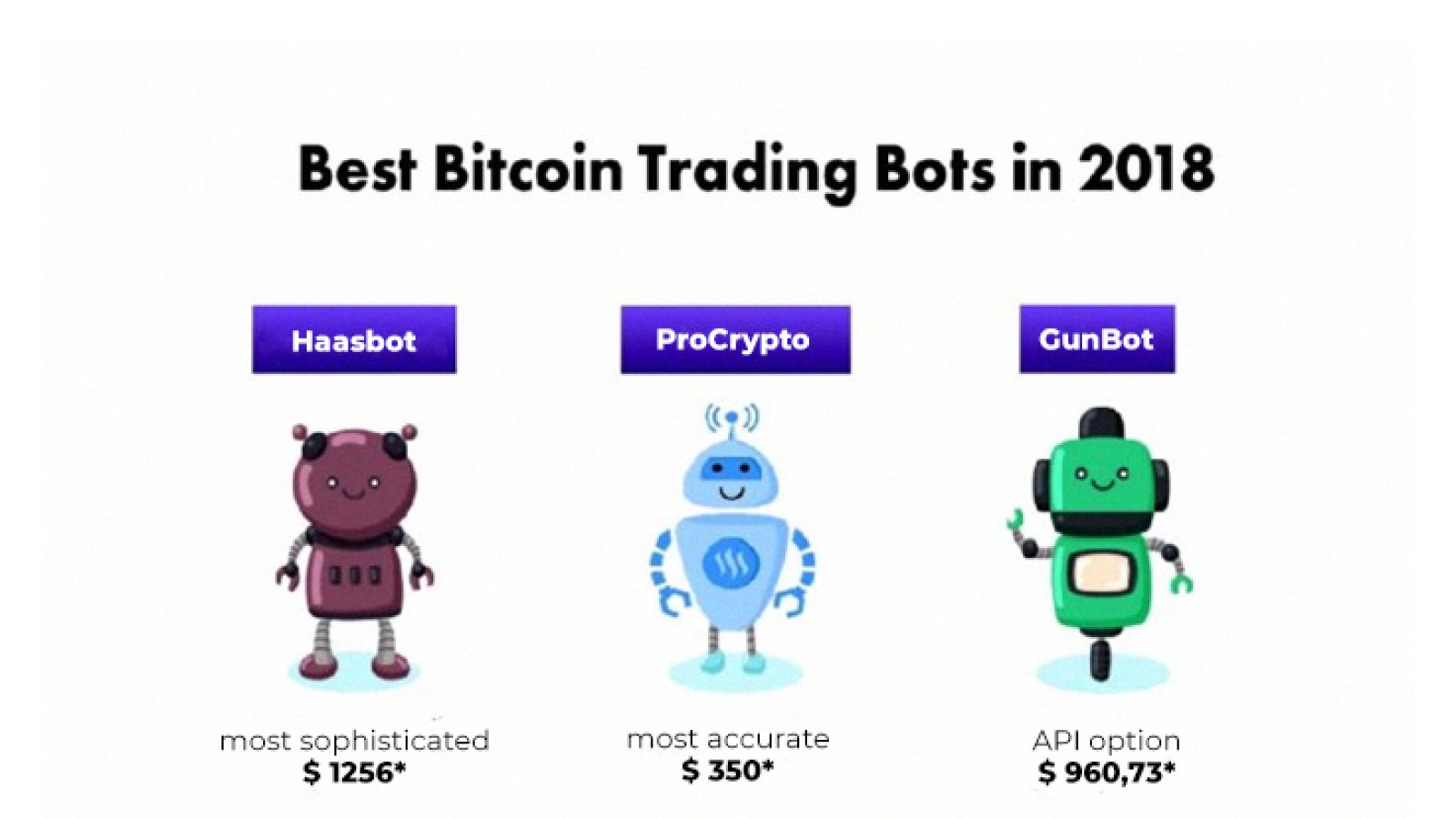 Haasbot
HaasOnline's automated trade platform is much more than just their signature HaasBot®, it's a suite of tools built for serious crypto trade automation. The project started as a simple Bitcoin trade bot in 2014 by Stephan de Haas, but has grown into a full-featured trade automation platform with its own scripting language called HaasScript. Due to the platform's complexity, some traders previously shied away from using the HaasBot, however, they have since released a drag-and-drop visual editor that requires no coding in order to attract less-experienced traders.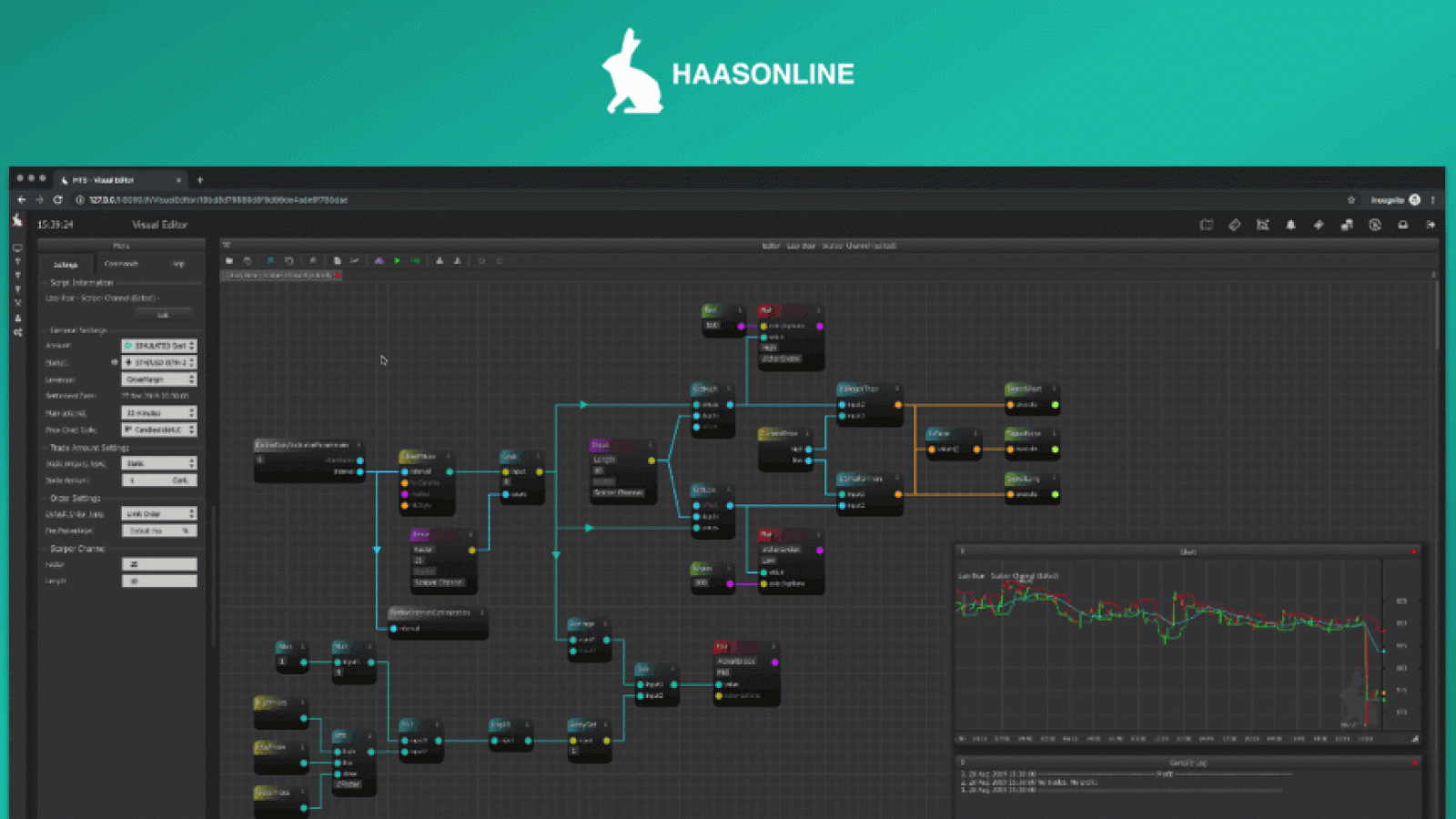 Unlike any of the other Bitcoin trading bots, the HaasBot offers complete customization. Users can customize everything from signal generation and analysis, multi-interval price fetching, charting, to performing complex calculations and memory management. The platform includes dozens of pre-built trade bots like their famous arbitrage trade bot and order trade–which are incredibly easy to setup. More experienced users will opt to leverage the HaasScript language which includes over 500 commands and a visual or text-based editor with intellisense.
HaasOnline offers flexible pricing with three license types that are available in quarterly, bi-annual, or annual lengths. Their pricing is set in BTC and due to market price fluctuations, can range from ~$250 USD/qtr for their entry-level license up to ~$2,000 USD/yr for their professional license. Unlike most trade bots, the HaasBot on the HaasOnline Trade Server puts them in a league of their own.
ProfitTrailer
ProfitTrailer is one of the most popular bots out there with more than tens of thousands of active users around the globe. As of now, the trading bot works with three exchanges – Binance, Bittrex and Poloniex. All you have to do is to buy a license for a program that can be run either on your PC or on a remote VPS server. The former is the most reliable way to use the ProfitTrailer bot since it eliminates any connectivity issues. However, setting up a VPS server may be a bit challenging for non-tech-savvy users.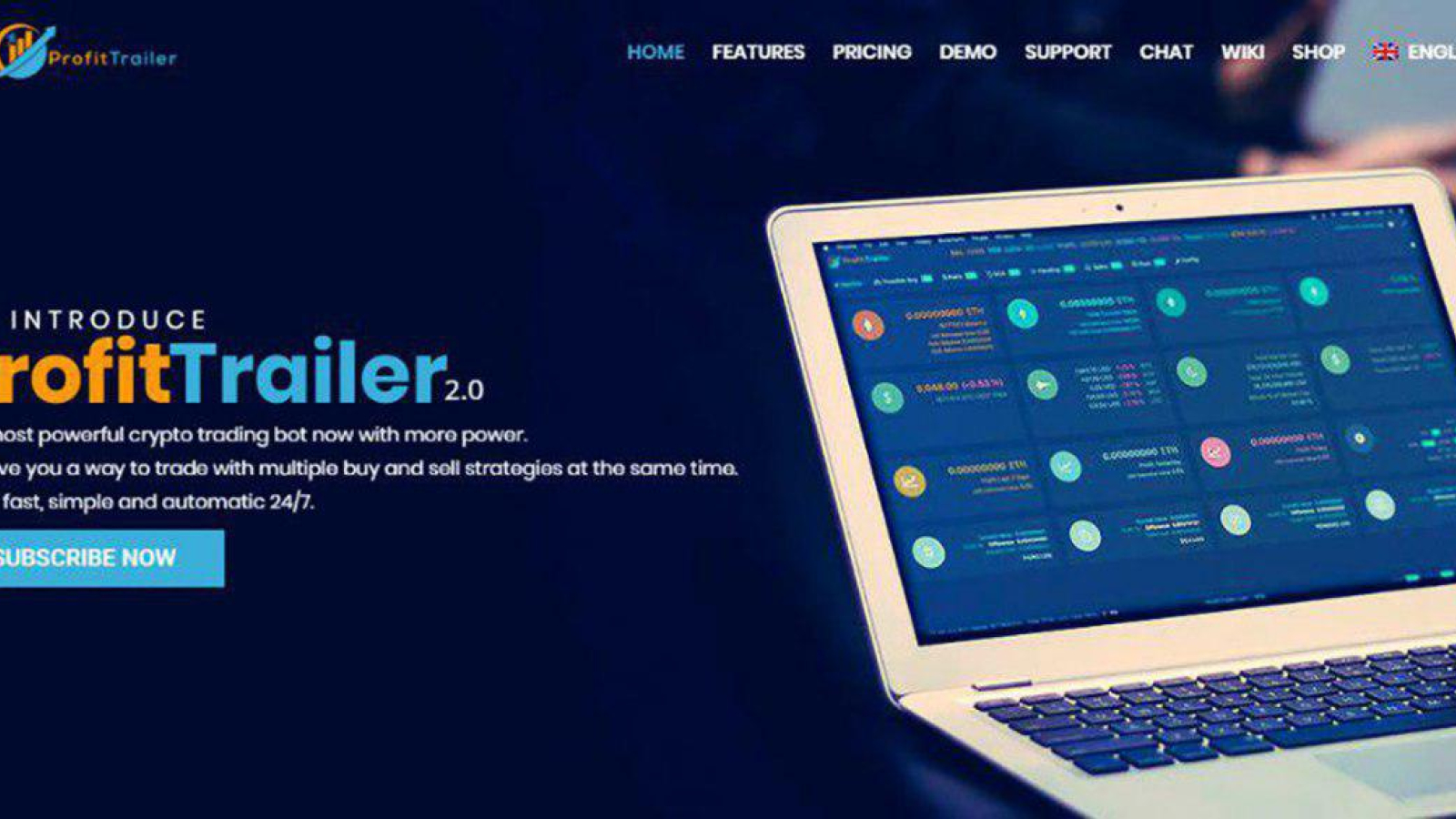 ProfitTrailer has a rather beginner-friendly user interface. The homepage displays all the important information that is required for monitoring your trading activity. In order to see all your holdings, you have to go to the 'Pairs Log' tab while 'Sales Log' displays everything you've sold while using the bot.

When it comes to pricing, just like with the previous case, there are three packages with prices varying from 0.03 BTC to 0.09 BTC. Hence, the most expensive offer will currently cost you about $590 for three licenses, which is very reasonable compared to other bots.
ProCrypto
ProCrypto is the tool that you need to survive in the mercurial cryptocurrency market. For $350 per month, your trades will be handled by sophisticated bots that are powered by the most advanced algorithms on the market. These bots, while being quite pricey, are able to reach a whopping 77 percent accuracy, and they are being constantly improved by an algorithmic trading vet.
Overall, there are three types of bots: high time-frame, medium time-frame, and '7-minutes scalper.' There is no one-fits-all solution given that your choice depends on the market conditions. If the market is in limbo, it makes sense to take crumbs from the table by trading in extremely tight ranges. High-time time frame bots are your safest option when the volatility goes through the roof, but do not expect to make huge profits since the frequency of trades is very low. Subsequently, lower time-frame bots have less impressive accuracy, but your return on investment (ROI) could grow by 500 percent in 5 months.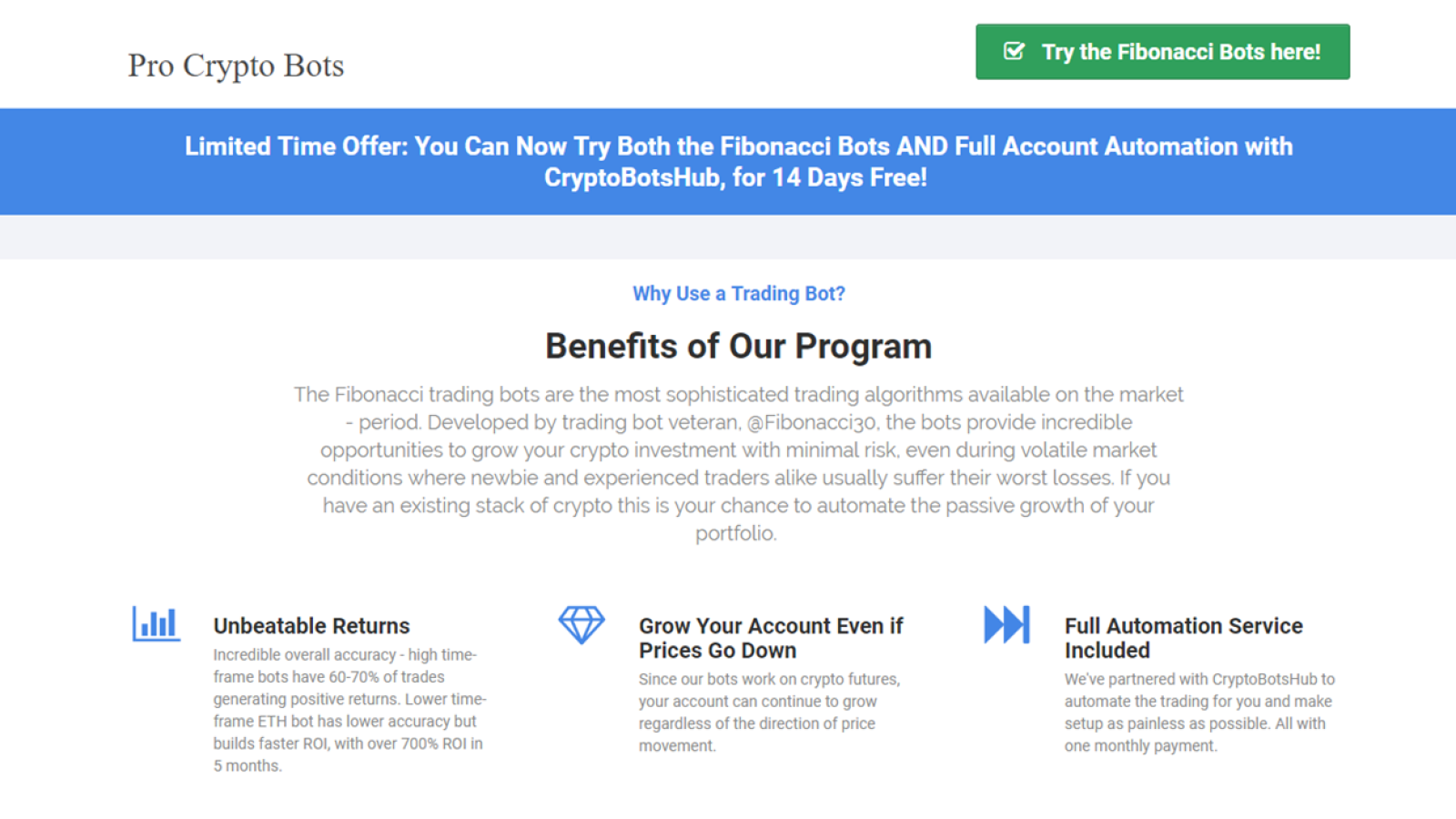 Automated trading is not perfect, but ProCrypto bots, which support both long and short trades, provide you with an amazing opportunity to generate passive income even when the market is bleeding. However, there is no guarantee that you will be profitable from the get-go — you should be focused on the long-term perspective.
GunBot
GunBot is yet another advanced crypto trading bot for algorithmic trading that works with numerous exchanges, including Binance and Kraken. The bot allows its users to pick various trading strategies that can be customized according to your personal trading style. These strategies include:
TSSL (trailing stop/stop limit),
Bollinger Bands,
Stepgain,
Ping Pong.
Once you've picked your trading strategy and a cryptocurrency pair, you can configure the bot using your exchange API for third-party programs. Now you can take advantage of any precoded trading strategy. As mentioned above, it is recommended to run any bot (GunBot is not an exception) on a VPS, since it gives you more stability and flexibility.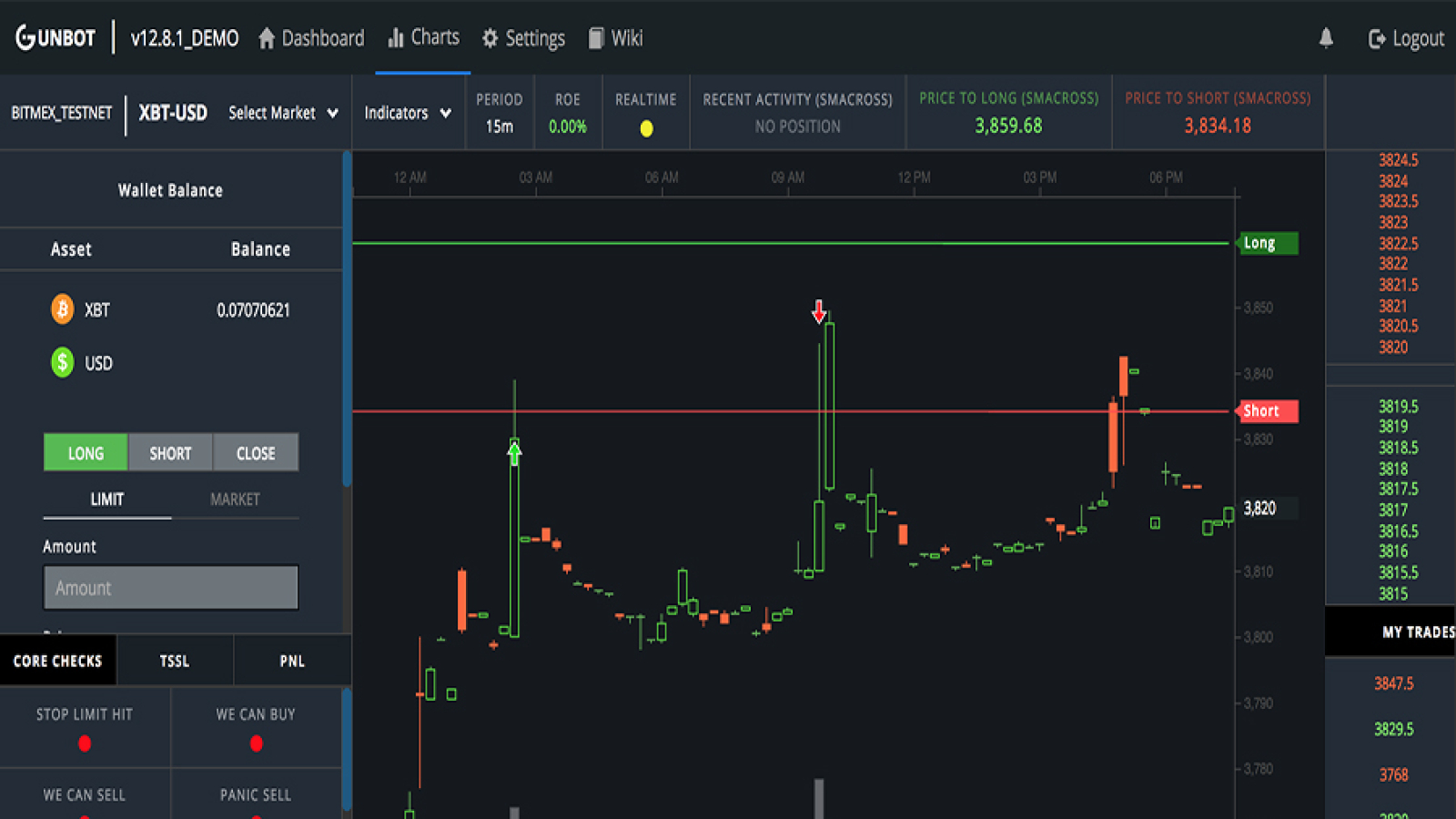 Such an extensive set of trading features obviously comes with a price. There are three premium solutions with the price of the cheapest one ('Gunbot Starter') being set at 0.04 BTC. 'Gunbot Ultimate,' which comes with unlimited access to all exchanges and the TradingView add-on for more strategies, will set you back 0.25 BTC. When purchasing a Gunbot license you do however receive an equal amount of Gunthy Coin. This means that whenever you decide that the bot isn't your cup of tea, you can always sell these coins to recover your initial investment. You might even make a little extra if the price of Gunthy has increased!
3Commas
Now, we are going to focus on a relatively young Bitcoin bot that has already won over the crypto community. As of May 2018, it had more than 20,000 active users and its average trading volume exceeded $6 mln. It was launched in September 2017 as a pre-funded project.

The system features three different kinds of bots:
simple,
short,
composite.
Simple and short bots allow you to do only one trading pair at a time (for going long and going short respectively). Composite bots, as their name suggests, supports numerous crypto pairs simultaneously.

The peculiar thing about 3Commas is that they do not use popular trading strategies like Stepgain and Ping Pong. Instead, it relies on robust TradingViews analysis, but it still may seem underwhelming for ordinary traders.

The prices are more than reasonable– you get a starter pack only for $25 while unlimited access to all available exchanges will set you back around $84. 3Commas is constantly expanding the list of available exchanges adding integration with Kucoin, CEX and other platforms.
AutoView
The majority of the abovementioned trade bots are rather expensive, so if you are on a tighter budget and still look for an automated trading solution, then you should probably pay attention to AutoView. This cryptocurrency trading bot is super cheap, but it doesn't mean that it is inherently bad.

The AutoView bot comes in the form of a simple Google Chrome extension that gives you an ability to automate TradingView. Gunbot extension, for instance, has more advanced trading features, but they come with a significantly higher price. AutoView is not a beginner-level extension since it requires users to manually program stop and losses into the script on TradingView. Those who are not good at programming can take advantage of numerous AutoView scripts that are available for free. For example, you can use the MACD indicator that gives you signals for both bullish and bearish MACD crossovers.

There is a free version of this program with three available exchanges (1Broker, Bitmex Testnet, GDAX Sandbox). 'Bronze Autoview', which features Kraken, Binance, Bitfinex along with ten other cryptocurrency exchanges costs only $5 per month.
Cryptotrader
Cryptotrader is considered to be the most popular bot for automated trading. This Bitcoin day trading bot is compatible with basically all major exchanges, so you will have a seamless experience of running a GDAX bot or a Poloniex bot.

On top of that, Cryptotrader has such a major advantage like cloud-based bots, which essentially means that there is no need to install software on your computer in order to run them.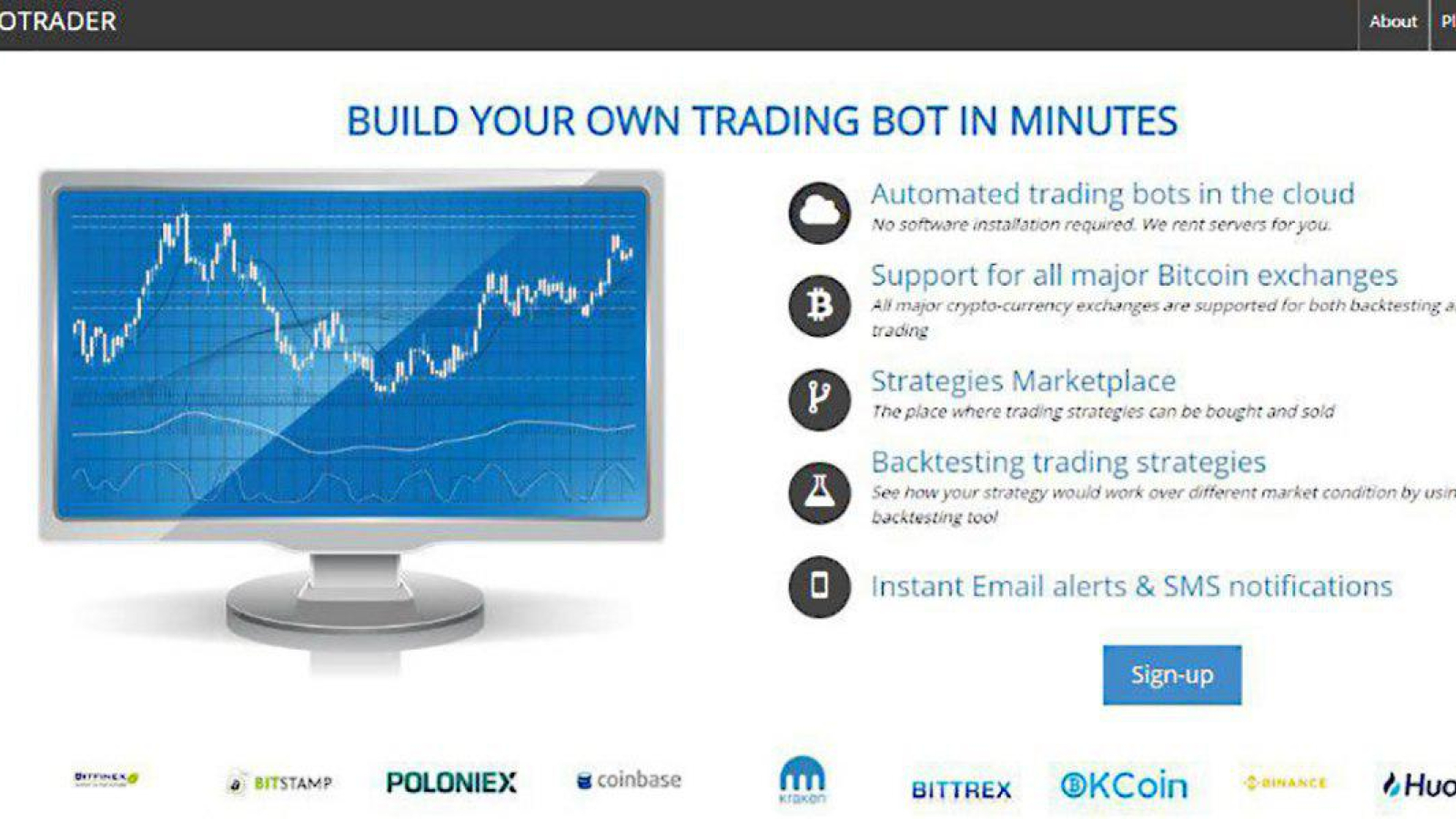 With Cryptotrader, plenty of trading strategies are available for free, but you can still purchase new ones in the market section. Both amateur and professional developers are able to sell the source code for a new trading bot here. There is also a backtesting option for those who want to try out a certain strategy on batches of historical data without actually engaging in trading. While some critics argue that the cryptocurrency market is highly volatile for backtesting giving any relevant predictions, it may still show whether you are on the right path or not.

The price of any Cryptotrader plan fully correlates with the BTC value. That simply means that you will have to pay more if another Bitcoin bullish trend persists. A total amount of five subscription plans gives you a diversity of choice – from Basic+ to Premium. Those who go for the most expensive offer will be able to run up to 25 crypto trading bots simultaneously, but they have to pay from $200 per month.
The bottom line
As you can see, we've just reviewed drastically different bots for automated cryptocurrency trading, but all of them can be considered a viable option depending on what kind of trader you are. Hence, it is hard to determine the best Bitcoin Autotrader, since the decision solely depends on your personal trading needs.

There are obscenely cheap offers in the likes of AutoView that require good programming skills. Beginner-level users may play safe and go for 3Commas. At the same time, high rollers may consider shelling out $1,200 to pay for the annual Haasbot license.