In the current climate, there is optimism returning to the market with Bitcoin pushing the $4,000 mark. However, a lot of this positivity has come from an altcoin rush of late. Coins such as Tron, Ethereum, Ripple and Stellar have played their part in boosting the market, but one particular coin has been striving since its lows in December last year.
EOS, a cryptocurrency that is currently ranked fourth by market cap, has quietly been going about its business, growing not only in price but also value as a blockchain company. It is showing some medium to long term bullish tendencies, outperforming many others.
The coin reached a low of $1.54 on December 7th, 2018, but at the moment, it is heading beyond the $4 mark, having doubled in value since that late last year low. It currently sits at $3.38.
Many are expecting the coin to keep growing, with its highest point touching $4.05. This move represents a 161% gain in only 74 trading days. If the bullish tendencies can continue across the markets, there is no doubt that EOS will cash in.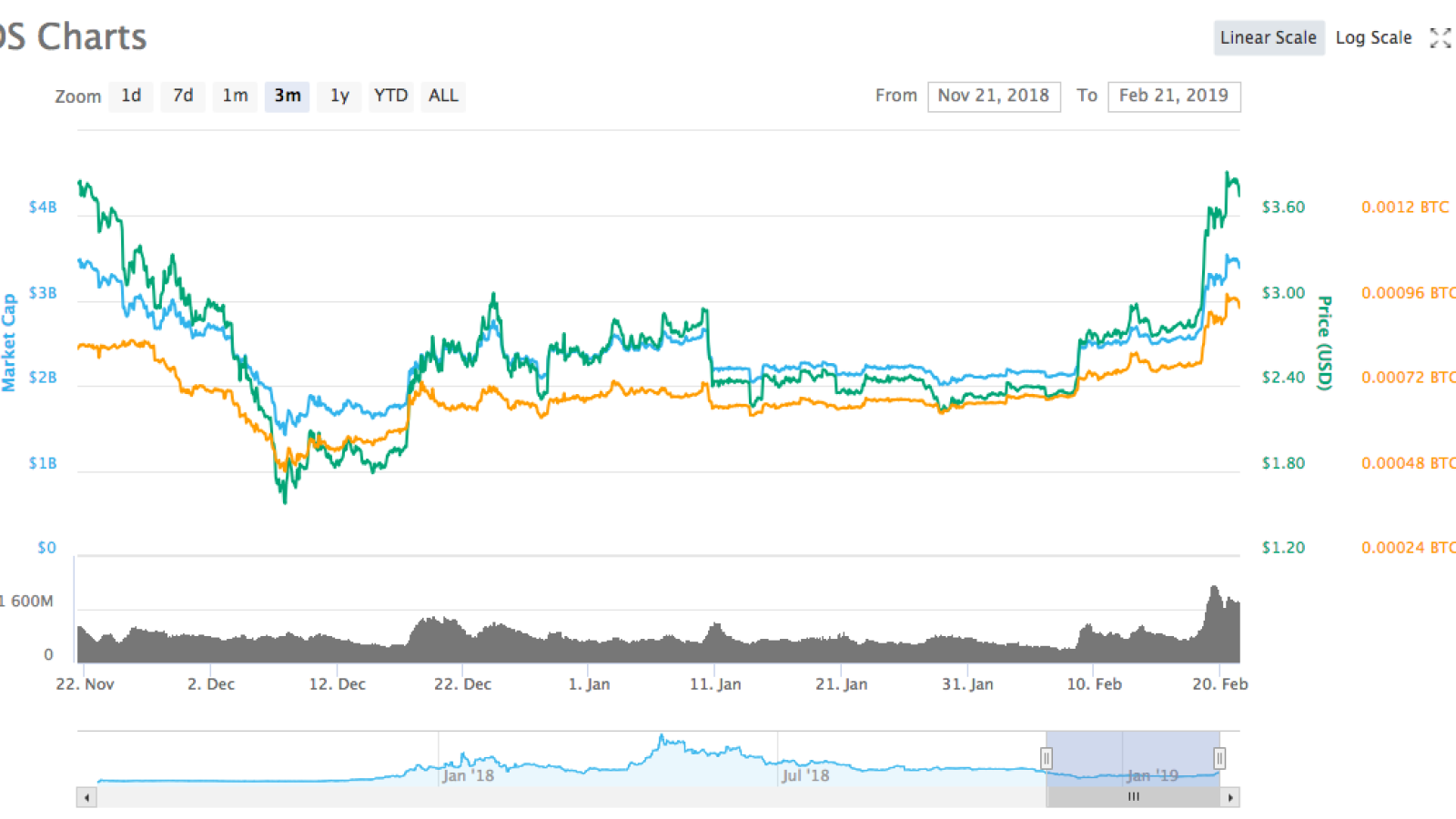 More to come
EOS is seen as a rival to Ethereum, and because its intention is to improve upon the original smart contract blockchain, it will feel it has an edge in terms of adoption in the coming months.
It is a double-edged sword, as added adoption of the blockchain platform will help increase its reputation, which in turn will boost its price. Then, because EOS' price is already starting to grow substantially, it will bring the platform to the fore for future blockchain applications.
If EOS can continue to offer a good blockchain service and the market keeps positive, there is every reason to believe that the coin's price will continue to grow — and also outperform many of its rivals and other altcoins.