This year's crypto rout didn't take its toll on merger and acquisition activity, CNBC reports. Companies are joining the crypto crowd en masse by acquiring already existing startups.


A 200 percent growth
According to JMP Securities, the amount of crypto-related deals has spiked by a staggering 209 percent. It is expected that the total number of acquisitions will reach 145 by the end of the year. Last December, when Bitcoin was hovering above the $20,000, only 47 deals were recorded during the same time span. This serves as a clear proof that dealmakers remain undeterred by market bears.

Another revelation of the aforementioned research is that the deals tend to be rather small, not exceeding $100 mln. The number of deals is only expected to increase since this is the easiest way for companies to grow in the crypto space.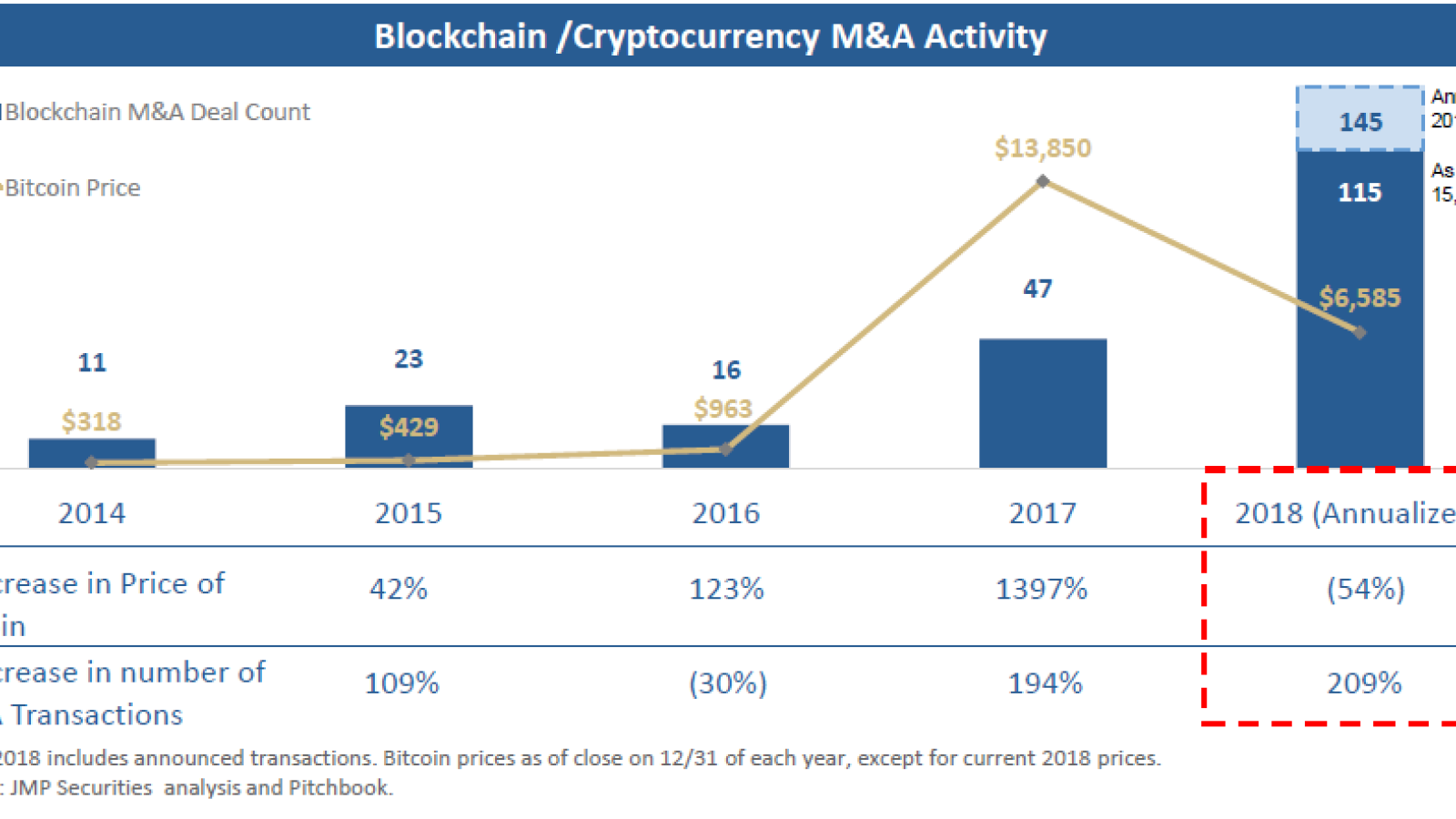 Bitcoin rules the roost
While the cryptocurrency industry remains in limbo, Bitcoin price still remains a pivotal factor when it comes to defining the value of tokens issued by a certain startup. Long story short, the underlying value of the company doesn't correlate with its tokens. According to JMP, it results in assets being mispriced, and at the same time creates a perfect ground for strategic investments.

User communities also pump up the valuation of a certain company. Buying a ready-made startup is a seamless way to add new users.
It's all about seizing the opportunity
Bitcoin, the world's flagship cryptocurrency, will soon celebrate its tenth year anniversary. Since the inception of Bitcoin, a plethora of new cryptocurrency projects has appeared (there are already more than 2,000 currencies on CMC). The skyrocketing M&A activity could be easily explained by the fact that companies that are new to the crypto space are willing to buy already existing startups instead of building their own. It may take years to bring something new to the table, lagging behind competitors in the rapidly developing industry.

The ability to immediately get certain technology in a snap justifies the high price, claims JMP's Satya Bajpaiclaims. There is a new "land grab" trend that presupposed betting on new technologies and seeking talented individuals in the crypto space.