It was a really hot weekend for BTC: having surpassed the $6,000 mark, it spiked to $7,200, which means the bearish market has been delayed. What to expect from Bitcoin now? A new overwhelming jump or moderate growth? Read BTC price predictions from TradingView users and their recommendations concerning BTC trading for the short term.
BTC loses momentum in the short term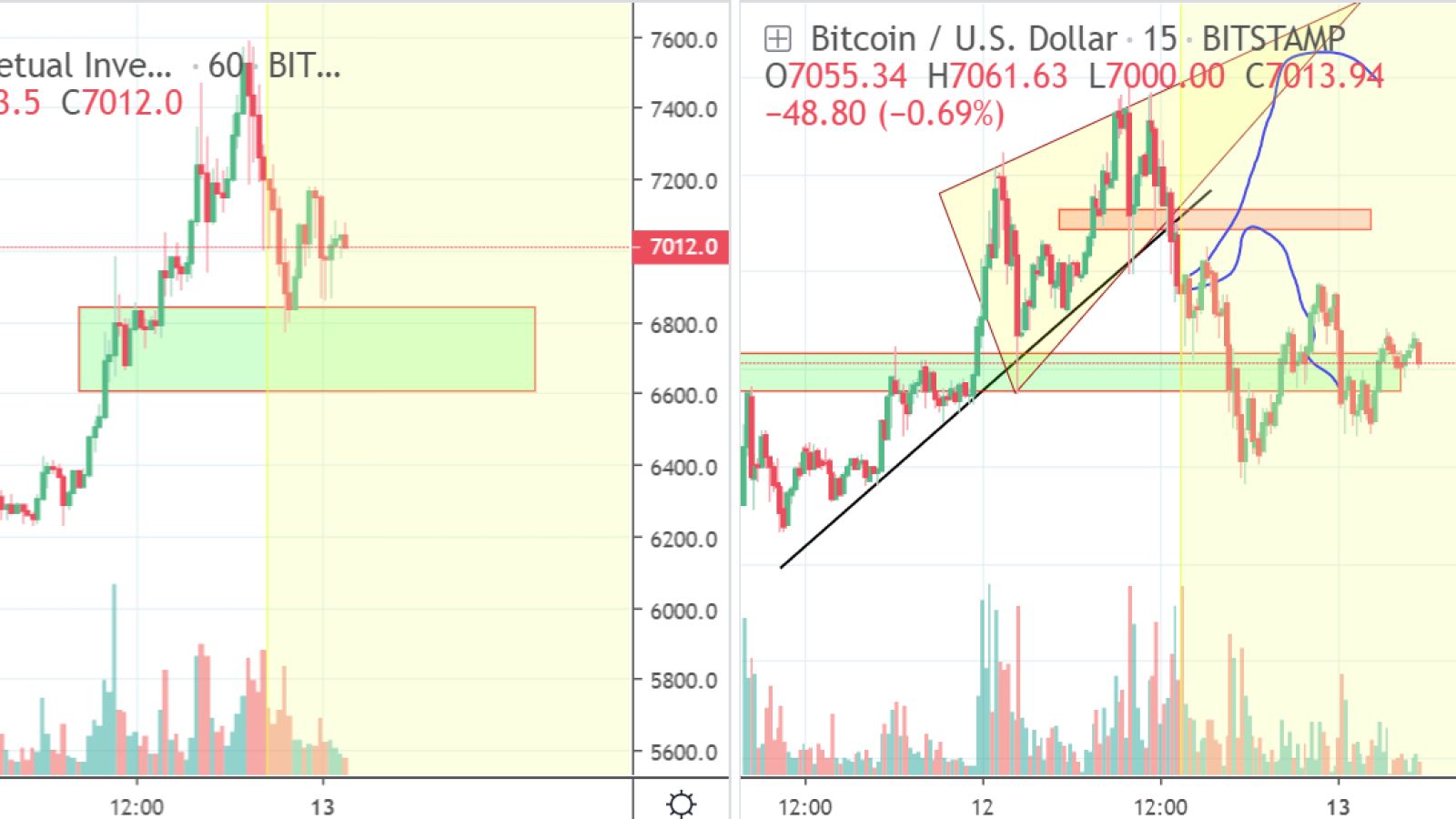 User botje11 is sure that BTC is losing some momentum now: it started to have trouble reaching new highs. After such an insane rally, it has to drop at some point. The upwards trendline just broke, so now we get to see if it can get back above the $7,300 or make a lower high there and drop even more. Ideally, we see another push to $7,600/7,650 and then make a 1000 point drop.
$7,000 is an important level now, but the biggest one will be around $6,700. This level should hold: a dump worth even much more is very unlikely after such a strong rally. The market is way bigger than in 2015. So as long as we stay above the $6,600, we should see another move up to make a lower or higher high.
Don't forget that after such a big rally, corrections are natural. They are always very fast and violent, and even though a $1,000 dump seems to be a lot, if you look at the BTC price chart, you can see it's actually quite normal. Trading in such conditions is always hard, but you can get a few great patterns (for instance, a wedge and or an H&S) to trade on – stay patient.
$8,600 will be a final spike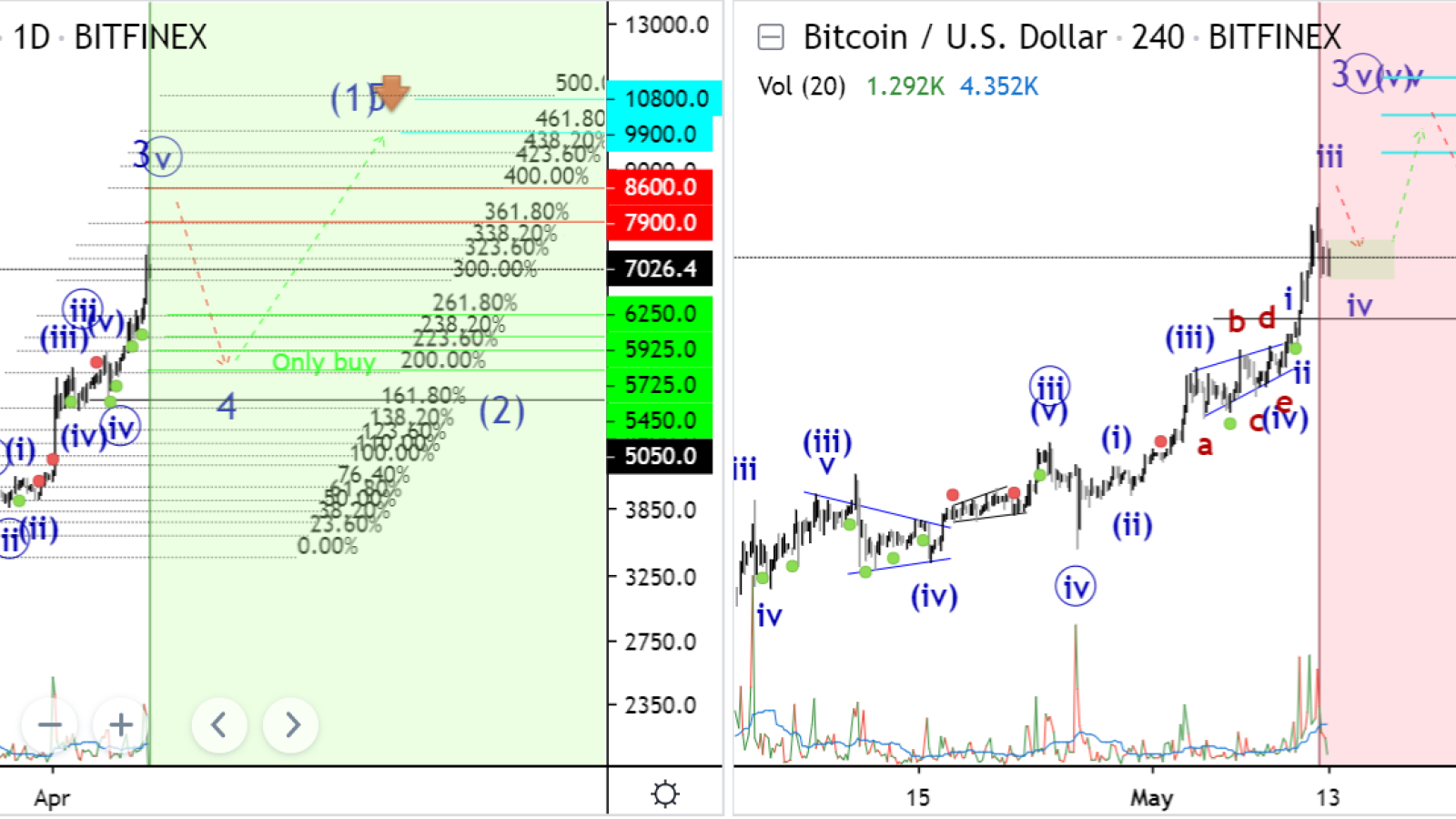 Now look at the BTC price chart from QuantumHF: the amplitude of the price continues to stretch. BTC is following the waves pattern. Judging by the chart, we should expect the completion of wave 3 in the range of $7,900-$8,600.
In the short term, QuantumHF recommends buying in wave IV ($7,150-$6,850) with a stop loss of $6,550 and a target of $7,900/$8,250/$8,600. That might be a great chance to make money on the current bullish market until it ends.
Accumulation period has come to an end!
According to TradingShot, BTC broke through the final MA barrier (1W MA100) and even crossed over the Historical Parabolic Accumulation Curve. This is a very significant development as this curve has been used historically as a strong buy zone during the distribution phase before every logarithmic bull run. It's possible that the new bull market will be even more aggressive.
During the recent bear market, BTC traded on Lower Highs before the final crash in November 2018. Those lower highs were contained below a resisting curve. There is always the possibility that this curve will extend into the new bull market also providing resistance. The same curve existed during the 2014-2016 cycle, and if these patterns repeat, the rally will continue.
Basically, Bitcoin seems to be testing those lower high levels now, which act as resistances and may provide bull backs. The current supply zone is within $5,000-$6,000.
Final thoughts
So, now the $7,000 is the main resistance level at $7,140 as well and then $7,300. If $7,000 breaks, then the bearish momentum on the short term might end.
Whichever scenario comes true, one thing is clear: BTC is back to its extreme bullish behavior on a logarithmic scale and those who bought near the $3,000 bottom against the bearish predictions don't regret it.
There's only one bad sign: most alts have dumped again, almost being back to their starting points of one day ago. It means the sentiment is not being carried through the whole market. Until this changes, the bear market is not over yet.
Price charts are taken from TradingView