We made it! Bitcoin has managed to touch the $9K threshold in a few hours and fall as quickly afterward. It happened when people started losing hope but seems like BTC resists bears as strongly as it can.
What does this spike mean for traders? BTC might repeat this again! But when exactly? Here are a few interesting Bitcoin price predictions from TradingView experts to give us a hint.
Breakout on June 3-5?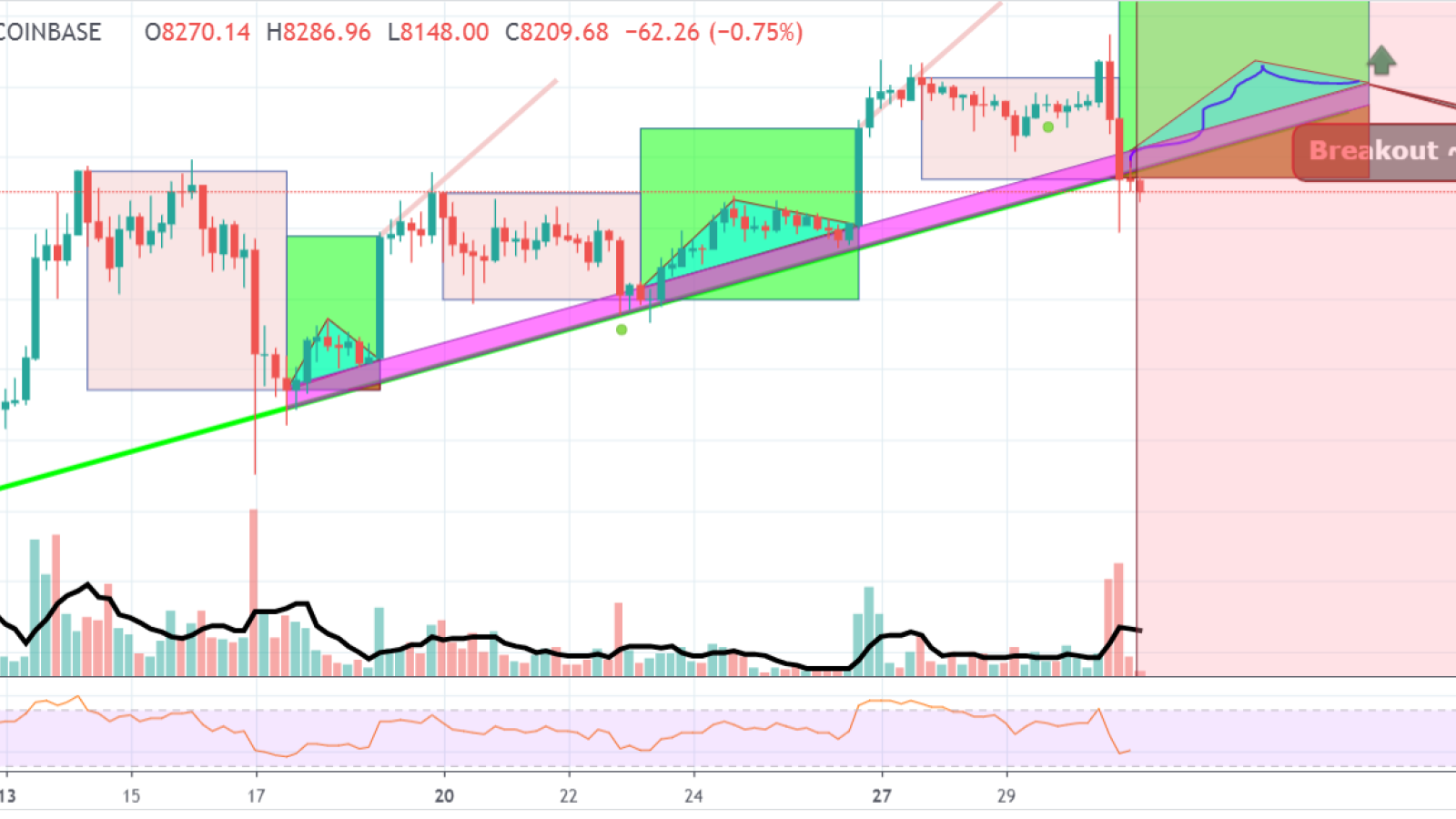 The cornerstone of this chart is the ascending support which was tested today. It has been tested multiple times in the past and has held strongly over 4-8H periods.
The green zones are bullish zones, the red zones are bearish zones. Bullish zones begin with a test of the ascending support and culminate in a breakout.
Bearish zones begin with a lower closed high and end with a closed retest of the ascending soft support zone.
The aqua triangles are bull pendants. If this pattern continues to play out, we will retrace up to the top of the next aqua pendant (~$8,800) within a matter of days, consolidate at ~$8,600 and breakout above $9,000 on June 3, 4 or 5th.
However, given how painful the retracement was after the $9K jump, there's another scenario that's possible. The major selloffs since the bottom have invalidated bottoms.
Volume is typically low, and the bounce is weak. This bounce has been very week. If we do not bounce, we can see sub $8,000 within 6-12H. $8,200 should be support. If we break that, we might see low $7,000 again.
Potential bearish divergence targets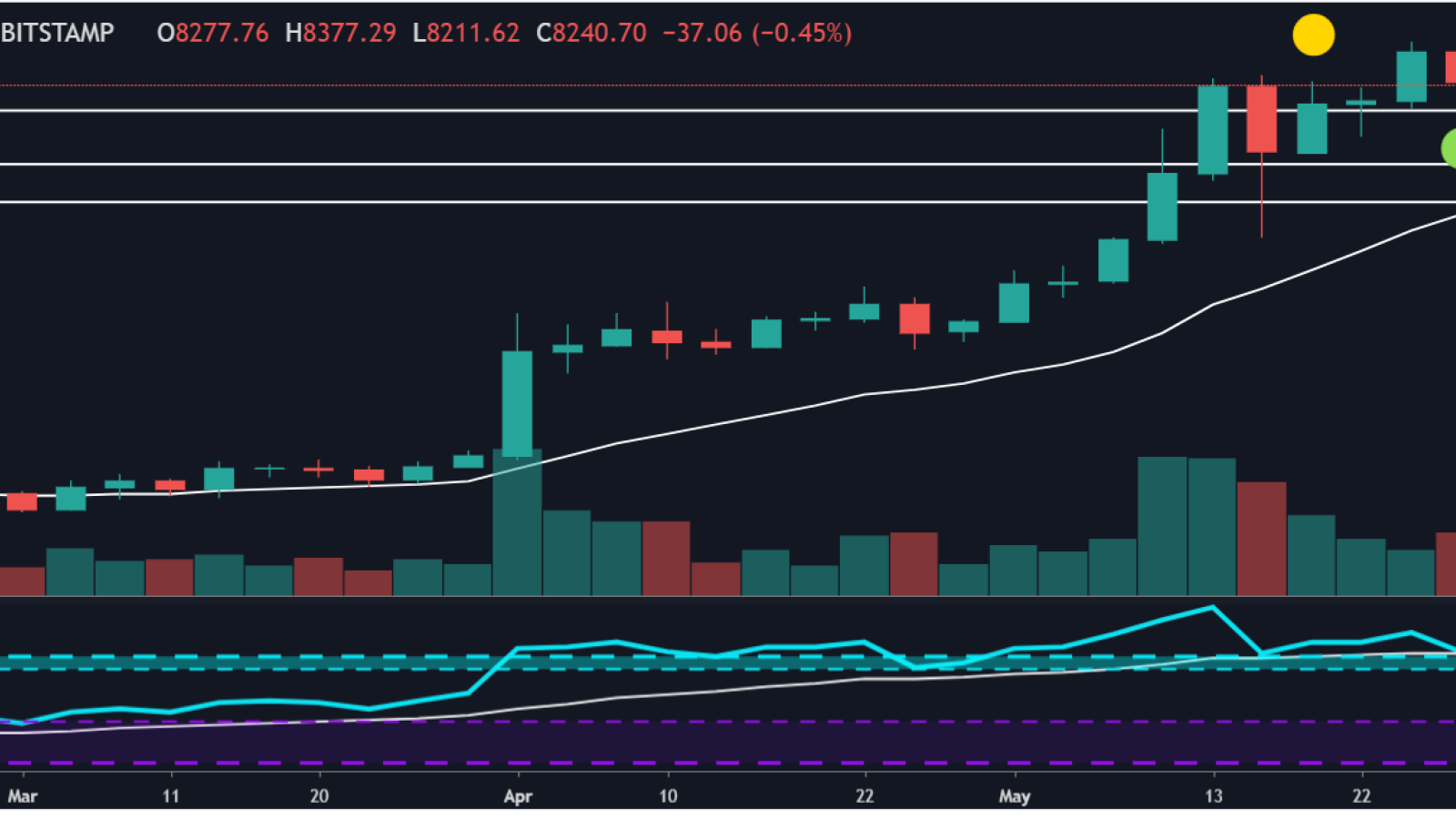 How to trade BTC in the current conditions? Here are a few recommendations from the user Coin_Savvvy.
He has exited Bitcoin position as it closed multiple 4-hour candles below $8,400 having entered in around $7,400 ever since the 3-day chart told me to enter when it closed above the 200-day SMA for the setup there.
Now that we had a giant rejection at $9,000, we need to gather some information in case things turn over for real here.
Tonight, Bitcoin closed the daily, 2-day and 3-day candle around $8,275 but more importantly, it put in a low right at $8,000.
If we tick back down below $8,000 with these new candles, then that would be considered a local top which would print out some pretty nasty bearish divergence on these time frames with the RSI as we have higher highs on price action with lower levels on the RSI.
When it comes to bearish divergence, price tends to come back down to its 21 EMA (bold white) so these levels are market on this 3-day chart of Bitcoin with horizontals. Below are the levels and where they correspond to the other time frames.
So, what are the bearish targets?
Daily - $7,850

2 Day - $7,100

3 day - $6,600
These targets are not able to be used until we actually tick past $8,000 and most likely want to wait for an hourly or 2 hours to close below that level which would indicate that this is a local top and now we have a divergence to deal with.
There's also the possibility of a bullish case. If this does not play out (quite yet) and if we start closing 4 hours above $8,400 soon then we must switch around the game plan to bulls business as usual as that would indicate that this overall bull trend upwards not quite done yet.
However, it is really starting to look like things are ready to turn around with all the medium time frame indicators turning bearish and the higher time frames starting to turn around.
The rising wedge has been broken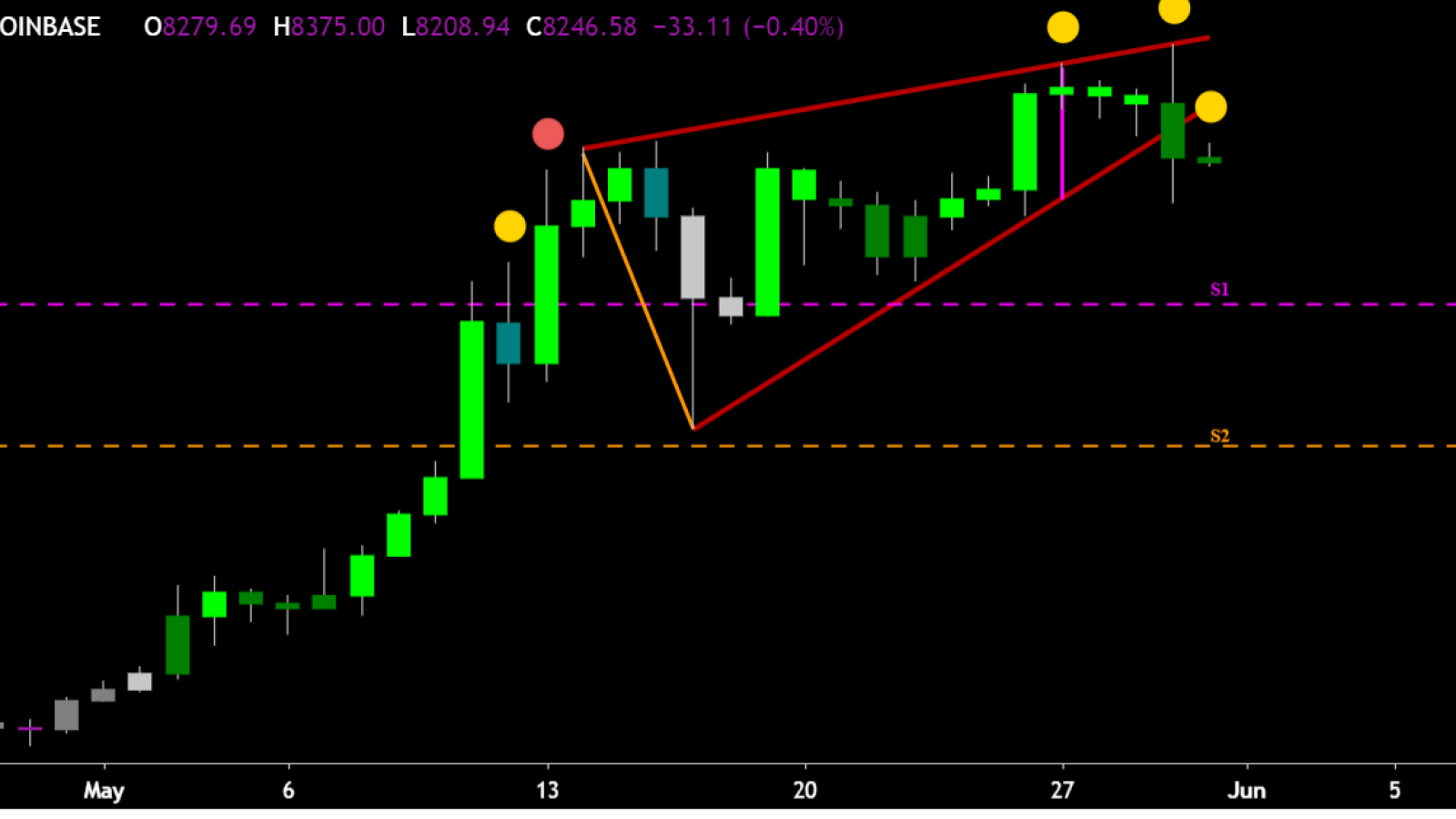 Bitcoin broke down and out of the rising wedge making it a bearish reversal pattern. Support levels shown are based on the Tom DeMark trendline breakout strategy (S1) and S2 is just a measured move equal to the price difference at the base of the wedge.
The Bitcoin bids are $8,400 and $8,030 so far with more set down to $7,200.
Final thoughts
After a serious rejection at $9K, Bitcoin is in a dangerous position. If the closest support zones fail to push it back, it will mean the beginning of the bearish period. Keep tabs on the technicals and avoid taking risky decisions, as usual. Good luck!
Bitcoin price charts are taken from TradingView