Morgan Creek Digital's co-founder and a crypto podcaster Anthony Pompliano has expressed his attitude towards the recent blockchain boom in China on his Twitter page.
It is not blockchain China is after
In his recent tweet, Pomp states that it is not blockchain this country is after, it is automation. Blockchain, he says can power global automation. And since China is already the leader in AI and 5G Internet, this seems logical.
China isn't betting on blockchain, they're betting on automation.

A blockchain is just the accounting system that empowers a fully automated world.

They're already leaders in artificial intelligence, gene editing, and 5G.

Automation is a natural extension.

— Pomp ? (@APompliano) November 9, 2019
Fighting 'Chinese surveillance' with Bitcoin
Pompliano has also recently expressed a view that Bitcoin can help the US fight Chinese surveillance. He did not specify, what he meant, though. This tweet was taken with a great deal of doubt from his followers.
Bitcoin may become the United States' best option for fighting Chinese survelliance.

— Pomp ? (@APompliano) November 7, 2019
Some of them pointed out that the majority of Bitcoin miners are based in China itself.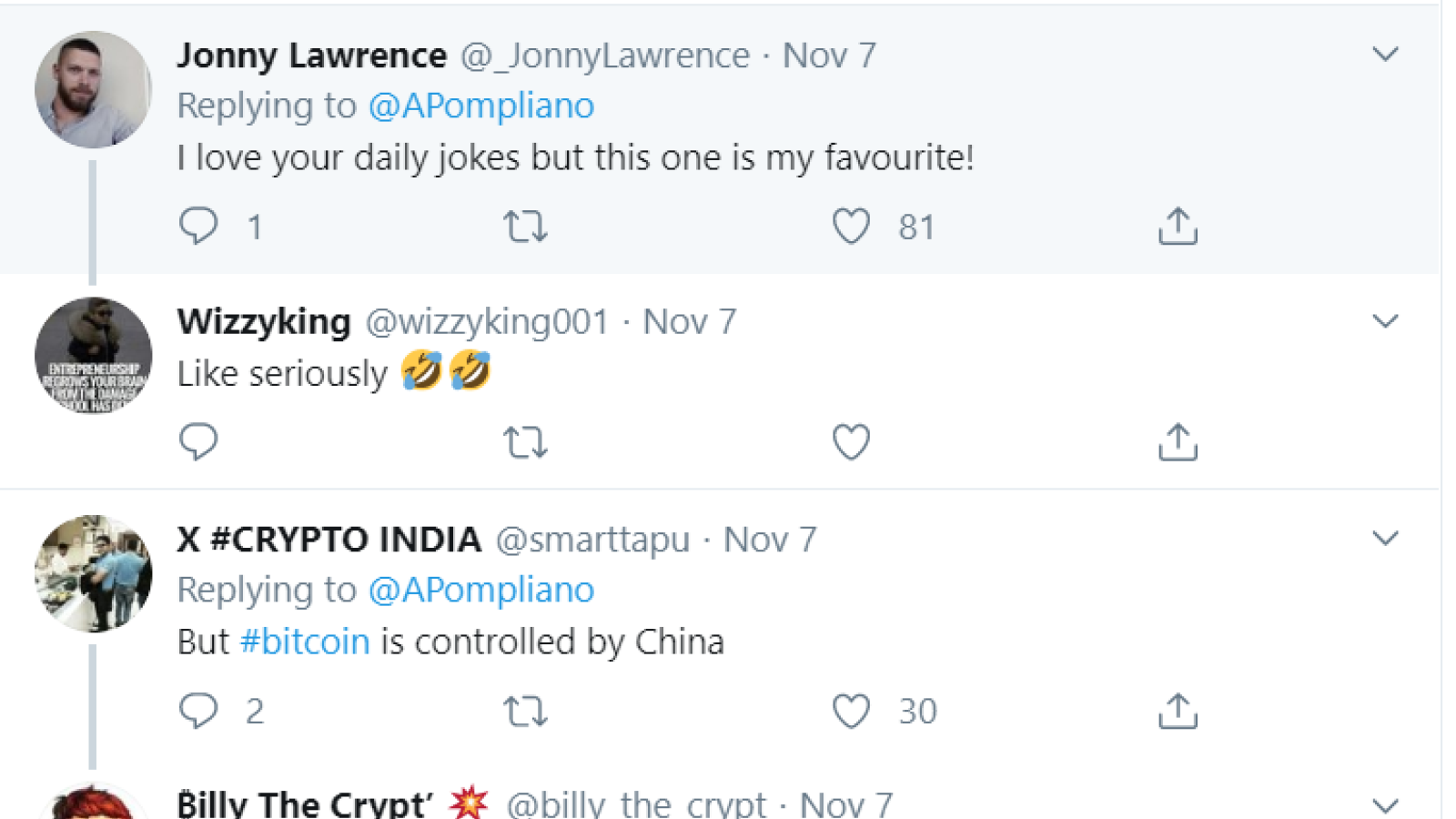 Recently, U.Today reported that China has reversed on its earlier intention to ban cryptocurrency mining and has taken it off the list of industries to be eliminated.
However, today's news that Bitcoin has got to the front page of a major state-run Chinese newspaper Xinhua, seems to have grabbed 'Pomp's attention and perhaps will change his opinion on China and its attitude towards Bitcoin.
China is literally running front page stories about Bitcoin in their largest newspapers.

Things are about to get very, very interesting... https://t.co/gUGNhqQ5XG

— Pomp ? (@APompliano) November 11, 2019
Pomp meets the notorious Crypto_Bitlord
Anthony Pompliano is famous on Crypto Twitter and runs his podcast, where, among other people from the crypto sphere, Ripple's CEO Brad Garlinghouse took part recently.
Besides, crypto enthusiasts seem to often bump into Pomp either in airports or at crypto events.
One of such people is the notorious guy from the XRP community - @Crypto_Bitlord.
Had the opportunity to meet up with @APompliano for a quick drink and $BTC chat in Vegas!

Smart guy with a long term vision ? pic.twitter.com/SYZIYTab8H

— ฿ITLORD 01 (@Crypto_Bitlord) November 7, 2019
This person is known on Twitter for his severe critics of the current Ripple's policy regarding regular releases of XRP from escrow. He was the one who threatened to conduct a Ripple hard fork to put an end to these 'XRP dumps', believing that they prevent the coin's price from surging.
Although, Brad Garlinghouse not long ago stated on Twitter that the company is using XRP to improve the liquidity of the asset and that nobody can manipulate the price of XRP, not even Ripple.