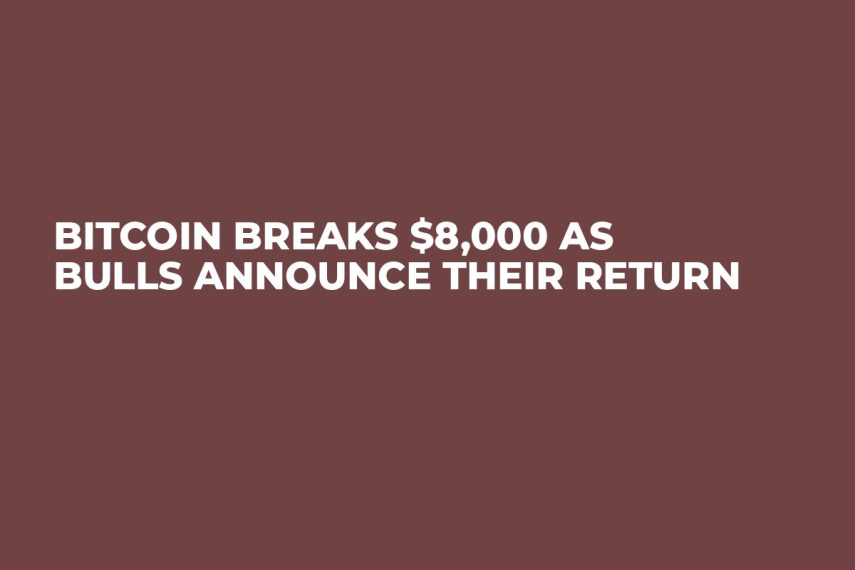 Cover image via U.Today
Bitcoin hit an important milestone on its way back up towards the highs of December 2017 when it crossed the $8,000 mark thanks to a turn in the market towards the Bulls. Bitcoin has been steadily rising since a big spike last week saw it jump around $1,000 in a day smashing the $7,000 mark.
Now, with positive news driving the cryptocurrency market, the graphs are suggesting that the market has done a turnaround allowing the bulls to re-enter and help what could be another big rally for the major cryptocurrency.
Bitcoin's path to $8,000
A month ago to the day, Bitcoin hit an all-time low for the year as it dropped to $5,800 at the peak of a bear market that had been in effect since the beginning of the year. Th Bitcoin price wallowed between $5,900 and $6,200 before entering July where a slight spike got it to a support level of $6,400.
The digital currency managed to grow steadily for a week to reach $6,800 but was unable to hold that position as it then slumped back down to $6,200 before another slow uptrend got it to $6,700 before the bullish spike happened.
The spike saw Bitcoin go from $6,600 to $7,500 in a matter of moments and since then there has been positive growth for the original cryptocurrency to this point, reaching $8,000.
The dominant
Bitcoin has been at the forefront of the entire cryptocurrency market bull run managing to up its dominance over the market substantially. Its dominance is now at over 46 percent, which is similar to where it was in December last year at its all-time high.
Bitcoin has also managed to break away from the chasing pack of the other top 10 coins which often follow what the dominant coin is doing. During last week while the likes of Ethereum, Ripple, Bitcoin Cash and EOS faced a few peaks and valleys, Bitcoin managed to continue steadily growing.
Bulls are back
It would seem that the catalyst for this change in the market has a lot to do with a spate of positive news that managed to pull back the Bulls into market. If the bull market can hang around for a while there is a strong chance that the growth will get bigger and stronger as more mainstream adoption can help the price skyrocket.