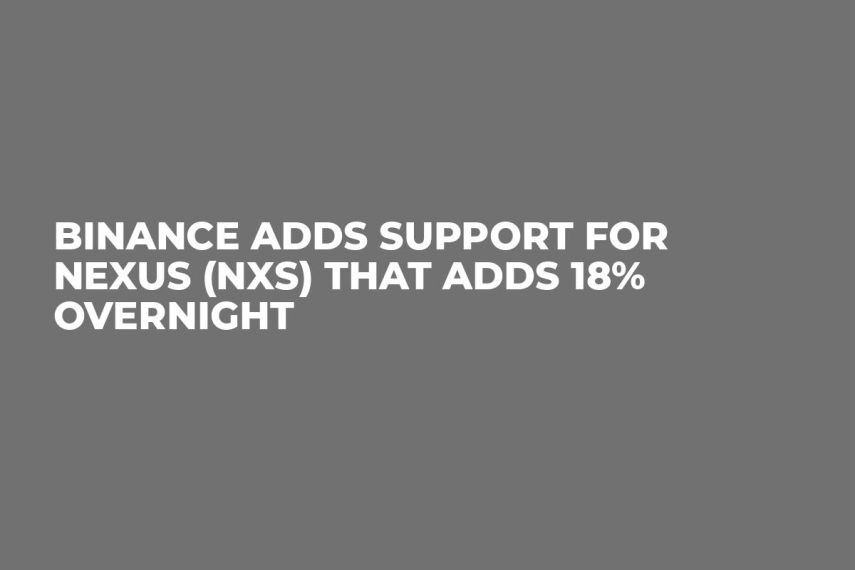 Cover image via U.Today
Binance now trades Nexus (NXS), one of the small-volume, minable coins, which works on the verification principles similar to IOTA and NANO.
Over time NXS price grew from the lows of the market and then reached the high of $12 to come crashing down later.
The news about Binance adding this digital asset has made NXS rise to $2.6– that's plus 18 percent overnight.
Three trading pairs with this coin will start off on June 6- NXS/BTC, NXS/ETH and NXS/BNB, and the trading activity on this platform may give the coin a momentum.
NXS is also available on such exchanges as Bittrex, CoinSpot, Cryptopia and Upbit.
#Binance Lists #Nexus ( $NXS )https://t.co/SgRvz38mSA pic.twitter.com/dJaCGXSd4c

— Binance (@binance) June 6, 2018
What is Nexus about?
This currency runs on its own quantum-resistance 3D Blockchain.
The Nexus system has adopted a combination of mining and trusted verification in order to optimize transactions and give the network a high speed of work.
The whitepaper says that Nexus plans to create numerous connections between computers, gadgets, businesses and people and join them into a single planet network of the future. People will be able to use it for setting up new apps in the sphere of finance, technology, etc.
A secure coin?
Experts claim that the token also has implemented flexible difficulty adjustment mechanism and hourly checks that prevent the acceptance of blocks with a false timestamp. Besides, transactions made to the wrong addresses can be canceled and the funds recovered.
Also due to some other features, NXS is resistant to 51 percent attacks, which makes it a good choice for investors as part of their portfolio.
However, one should be careful with coins of small market capitalization and incredible utility promised by their teams. It all could be just their marketing strategy.