As of now, the top-10 coins are in deep red, as per Coinmarketcap. The only gainers at the moment are XRP (+0.62 percent), EOS (+0.11 percent) and Bitcoin Cash SV (+0.46 percent).
Even the recent winning horse Tron (TRX) is trading in the red zone, showing a drop by 1.46 percent.
Things look better on the top-20 list, with many more winners today.
Cardano outperforms them all
The top gainer among the top-20 coins today is Cardano (ADA), showing a rise by 2.94 percent. It is closely followed by Binance Coin (BNB) with its 2.79-percent spike. The third top gainer here is IOTA, going up by 1.09 percent.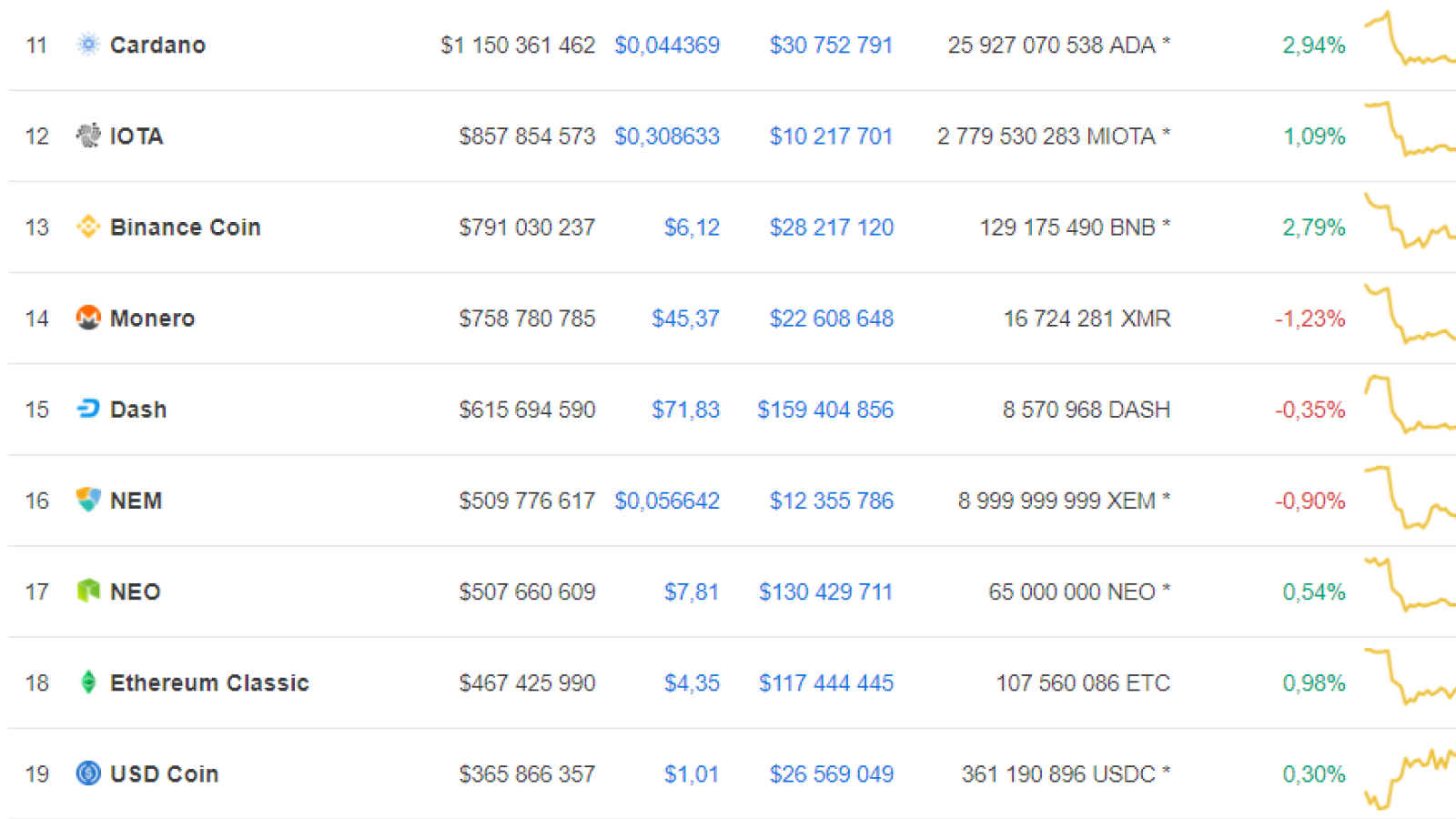 NEO, Ethereum Classic and USD Coin (#17, #18 and #19) are also rising but very poorly, compared to its aforementioned peers.
Beyond the top-20 list
WAX, Stratis, and Aeternity are the only crypto assets that have shown an over 20-percent increase on the top-100 crypto scale.
Everus (EVR) strives to catch up
A coin which seems to have a large potential for growth outside of the top-100 at the moment is Everus. Over the last 24 hours, it has spiked 22.28 percent and seems to be rushing on.
Everus is a Malaysia-based crypto startup that aims to offer blockchain as a service on a global scale. Presently, the company is busy conquering the South Korean market, which is the third most active one in the world.
EVR is the native coin of Everus, based on the ERC20 standard of Ethereum. As per Coinmarketcap, the coin is so far available on two crypto exchanges – C-CEX and Cryptopia.
The latter suffered a major hack the other day, now going offline until the matter is solved. However, as U.Today reported earlier, the crypto community suspects an exit scam in this case.
Currently, EVR has a 456 329 484 EVR token supply. Its market cap value totals $5 646 049, which gives the coin position #335 on Coinmarketcap. The price of EVR is trading at $0.0123 at press time.