Sparkling new Shiba Inu rival SHIBONE INU is leading the meme coin price revolution today as it seeks to register its influence in the meme coin Hall of Fame. The digital token is up by 73.36% and trading at a spot price of $0.000000000935.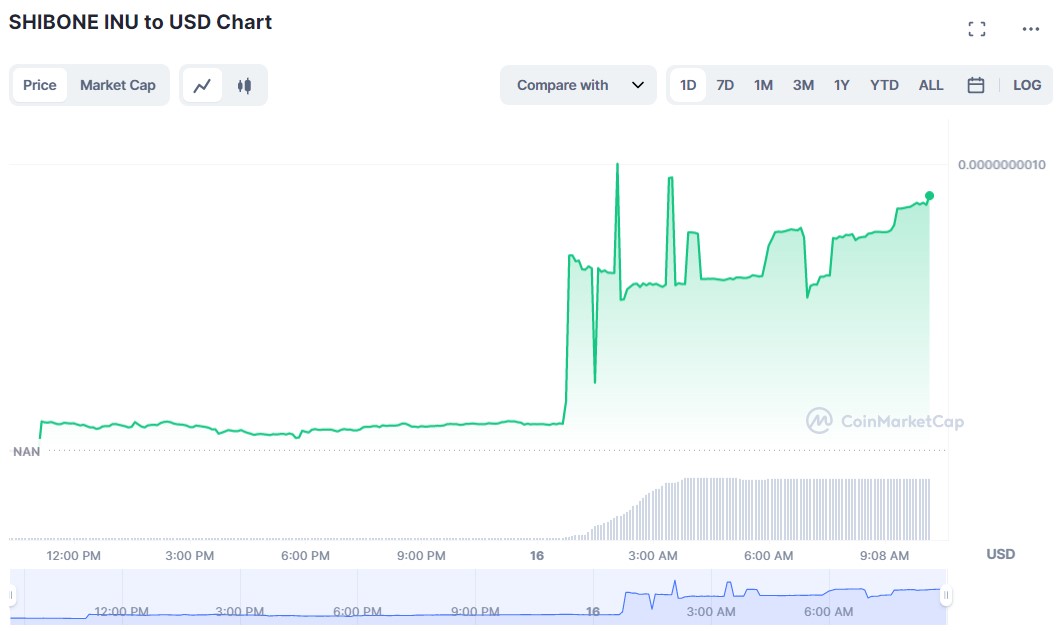 Though the SHIBONE token is considered a major rival to Shiba Inu, its existence is to foster and support some of the core innovations that the bigger meme coin is pushing for. SHIBONE INU is a decentralized token marketed by anant parker with play-to-earn games (P2E), NFTs and staking dApps, which support the now-launched Shibarium Layer 2 blockchain of the Shiba Inu ecosystem.
With SHIBONE tagging its existence alongside that of Shiba Inu and its ecosystem with an extra utility associated, it can guarantee a steady rise in its price valuation in the near future. At the moment, Shibone has a lot of hype surrounding it, and with its current price action, it is set to pare off the losses it has accrued in the trailing seven-day period.
SHIBONE's influence is growing, and with the recent upsurge, it might make it to more meme coin lovers' watchlists.
Shiba Inu influence
For Shiba Inu, the influence is now far beyond just the regular role it plays in many traders' portfolios as a pump-and-dump token. At the moment, it is now branded as one of the most viable ecosystems with the strongest community and growing developer count.
The launch of Puppynet, the beta version of its Layer 2 protocol, Shibarium, is one of the most ambitious adventures that a meme coin may ever attempt. Shibarium has not just rebranded what Shiba Inu is known for, it is set to make the Ethereum network an even more competitive Layer 1 protocol, with competition among its growing number of Layer 2 protocols.