Solana (SOL) is on a bullish run today as it joins the altcoin resurgence on the market. At the time of writing, the coin is up by 7.2% over the past 24 hours to $24.79, and in the past week, the coin has printed a total growth of 16%.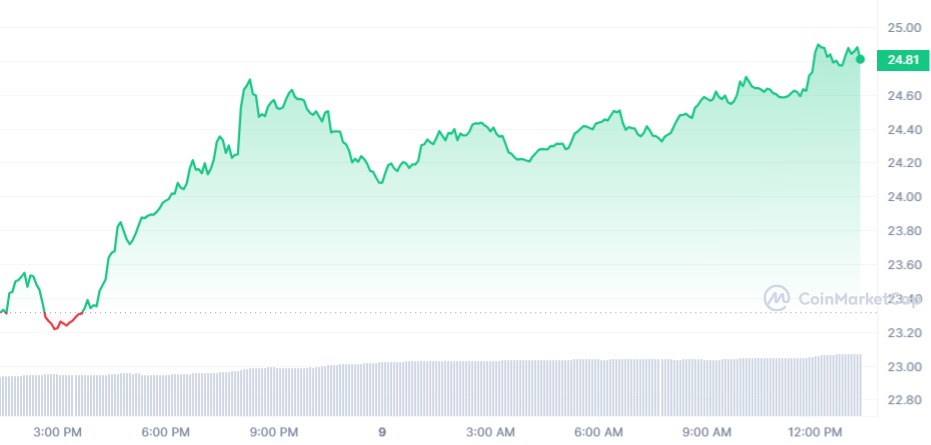 While the growth of Solana is not unusual, the steady rise over the past week has showcased a propensity for a likely more targeted run across the board. From its trading volume, which is up by 58% at the time of writing, to its social sentiment, Solana appears primed for more ambitious growth, at least in the short term.
Solana-XRP comparison
Solana's growth pattern appears similar to those of its peers, including XRP. With Solana up by 7% overnight, XRP has inked just 3.95% growth with a corresponding slump of 7.31% in the past week.
Though the short-term growth outlook of Solana is more bullish than that of XRP, in the past month, XRP has set such a high bar that it makes it one of the most profitable altcoins around today.
The positive XRP ruling helped push the price of the cryptocurrency to such a high pedestal that investors are still largely using it as a yardstick to stack up the coin. Over the past month, XRP has retained a growth pace of 37%, a figure that compares to the 15% Solana recorded within the same time span.
Overall, XRP is outpacing Solana in terms of price growth, a sign that shows Solana has a steeper upside for growth.
Potential Solana growth trigger
When viewed alone, Solana is on track to retest its monthly high of $29, and the key triggers for this are its growing decentralized finance (DeFi) and non-fungible token (NFT) ecosystem, both of which are proof of robust developer activity.