Shiba Inu (SHIB), the canine-themed cryptocurrency, has reached what analysts have been referring to as its "Final Destination," the significant price level of $0.000008. This level has long been seen as a crucial support barrier that could potentially mark a reversal in trend for SHIB. However, the uptrend that many investors were banking on has yet to materialize, raising concerns among SHIB holders.
Often referred to as the "Dogecoin Killer," SHIB has been undergoing a bearish trend for some time now. Despite a few optimistic rallies, the token has failed to break out significantly, leading it to this critical juncture. The $0.000008 price point is seen as a robust level of support and has frequently served as a springboard for price recoveries in the past.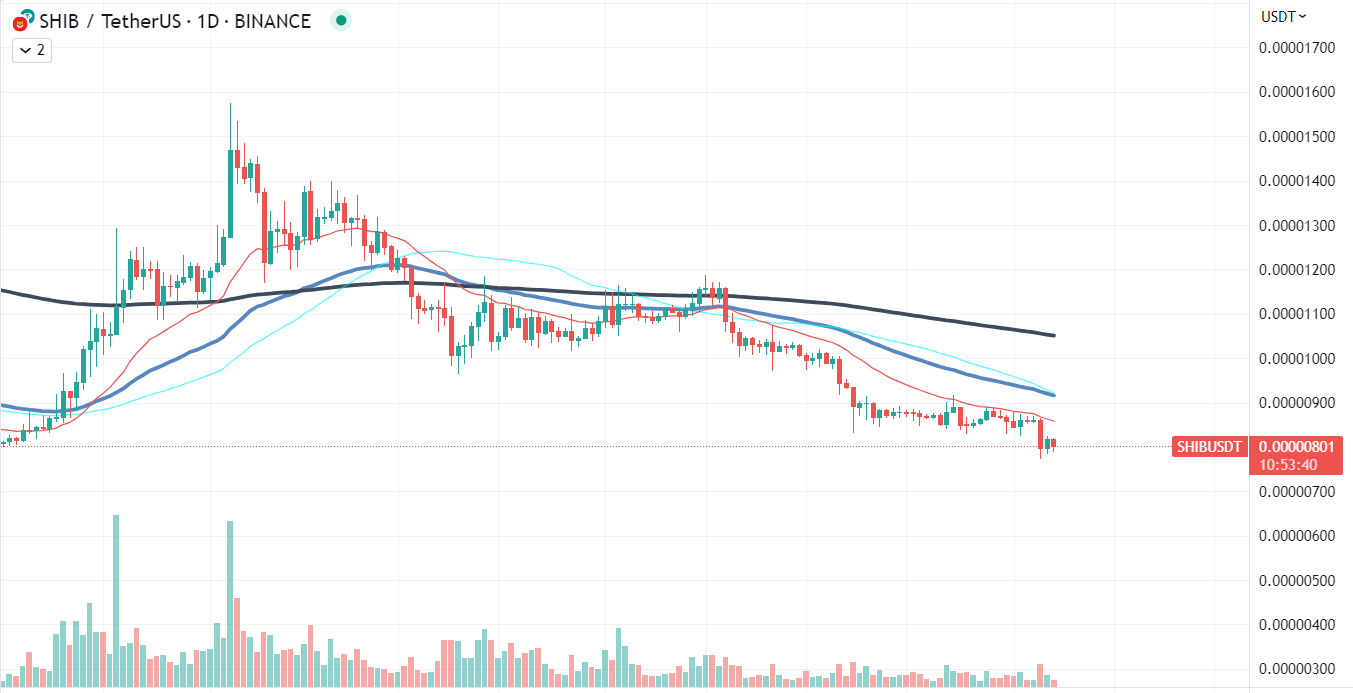 Nevertheless, despite reaching this pivotal price point, SHIB has not demonstrated the expected upward bounce. Instead, the token continues to hover around this value, generating anxiety among its investors and stirring debates within the cryptocurrency community. The question now is whether SHIB can uphold this support level or if it will break downward, indicating a more substantial bearish phase.
Cardano leads fall
Cardano (ADA) has led a market-wide correction with a 3.9% price drop. The drop follows the recent labeling of Cardano by the U.S. Securities and Exchange Commission (SEC) as one of the digital assets that could be considered a security, a decision that could pose substantial existential risk to the cryptocurrency.
Being listed as a security means that Cardano could become a regulated asset in the United States, a change that could drastically affect its operations, market presence and investor base. For Cardano, this could mean coming under stricter scrutiny by federal regulation, potentially hindering its progress and performance. Such a classification could also cause significant market volatility, leading to a decline in Cardano's price, as witnessed in the recent 3.9% drop.
The most concerning aspect of the SEC's claiming that Cardano is a security is the potential withdrawal of support from large-scale and institutional investors. These investors, often seen as the backbone of any cryptocurrency's financial stability and growth, might be discouraged by the increased regulatory scrutiny and decide to reduce their holdings or withdraw their support entirely. However, Cardano was never considered a VC's favorite.
XRP avoids problems
XRP has experienced a significant rally after not being included in the U.S. Securities and Exchange Commission's (SEC) list of digital assets classified as securities. This list was part of the SEC's recent complaint against prominent crypto exchange Coinbase.
The omission of XRP from the list is particularly notable given the ongoing legal feud between Ripple and the SEC. In 2020, the SEC filed a lawsuit against Ripple Labs, alleging that the company had conducted an unregistered securities offering by selling XRP. The case, which remains unresolved, has been a major source of uncertainty for both Ripple and XRP holders.
However, XRP's exclusion from the SEC's recent list may be a positive signal for Ripple and its digital currency. It has led some market observers to speculate whether this could indicate a favorable outcome for Ripple in its legal tussle with the SEC. Amid these speculations, XRP has seen a significant rally, attracting heightened interest from investors.
Moreover, this exclusion appears to have sparked renewed optimism among XRP investors, who may interpret it as a sign that the SEC does not consider XRP a security, contrary to its allegations in the ongoing lawsuit. While the exact implications of this development are unclear, it is evident that the market has responded positively, as reflected in the recent XRP price surge.