The digital currency ecosystem is experiencing a mild but encompassing sell-off today, with the combined crypto market cap dropping by 2.17% to $1.16 trillion. Amid these mainstream slumps, Shiba Inu (SHIB), the world's second largest meme coin, is also crumbling under the selling pressures of its bears.
At the time of writing, Shiba Inu is down by 4.77% over the past 24 hours to change hands at a spot price of $0.00001072. The weekly performance, however, leaves the meme coin on a path where its short-term growth outlook is not entirely crushed by its retained 2.11% growth.
For Shiba Inu, two major on-chain trends show a reverse in its trend may be underway. The first is its burn rate. Even though the burn rate slid by more than 60% today, the total number of SHIB tokens burnt is enormous, pegged slightly above 25.6 million. This is a sign that more transactions are taking place, giving the massive burning more room.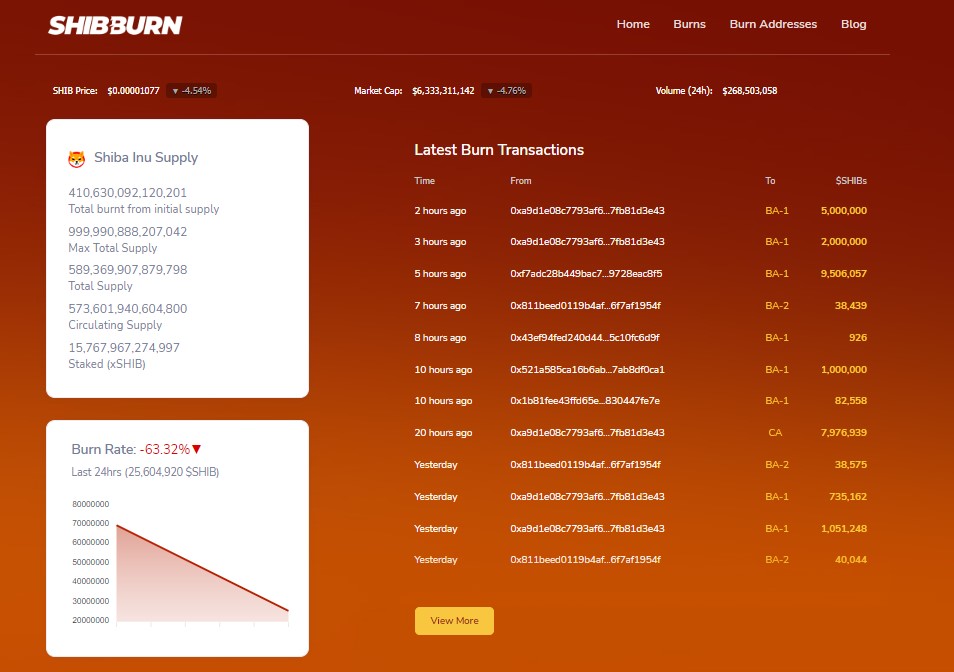 Additionally, with the current sell-off, the SHIB token RSI is currently pegged at 45, an indicator that shows the sell-off is already high, and a reversal may become the next logical step forward.
Impact of Bitcoin correlation
While the stage is set for Shiba Inu to chart its rebound moving forward, a major impediment to growth will be its correlation with Bitcoin (BTC). Since BTC controls the direction of the market based on its more than 46% dominance, this may significantly hold back SHIB's growth momentum.
However, SHIB also has enough network fundamentals through its Shibarium protocol, which can help solidify its push for a bullish rebound. With more interest growing from the developer community to come build on Shibarium, there is bound to be more transactions to satisfy the first burn factor, and the demand for SHIB is also bound to skyrocket in the near term.