The community of the Shiba Inu meme coin works hard to destroy more SHIB coins every day, however, they have hit a snag. Still, SHIB users are looking forward to the launch of Shibarium, when trillions of the second biggest meme coins SHIB are promised to be removed.
SHIB burn rate plunges after misleading rise
According to the website of Shibburn, a tracker of removed Shiba Inu tokens, over the past 24 hours, the burn rate of SHIB has gone down by 63.85% as 10,247,830 meme coins were moved to be locked in unspendable wallets.
On the previous day, the SHIB army managed to demonstrate an incredible rise of the burn rate as it hit a whopping 28,385%. This was a somewhat misleading value as merely 28,485,444 meme coins were moved to "inferno" wallets. Still, this percentage rise has so far been the biggest in the past few months.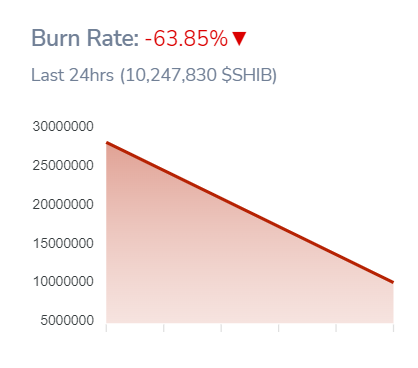 Possible reason for drop
The drop may have to do with short-term traders gradually losing interest in the aforementioned meme coin, as U.Today reported earlier. The current price action of SHIB is not generating any profit for them.
Still, large long-term holders on the Ethereum chain, or whales as they are widely known in the crypto space, continue to hold Shiba Inu as the top crypto asset by the USD equivalent. On their top 10 list, SHIB currently comes third after Ethereum and the USDT stablecoin.
At the time of this writing, these large wallets contain a total of $603,812,711 worth of SHIB. That is 16.02% of their comprised crypto portfolio, according to the WhaleStats wallet tracker.