DeDragon is the first GameFi2.0 game incubated by the Cryptosteam team. Following the motto of "Play to Earn", DeDragon combines the advantages of DeFi2.0 to create a new economic model to reward players for their contributions to the game ecosystem. Players can also earn revenue in various ways while enjoying the fun of the game.
Graphic
Thanks to Cliff Chiu, the game designer of DeDragon, who has 10+ years of experience in leading game companies such as Ubisoft, Crytek, and Virtuos, DeDragon has an
ultra-high-definition graphic quality and exquisite page design that is unmatched by other crypto games. Dragons consist of 4 parts, and each part has 9 styles, forming a total of 6561 combinations. And the habitat of dragons which is used for NFT staking has 4 kinds of styles: wind, fire, dark, and light. The diversity will give users more choices and bring a richer and more personalized gaming experience.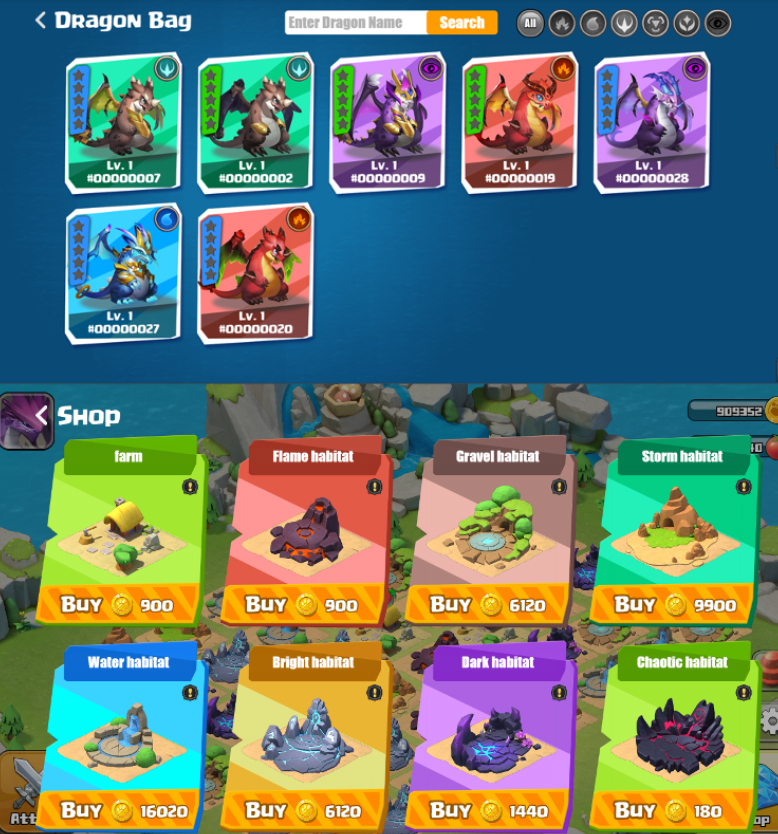 Gameplay
Dedragon also has rich gameplay besides great art design. There are a total of 25,000 genesis dragons, which are divided into four rarities: common, rare, epic, and legendary. Among them, common Dragons account for 60% of the total number of Genesis dragons, 36.5% for rare dragons, 3% for epics, and 0.5% for legendary.
In addition to the rich PVE content, Dedragon's PVP part is even more laudable. In the PVP battle, players can freely choose three dragons to form a team and choose their own battle formation in a nine-square grid. Before the battle, since you don't know the dragon attributes and battle formations of your opponent, you have to know enough about the dragon's attributes and the effect of various formations, infer the possible combination of your opponent, and make the best strategic adjustments, which makes the battle challenging and interesting.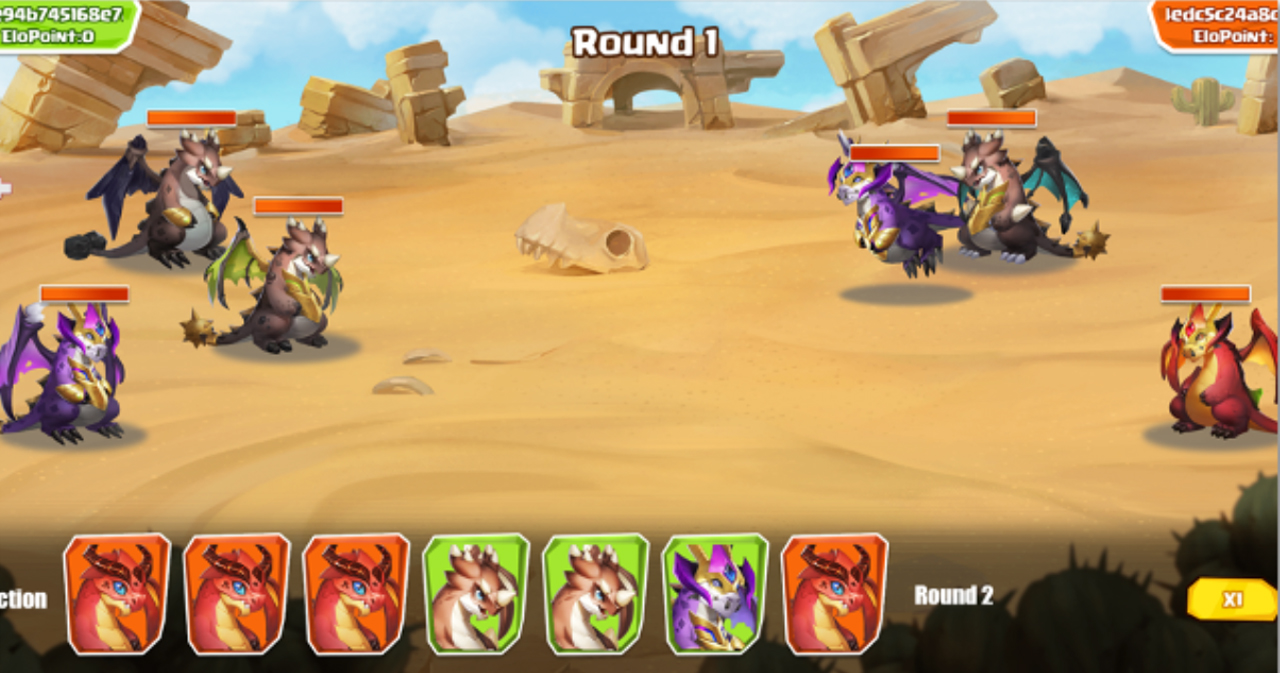 NFT
Different from general types of art NFTs, which only have appreciation, collection, and social purposes, there are more added values for DeDragon NFTs. In addition to participating in the game as a game character, all Dedragon NFTs can be used to yield mining by staking in Habitat to earn game token $RUBY. And DeDragon NFTs can be staked together with the platform token $PLAYER to speed up the output of $PLAYER. Each NFT has its own computing power which can be increased by playing the game. All NFTs are openly minted, and the probability of rarity is also controlled by the contract.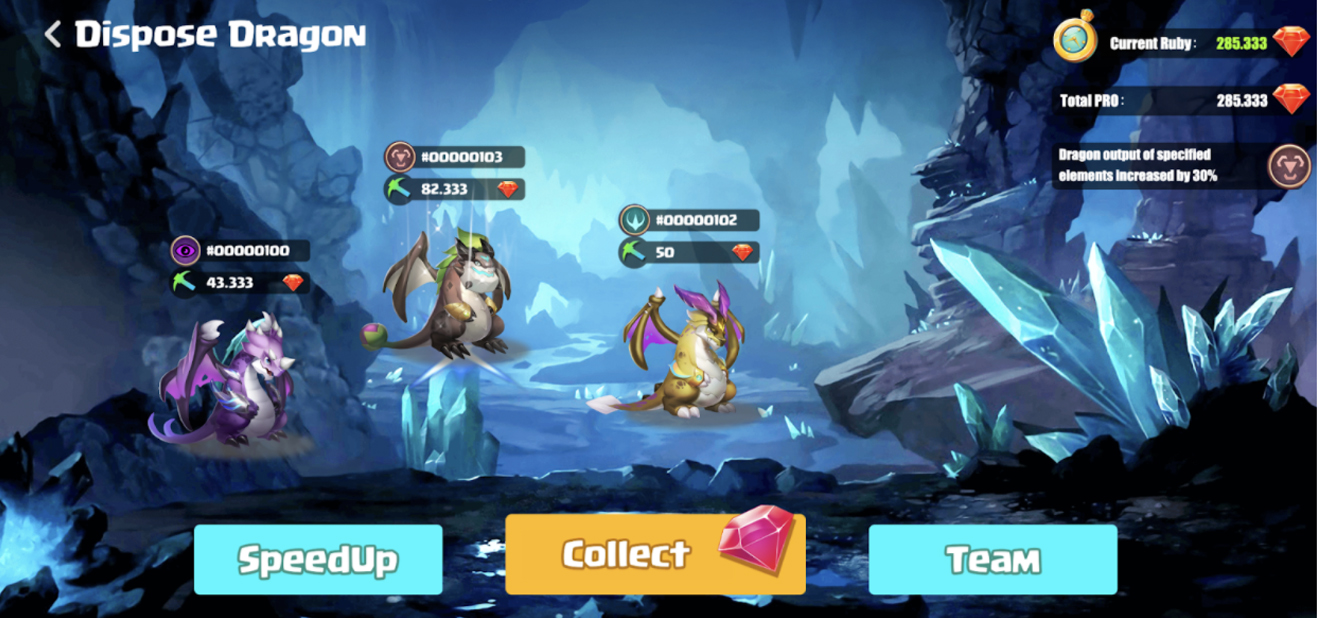 Economic model
The number of genesis Dragon is fixed as 25,000. The genesis dragons can mate with each other and reproduce offspring. In addition to the hatching time which slows down the speed of breeding, DeDragon introduced the star-raising mechanism to curb inflation of dragons and even achieve deflation. When the dragon reaches a certain level, it has to complete the star-raising before it can proceed to the next level upgrade, and enjoy the increase in computing power and combat attributes by the upgrade.
As mentioned above, NFTs can be used to staked in the Dragon's Habitat to earn $RUBY, or stake together with $Player to speed up, but not at the same time, which provides more application scenarios for NFTs and deepens the connection between GameFi users and (3, 3) users, thus reducing selling pressure.
The team has made a lot of efforts to maintain the stability of the economic system. In addition to the in-game balance, 50% of the $RUBY consumed in the game will be burned, 10% will be the rewards for top players in the game leaderboard, 10% will be the rewards for the game promoters.
About CryptoSteam
CyptoSteam is a decentralized game platform based on Avalanche, consisting of Game Incubator, Launchpad, Distribution Platform, Trading Platform, IM, and DAO, and aims to be the bridge to connect all players and meta-universes. Cryptosteam applies the (3, 3) economic model and optimizes it to be more resistant to a bear market and sustainable: in addition to the financial support from early financing and bonds & LP fees, 80% of the platform revenue will also be used to support the value of $PLAYER (platform token).
A good game must have a reasonable economic system, excellent gameplay, fair game mechanics and exquisite art design, etc. I believe that DeDrgaon will bring you a brand new chain game experience. DeDragon has conducted public tests and will be officially launched in a couple of weeks, and CryptoSteam will also start the public sale soon. Stay tuned!