Introduction to Bitsgap
Bitsgap offers all in one platform where clients can conduct a mechanized crypto exchange, manage their accounts, spot and stock market transactions. It was founded in 2018. Bitsgap has special features which allows clients and account managers to unveil while creating their physical tactics and market shape for the automated bots operating Bitsgap.
Bitsgap updated a dashboard
From many days of studies, commitment and motivation, Bitsgap has just launched a new dashboard for its Spot and Future market's website. To the left of the interface, there is a button "Order book" which scrutinizes and gives analyses of the market demand and flow of cryptocurrencies. There is also a "Recent trades" button which takes you to a page with all the fresh transactions acted upon and their details in full. What is very eye-catching is the "Bulls and Bears ratio" button. It is located at the bottom end of the dashboard. "Bulls and Bears ratio" tells the client how the market price ranged for up to the past half an hour. This information could be crucial when studying market behaviour on prices.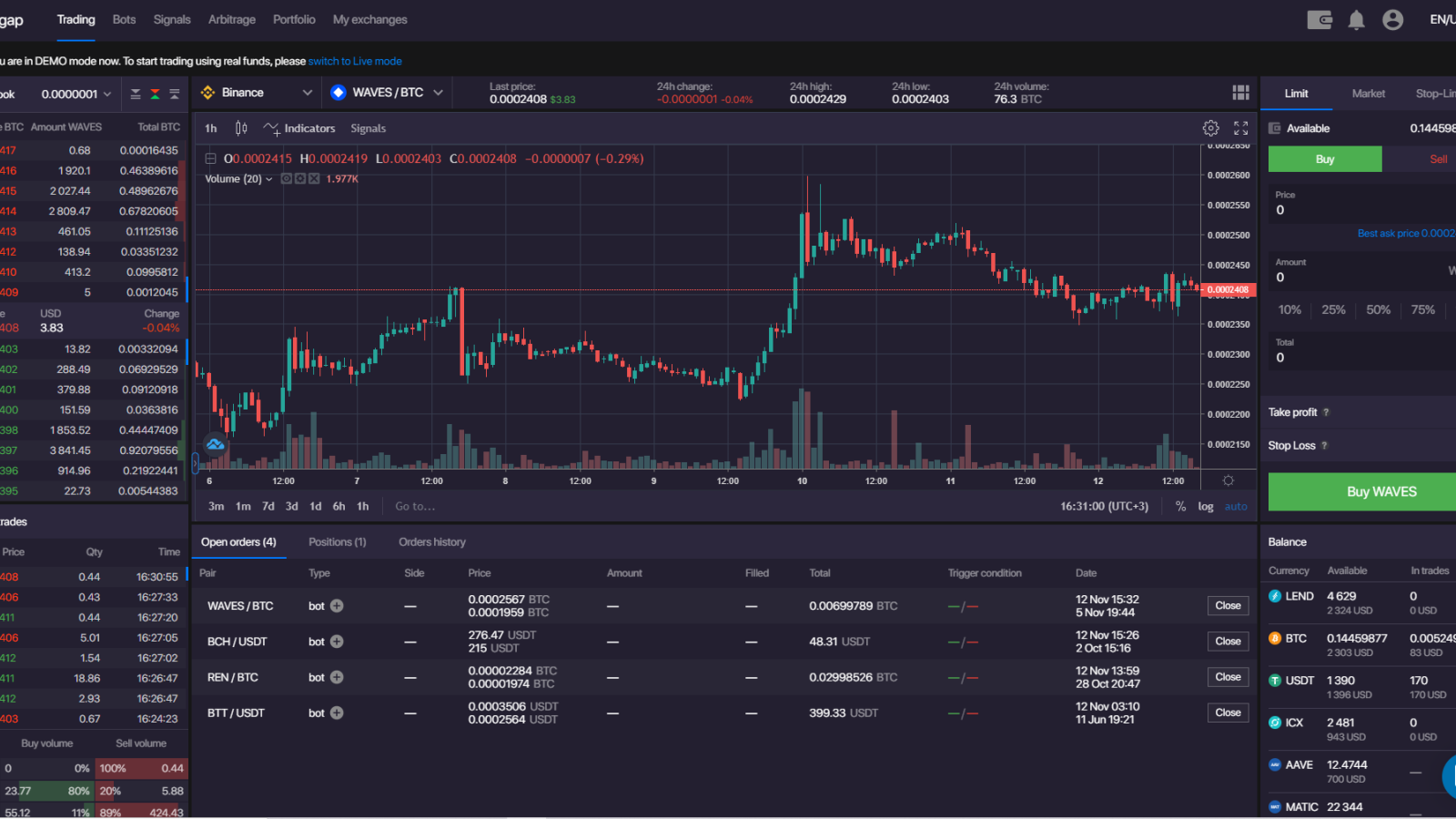 To the right of the newly updated dashboard, users are provided with controls for creating a limit, transact and cancel a put limit. The "shadow order" and "TWAP" features are unique and mind-blowing.
While creating a limit order, you will realize that you can manipulate many prices for the yield you aim at making. The server will robotically work out revenue when you physically give a value you seek. For instance, if you issue a command aiming the profit at 5%, the computer is set to work out an amount the order must go for. Immediately after giving a command on the profit take backs, there is an estimated revenue worked out, as in the example below, where there are five orders for AAVE/USDT valued at $3095.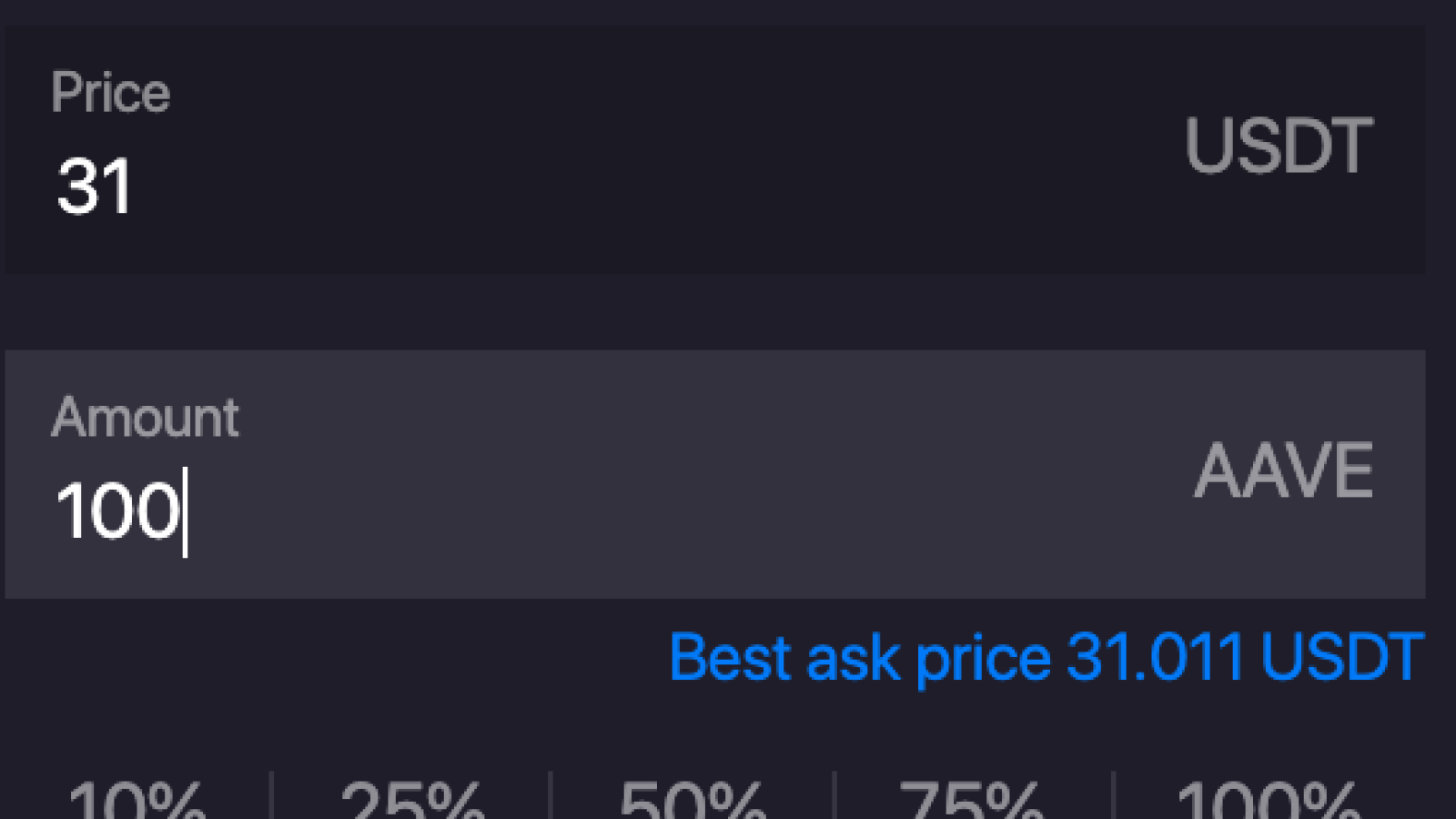 For this scenario, the estimated revenue is $186.
"Shadow order"
This feature is set to perform transactions which were not in records leaving behind no reserve balance on crypto trades. Whenever the value in the market gets to the price in the goal, a limit order is executed.
"TWAP"
Time Weighted Average Price, TWAP is a transaction based on the time interval to transact on a chosen cryptocurrency uniformly. Amount invested is segmented in proportional mini portions where each is also transacted on with the market during a specified period. Immediately after the final division is traded, a conclusive selling and buying price is worked out. This is a move advised to persons who plan to deal with very huge and do not intend on affecting the market with a single transaction. TWAP can also be used when you notice the exchange value depreciating and you predict that it will pick up soon and you invest. TWAP will fetch you profit in this case through a process called the cost-average effect.
Bitsgap update 2.0 in analyzing and collecting statistics
Bitsgap's system, GRID makes a difference as it has stood the test of time and is trustworthy. Clients on trades have two approaches they can adapt going by the market forces and their willingness to go for risky transactions. Bitsgap update of automatic trading bots transacts basing on commands and performs buy or sell orders which keep changing as the market value is flexible and ever-changing. It, therefore, gives the most trading openings for the system to make a considerable profit during a transaction. The system via stop-loss and take profit techniques trails and are calculated to minimize risks. The update comes with five important statuses that vary by configurations keyed, market behaviour and other influences. These are:
Starting
This is the allocation of data from the order to the market.
Active
This is when the bot effectively performs transactions as prices are in order range.
Pump safety and defence
During market instability, the bot puts an end to trades until the situation is corrected. This is via Bitsgap security technology which averts unpredictable pumping and dumping in the exchange terminal.
Out of range
This is when the price range command given to the bot is exceeded, and the trail is out. Price on the market is also out of range and is below what was in the command given to the bot. In this scenario, the bot ceases any further transactions.
Trailing
Whenever the amount going in the market is more than the range commanded by 1%, given all circumstances are up to bar, the bot sets a new limit relative to the rise.
Conclusion
Bitsgap has surpassed all critics to show that it is a firm and profitable crypto market. They have wowed with their professionalism in finances and as they keep up with changing trends. Bitsgap has proved competitive and effective through their regular interface updates which includes new trade tools and more accurate market studying. They also produce articles teaching clients, even those experienced.
Bitsgap has a demo program which users can utilize by testing how it works. It gives $100,000 demo money which the user can trade in. There are no risks related and also no profit gains. It just serves to show how you would do in the market. There is also a "backtesting" which allows users to see the credibility of bots by viewing its history.