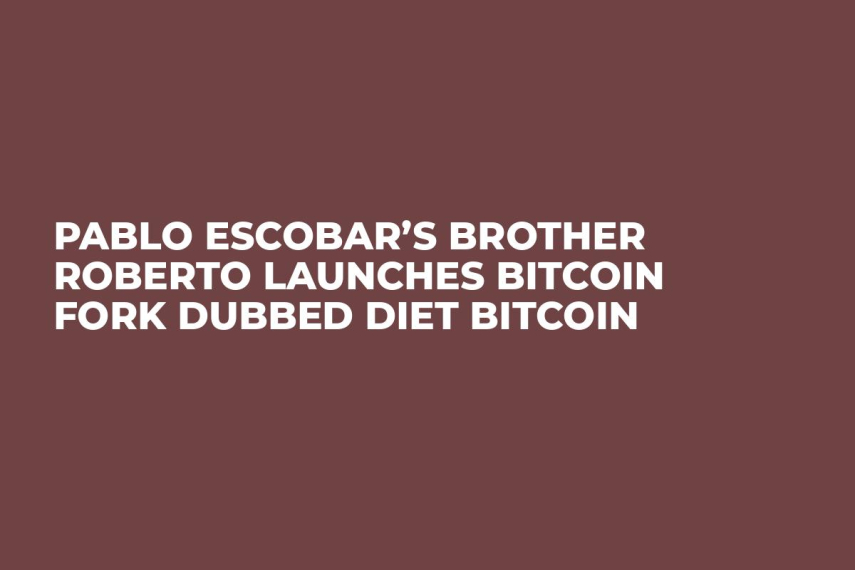 Cover image via U.Today
The younger brother of notorious drug lord Pablo Escobar, Roberto, has launched his own cryptocurrency dubbed 'Diet Bitcoin.' It is a hard fork of the Bitcoin Blockchain and makes promises of being faster and lighter than its original chain.
Escobar's eponymous venture investment firm, Escobar Inc, is currently running an ICO, where users can buy the token at a 96 percent discount: down to $2 from $50.
Diet Bitcoin, while run under the venture investment firm, is confirmed to have Escobar's biological brother's involvement.
Another forking mess
The breakdown of Diet Bitcoin and its plan is nothing out of the ordinary, not that special, as even the fact that it is a hard fork of the original Blockchain is hardly impressive. It is so simple to fork off the Bitcoin Blockchain nowadays, that there is software that helps with it.
Escobar's team are adamant however that they are a good investment as they have a team running things, hinting perhaps at a form of centralization, where Bitcoin does not.
Escobar Inc COO Daniel Reitberg said to The Next Web:
"Everyone should listen to these news, go to our site and buy as many diet bitcoins as you can afford. The value will be very high as we are identical in numbers to Bitcoin, except we are 4,000 times cheaper right now."
"Why would anyone on the planet buy Bitcoin or any other cryptocurrency where there is no real team behind it," Escobar Inc CEO Olof Gustafsson added. "We at Escobar Inc are committed to support the cryptocurrency diet bitcoin fully and are managing the day-to-day operations of this new currency."
Escobar's book
Roberto Escobar, clearly an avid fan of cryptocurrencies, has also released a book alongside this new venture titled Pablo Escobar's Diet Bitcoin that sums up his motivation to launch the coin.
However, Escobar also adds in some of his own, peculiar, insight, such as stating that Bitcoin was created by the US government and not Satoshi Nakamoto.
An excerpt from the book reads:
"The world is going to see that this was created by them. And when they see it, it is too late, and when CIA founds out that the world knows about this, the CIA is going to sell all of their coins, and they will destroy the value of Bitcoin."