The leader of the Shiba Inu team of developers has published a new update about Shibarium on the SHIB official Telegram channel.
Kusama unveiled a few points about BONE tokens, Wbone, Shibaswap DEX and contract verification.
Shytoshi Kusama shares good news on update
Shytoshi Kusama shared several bullet points in his update, namely promising to launch the official Wbone token soon, set up contract verification this week, finish BONE renouncing (almost completed now) and make Shibaswap move to Shibarium soon.
According to earlier statements by Shytoshi and the SHIB team, ShibaSwap is the only official decentralized exchange of Shibarium. However, other DEXes are free to launch on this Layer 2 blockchain, and PawSwap is one of them, with its PAW token and Paw Wallet built on the PawChain network.
Shytoshi Kusama stressed that now he and the SHIB team are focused mainly on "building decentralized systems and showcasing Shibarium projects."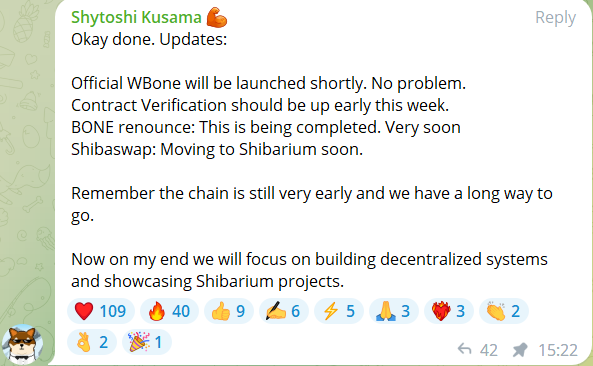 WBONE is a wrapped Bone token, which will be used on the Shibarium Bridge that allows transferring assets from the Shibarium chain to Ethereum and the other way around.
Shibarium has been now relaunched with the help of the Polygon team, Unification Fund and other teams. So far, according to the recent blog post of Shytoshi Kusama, the Layer 2 blockchain boasts more than 350,000 transactions and more than 65,000 connected wallet addresses on it.
A top developer on the SHIB team, Kaal Dhairya thanked the founders of the Polygon chain in a tweet today. He also compared the relaunched Shibarium to a newly born baby who was overwhelmed by the great number of relatives who came at once to greet him. Now, Dhairya has asked Shibarium users to handle the relaunched blockchain "with love and care."
Trillions of SHIB moved from exchanges within week
According to a recent tweet by crypto analyst Ali Martinez, last week, anonymous whales withdrew a staggering amount of Shiba Inu meme coins from centralized crypto exchanges.
Ali tweeted that this amount stands at roughly two trillion Shiba Inu; all of these coins were withdrawn from popular crypto exchanges to cold wallets for long-term storage. While the price of SHIB keeps falling, it seems that crypto whales continue to believe in the second-biggest meme coin and keep stocking up on it in huge amounts.
#ShibaInu | A staggering 2 trillion $SHIB tokens have been pulled from known #crypto exchange wallets just this past week. pic.twitter.com/MiWMNUp7jY

— Ali (@ali_charts) August 27, 2023
As of this writing, Shiba Inu is changing hands at $0.00000802 on the Binance exchange after showing a nearly 3% fall within the past 24 hours. Today, however, the token also showed tiny growth.