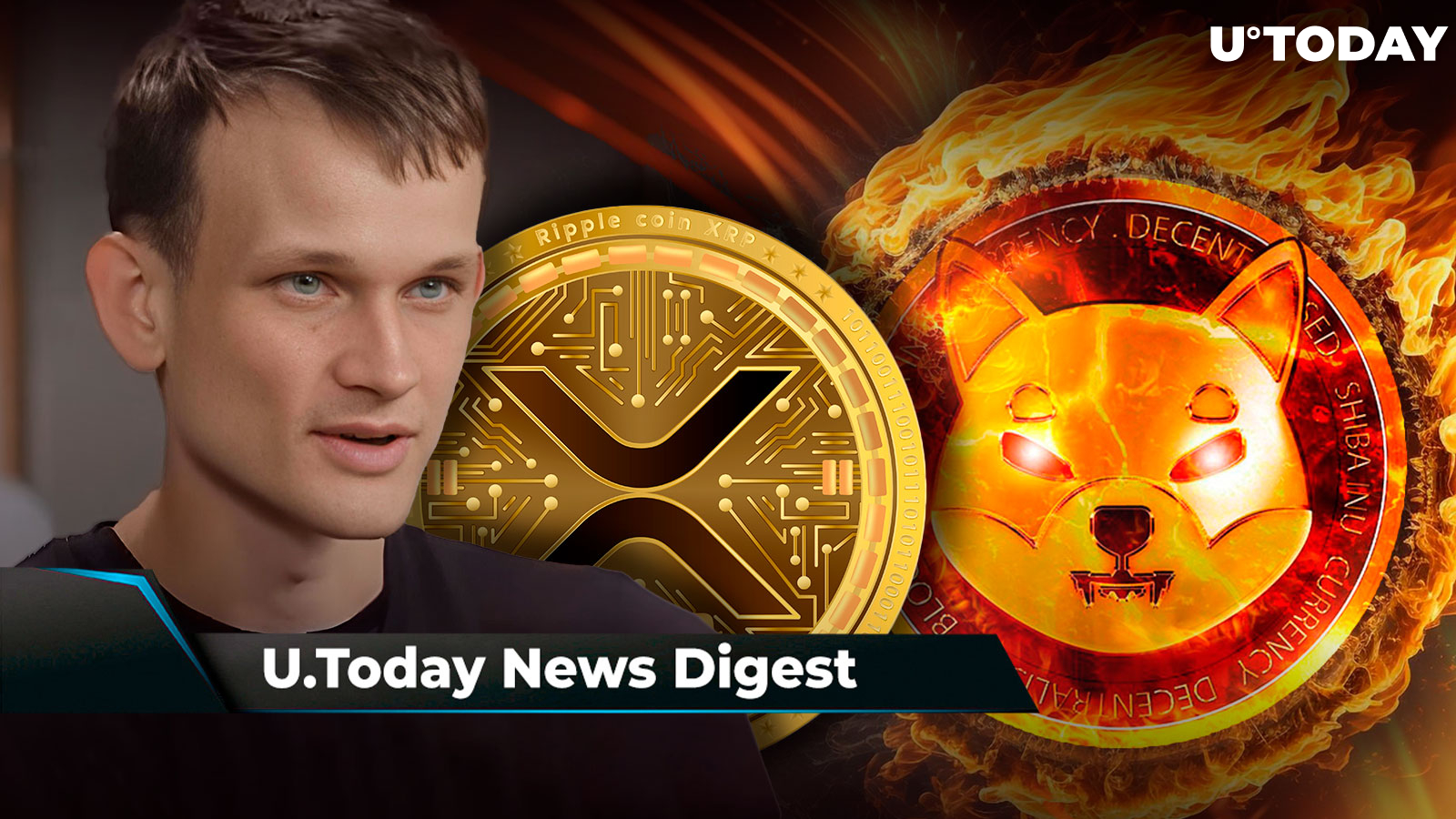 Cover image via www.youtube.com
Check out the top three news stories from the past weekend presented to you by U.Today.
Was Vitalik Buterin really obsessed with XRP and Ripple? Ethereum insider ends speculation
In a recent post, X user with 346 thousand followers @digitalassetbuy asked former Ethereum advisor Steven Nerayoff whether Vitalik Buterin really wanted to work for Ripple. Previously, Ripple's former director of developer relations Matt Hamilton mentioned that Buterin had sought an internship opportunity at Ripple and had even slept on the couch of the company's CTO, David Schwartz. Nerayoff replied that the Ethereum cofounder once expressed a desire to implement smart contracts on Bitcoin, but the developers did not want them. As for Ripple, Nerayoff wrote that his discussions with Buterin about the company were based on his encounters with Ripple representatives, and he used them as an example of "how a company should be operated in this space."
Quarter billion SHIB destroyed, 191 million SHIB burned in one go
As reported by Shibburn website, on Saturday, Sept. 23, the Shiba Inu community managed to take a substantial amount of SHIB tokens out of circulation. Per the website's data, the amount incinerated by them equals 244,753,783 SHIB. More than half of these meme coins, 191,531,588, were sent to dead-end wallets in a single transfer. These significant burns resulted in the SHIB burn rate increasing by 35.88%. Meanwhile, Whale Alert reported that on Friday, Sept. 22, 4,595,530,677,374 SHIB worth $33,377,339 were withdrawn from Bitvavo crypto exchange. This was an internal transfer between Bitvavo's wallets as it was reshuffling its SHIB supply.
Trader Henrik Zeberg shares new target price for Bitcoin (BTC) rally
According to a recent prediction by veteran trading expert Henrik Zeberg, Bitcoin may experience a 550% rally in the near future. As Zeberg wrote in his X post, both Bitcoin and U.S.-traded stocks are currently in a "buy-the-dip opportunity" phase, and when it is over, their indicators will surge to new highs. Then, the expert opines, BTC might jump to the $175,000 level; the S&P 500 index might spike to 6,100 and the Nasdaq index might reach a high at 27,100. Earlier, Zeberg predicted the end of the market recession in the U.S. in late Q4, 2023.