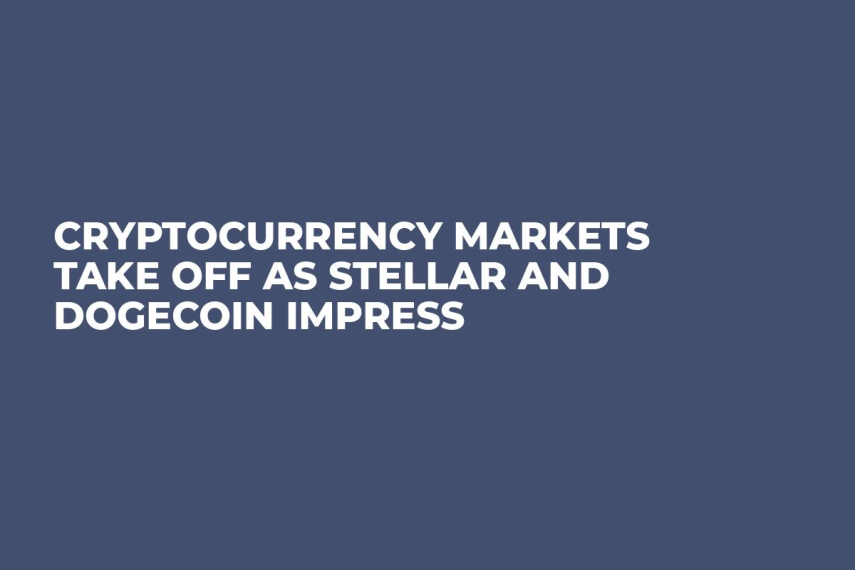 Cover image via U.Today
The week of lateral movement came to an end yesterday when there was a healthy up turn in the market of about five percent, however, not many would have seen a sudden spike in Bitcoin price that kicked off a big market boost.
Now, Bitcoin is up over $7,500, an increase of $1,000 in less than 24 hours, and the rest of the market is feeling the positive sentiment as only one coin has gone into the red, and that is TenX which is correcting after yesterday's heroics.
There are new winners for the day though, with impressive numbers as the 56th biggest coin by market cap, Ardor, has spiked almost 50 percent in the last 24 hours.
Other winners
More well-known and bigger coins, such as Stellar and Dogecoin are also doing very well today with the former up nearly 23 percent and the latter up 21 percent.
Stellar is now the sixth biggest coin by market cap and this is down to a slew of positive news that has been coming its way in the last seven or so days. outed as the top competition for the third-ranked cryptocurrency, Ripple, Stellar appears to be taking giant strides in controlling a significant portion of the emerging crypto-based economy.
Stellar has recently made a big partnership with payment provider, Tempo, to support its new global payment platform. There are also new rumors circling that Coinbase will be listing as many as five new coins and many feel that Stellar will be one of them.
And, more good news, but slightly off topic is the fact that Stellar was recently made Sharia compliant which opens up the Stellar project to a new world of possibilities in the shape of the 1.6 bln strong global Muslim population.
But some of the biggest news, that is helping the entire market boom, is new digital asset called 'Stronghold USD' has launched on the Stellar platform. The project is a stable coin pegged to the US dollar and is being developed by financial services provider Stronghold, with backing from tech giant IBM.
Good news for Stellar and the market
The news of Stronghold USD has helped boost the entire digital currency market as it shows big companies entering the market with stable coins which is appealing to the mass audience of potential cryptocurrency buyers. But, having that project run on the Stellar network is great news for the emerging cryptocurrency.