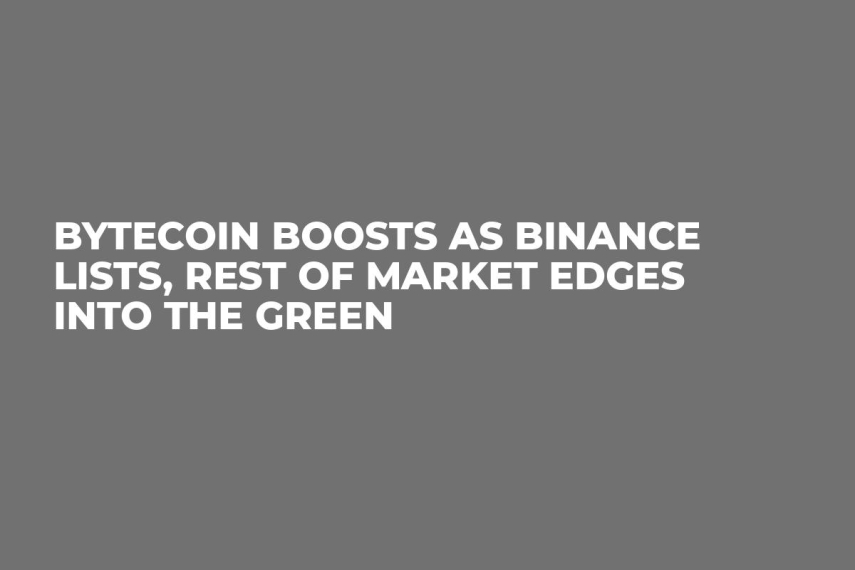 Cover image via U.Today
After consolidating by between three and nine percent across most of the top 100 coins, the market has flattened out with the majority earning small growth as the week has worn on. The biggest winner, however, has been Bytecoin which has benefitted from a successful listing on one of the biggest exchanges, Binance.
Bytecoin, designed for anonymous cash settlement, has rallied by a massive 76 percent over the last 24 hours as the frenzy grows thanks to its listing. It is up to 17th in terms of market cap and priced at $0.012 as it stands.
Big listing
Binance, the world's second-largest exchange by trade volume, announced that it was listing the relatively obscure privacy coin Bytecoin which prompted a hearty rally. Prices are pumping over 30 percent in less than an hour. The coin, BCN, surged from $0.007 to $0.009.
The listing of Bytecoin is a big plus for the company and those wanting to invest in it, but in terms of the general market and Bytecoin's niche, it fills an important role in terms of anonymity.
As soon as a transaction appears on the Blockchain, the address cannot be viewed by anyone and so BCN became the forefather of all of the anonymous cryptocurrencies based on this technology. The tech employs ring signatures, unlinkable transactions, and stealth addresses which all serve to keep exchanges totally private and make Bytecoin unique.
Recovery in the market
The rest of the market is mostly in the green today after the drop that happened following Sunday's big rise. Most of the top coins have flattened out, but managed to sneak into the green, growing by less than a percent upwards of about three percent in the last 24 hours.
In the top 100 coins, all but 17 are in the green, but even those in the red are only losing small percentages with the biggest loser over 24 hours being Bitcoin Private, which may be feeling the adverse effect of a competition coin succeeding, but it is only down four percent.