EO.Finance is a licensed Crypto & Fiat wallet which supports more than 40 currencies as well as credit and debit card transactions or even wire transfer for deposit and withdrawal. It forms one of many products within the EO ecosystem, which work seamlessly together to create a focal point for the entire crypto community.
The sheer variety of functions available ensures EO.Finance holds an advantageous position in the fintech market, providing an excellent option for crypto enthusiasts searching for a quick and reliable wallet, available to download on iOS and Android, EO.Finance is also accessible through browsers, as well as Chrome and Firefox extensions. The interface is also noteworthy and has been designed to maximize the user experience, for those in need of assistance, the company provides support 24/7.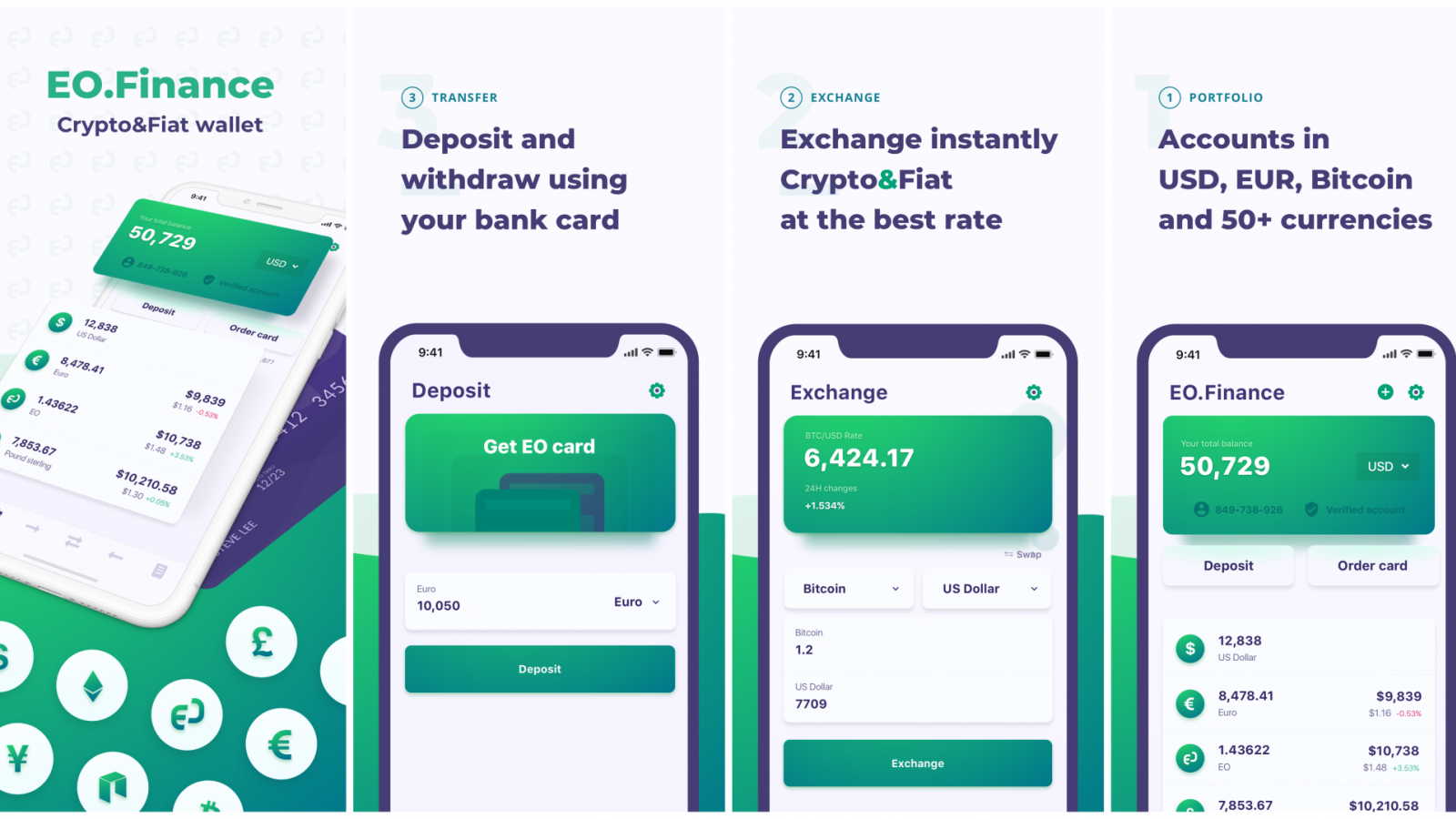 EO.Finance is packed full of key features which place it ahead of the competition, integrated exchange options are most welcome, and provide a fast and convenient method of exchange direct from the wallet, EO.Finance supports the exchange of;
EO coin

Bitcoin

XRP

Ethereum

Litecoin
Storage of fiat currencies has also been a popular addition, allowing users to store their fiat and digital currencies together. Perhaps most significant of all has been the introduction of crypto purchases with debit or credit card, which provides a convenient method for users to purchase cryptocurrencies.
Following registration users are provided with a unique address for each of the supported currencies, combined with options to send, receive and buy. Depending on the chosen option, easy to understand on-screen instructions provide guidance. Purchases can be made with ease from the portfolio, click the 'buy crypto' button and you will be presented with a drop down list of available currencies, simply enter the desired purchase amount and payment information to complete the transaction.
The process of exchanging is similar to that of purchasing, and can be done easily via the portfolio screen, choose the currency pairs you wish to exchange and enter the desired amount, then click 'exchange' to complete. This simple process would see your currencies instantly exchanged directly within the wallet!
EO coin powers the entire ecosystem, and this includes being used for the payment of commissions on transactions, which will come with significant discounts on EO.Finance, the referral program also plays a pivotal role in the growth of the ecosystem, and the EO community as a whole,
EO.Finance which is operated by EOtradex OÜ, holds European licenses for crypto wallet #FVR000161 and crypto-fiat exchange #FRK000193. These licenses provide increased trust and belief in the product and ecosystem as a whole.
It would appear that the future of EO.Finance is bright, not only does the product have the ability to flourish but as the heart of the EO ecosystem it has every potential to lead the future of digital currency.
How to buy cryptos with EO.Finance:
Website: https://eo.finance
iOS app: https://itunes.apple.com/app/eo-finance-crypto-fiat-wallet/id1415386724
Android app: https://play.google.com/store/apps/details?id=com.eofinance
Firefox Extension: https://addons.mozilla.org/en-US/firefox/addon/eo-finance-crypto-fiat-wallet/
Chrome Extension: https://chrome.google.com/webstore/detail/eofinance-crypto-fiat-wal/hoighigmnhgkkdaenafgnefkcmipfjon?hl=en