A few days ago, Hacked reported that cryptocurrencies are one month close to their longest bear market in history. As of 01/26/2019, the crypto bear market has been lasting 399 days, which is 3 weeks away from all-time record in 2014-2015. During that period, it lasted 420 days.
As for Bitcoin, cryptocurrency analyst Josh Rager noted, Bitcoin's longest correction spanned from Nov. 2013 to Jan. 2015, lasting 410 days in total:
"Very soon, you will be able to say that you survived the longest crypto market correction in BTC history," - he said.
Crypto community believed Bitcoin exchange-traded fund (ETF) will trigger the bullish wave in the market, but these hopes were shattered over the refusal from SEC. Recently, the Chicago Board Options Exchange pulled its application for the VanEck-SolidX Bitcoin Trust.
Does it all mean bear market will continue?
How long do we have to bear it?
While some crypto pundits make loud statements about Bitcoin reaching $30-50 in 2019, some take a more realistic look on the market.
Kaspersky Lab claims that the price of cryptocurrency will stay at low levels because it won't be commonly used as a means of payment. Besides, they believe that general expectations about cryptocurrency advantages will decrease.

Tone Vays, a Bitcoin enthusiast/influencer, is sure that the bear market might last until summer 2019. His lower price prediction is $1,300.

Having the same line of thinking, Arthur Hayes, CEO of BitMEX, has recently stated that bear market will last the entire 2019, and this trend may even last through the early months of 2020. This assumption is based on BitMEX Research's analyses of bitcoin's historical performance.

Anthony Pompliano, the founder of Morgan Creek Capital Management, believes that positive trends on the market should be expected not earlier than Q3 of 2019. Pompliano explains that bear markets tend to last long: the bear market in 2011 lasted 160 days, and the second took place in 2013-2014 lasting 400 days. This time, according to the historical trend, it can last 650 days.

Exchange market analyst Willy Woo says Bitcoin will reach its bottom in the nearest months. To make his prediction, he analyses NVT indicator (BTC market value between the daily trading volume in USD) and the average Bitcoin price in the last 200 days.
(Un)happy ending of Bitcoin bear market: 3 scenarios
Observing the precious Bitcoin performance, crypto experts consider and discuss three possibilities and Bitcoin price predictions.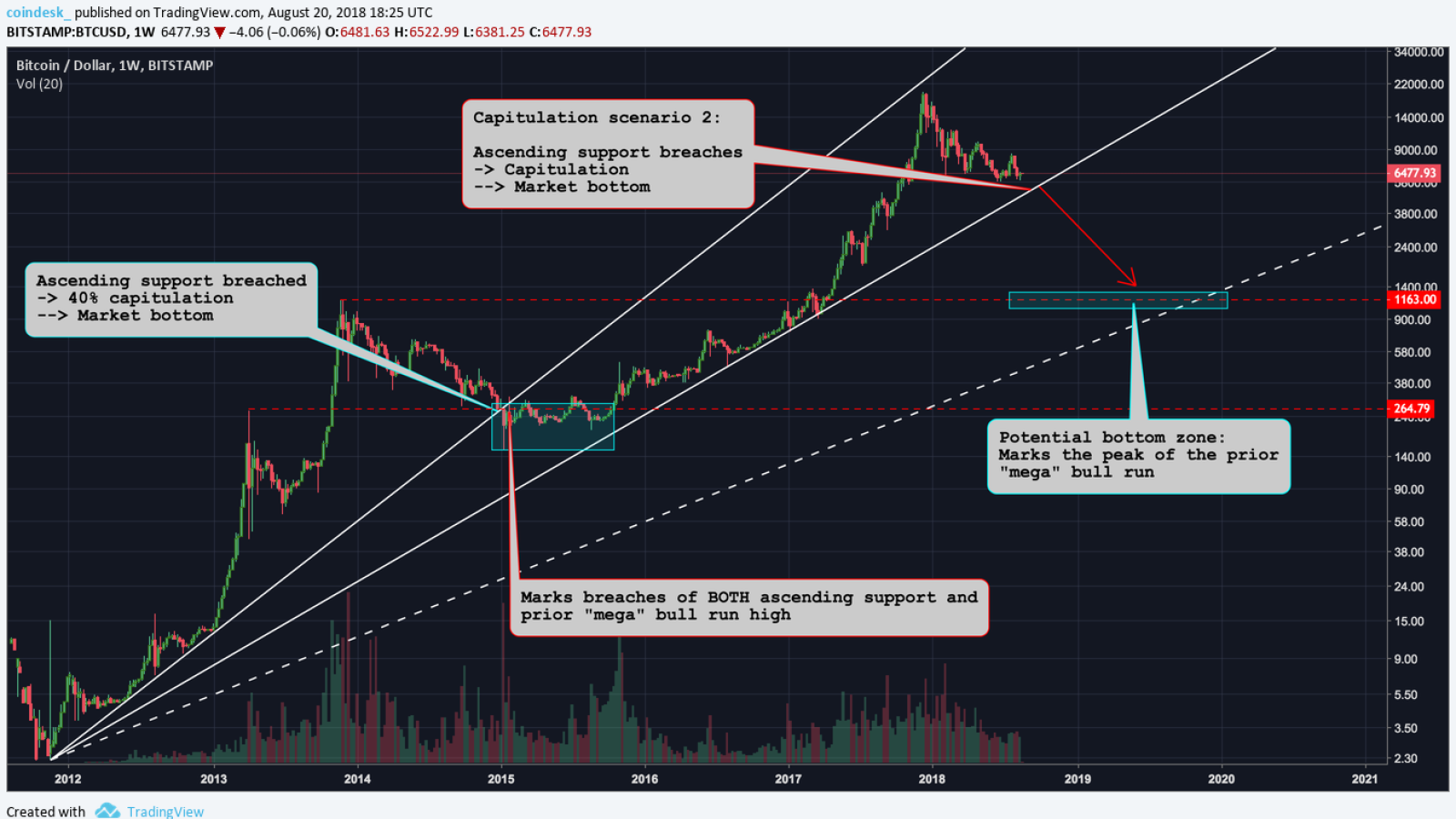 We have already seen the worst, so the market will bound to its previous state. Bitcoin ETF approval can trigger price growth and save Bitcoin from complete capitulation.

Bitcoin will range within $3,000 - $5,000. If there are no ETF approvals (which is likely to happen in 2019), Bitcoin will resume the bearish trend. Considering very acute Bitcoin reactions to trendlike breaks, there are two versions of bottom. The first bottom zone is around $5,000 area: it was reached due to 'support and resistance' lines. However, Bitcoin capitulates, and the $3,000 level is much more likely to hold. It means 85% loss of Bitcoin's value from December 2017.

Bitcoin hits $1,000. According to this theory, if the current ascending trend line changes, prices will fall further until reaching the beginning of mega bull run. Such bottom threshold lies in $1,200 area.
Behold, crypto winter that's come isn't going to finish in the following months. Don't let it discourage you: it might be your chance to buy BTC before it starts skyrocketing again.