In what comes as a major surprise to the Shiba Inu (SHIB) ecosystem, Bone Shiba Swap (BONE) has picked a dramatic uptrend after soaring as high as 15.85% at the time of writing to $1.38. The current outlook of the BONE token has helped it pare off some of its losses of the past week with 8.9% growth.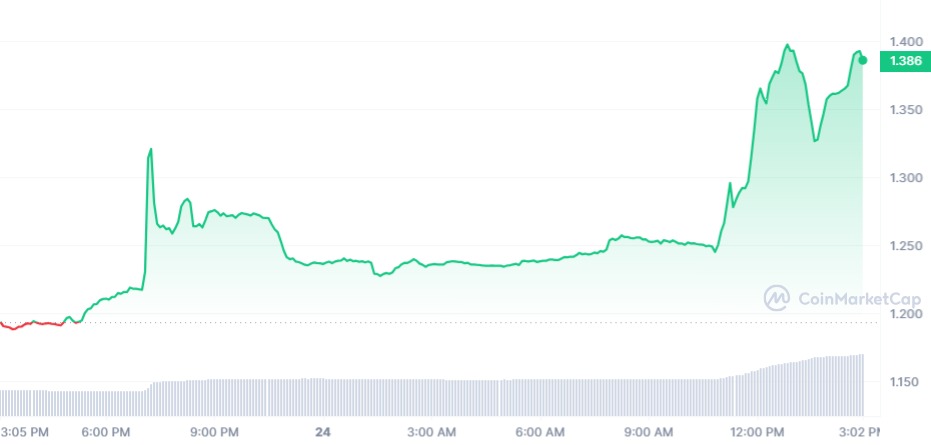 Three possible BONE triggers
BONE has accompanied the majority of the tokens within the Shiba Inu ecosystem to record a massive downtrend from last week as the initial launch of Shibarium failed to meet expectations. One of the top triggers for the rebound of BONE is the fact that the bulk of Shibarium's negative sentiment has worn off, and investors are now looking forward to new trends.
Besides the faded bearish sentiment, Shibarium has been rumored to be back online, as teased earlier by members of the core team over the past few days. While Shytoshi Kusama has not confirmed the launch, the Puppynet Scan protocol has showcased the sustained production of blocks on the Layer 2 network.
The third key trigger is the general outlook of the digital currency ecosystem, which has improved since more than $1 billion were liquidated from the market last week. The combined market cap is recovering and paring off its lost gains, and with BONE being a direct beneficiary of the impending Shibarium relaunch, its growth has been unprecedented.
Bull case for sustenance
BONE being on a bullish rampage today is not common for the token. While it is not categorically a meme coin, it is known to exhibit the same level of volatility as SHIB, LEASH and other prominent meme coins.
The reopening of Shibarium will bolster the utility of BONE and, as such, help sustain its bullish growth trend in the near future.