Blockchain Africa Conference 2023
Event details
Location:

Dates:

Thu, 03/16/2023 - Fri, 03/17/2023

Website

https://blockchainafrica.co/

Price: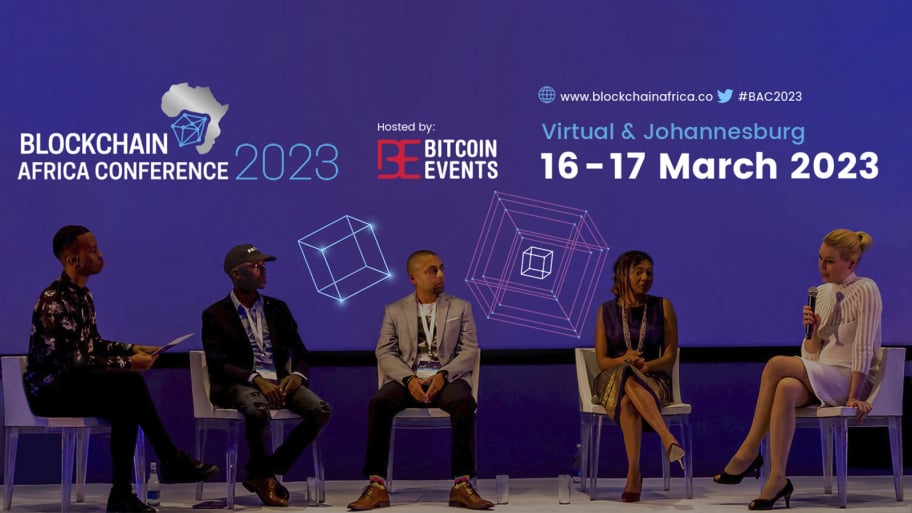 Cover image via U.Today
Bitcoin Events' flagship event, the Blockchain Africa Conference, returns on 16-17 March 2023 for the 9th edition as a hybrid edition: in Johannesburg, South Africa and virtually.
Built on 9 years of history, since the very first Bitcoin Africa Conference in 2015, (later renamed to the Blockchain Africa Conference), these conferences have attracted more than 9000 attendees from 160 countries and showcased the very best in blockchain and cryptocurrency innovation and disruption.
Expect world class international and local speakers, 1000+ global attendees, incredible insights, debates and panel discussions, with a focus on how blockchain technology and cryptocurrencies are transforming how business is done globally and on the African continent.
It is about the big ideas, market disruptors, top industry trends and technologies on which the future marketplace will operate. The conference will focus on global trends with a focus on Africa on particular, and how market players can capitalise on the opportunities and best respond to the threats.
The global rate of blockchain adoption has been showcased over the years at the Blockchain Africa Conference with the themes evolving from 'Beyond the Hype', 'From Hype to Mainstream', 'Ready for Business?' and the 2023 theme "Ready for Business' (no question mark). Leaving hype and speculation behind, the conference will focus on the application of blockchain technology across public and private sectors by global business leaders, organisations and innovators.
Key streams are:
Blockchain-based use-cases across both financial and non-financial industries
Cryptocurrency/digital asset regulation
Blockchain technology hurdles and challenges
The objectives are:
To provide contextual understanding of blockchain technology and the opportunities that it presents for Africa.
To deliver well-structured content that will meet the needs of different stakeholders and different industries.
To provide networking opportunities focused on creating business partnerships and collaborations that will create employment, drive economic growth and catapult development.
The Blockchain Africa Conference is an event that captivates and educates a global audience as Bitcoin Events continues to educate the African community, spread awareness and encourage networking within the space.
Join us at Africa's leading blockchain and cryptocurrency conference, the 9th edition of the Blockchain Africa Conference, which will be hosted as a in-person event for the first time since 2020.
Advertisement
Top
Crypto
News
in
Your
Mailbox
Top
Crypto
News
in
Your
Mailbox