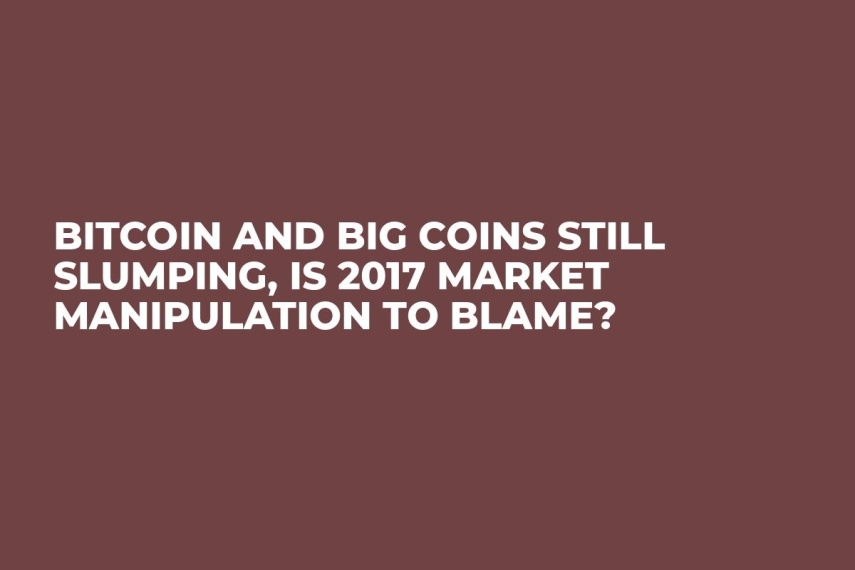 Cover image via U.Today
Within last 24 hours, big-cap currencies' prices went lower. BTC lost 1.8 percent from trading at $6,483 on Bitfinex. ETH dropped 2.4 percent to reach $486.1 on the same exchange. XRP slipped down to $0.5496, losing around seven percent of its price on the Poloniex trading platform. LTC is trading at $95.88 upon drifting down by 4.3 percent.
The market continues to slide after dropping off steeply at the weekend, down to an almost four-month low as 2018 also continues to be a poor year for price performance.
The market has assumed several possible reasons for this downward price trend to continue.
Reason 1– the Coinrail hack
Investors have recently been shocked by the so-called 'cyber intrusion' to the South Korean Coinrail exchange, where cryptocurrencies were stolen for the first time from a cold wallet, i.e. not connected to the Internet and therefore hard to get hands on. E.g., when back in January the Japanese Coincheck platform was attacked, NEO coins were stolen from online wallets, which are far less safe than offline storage spaces.
For this reason, the market sentiment was partly influenced by this cheeky but successful hack.
Reason 2– BTC price manipulation 2017
According to this week's report by finance professor at the University of Texas, John Griffin, since its peak in December 2017, Bitcoin has lost about 70 percent of its price.
He assumed that the historical high reached by BTC in December last year, $19,511, was due to price manipulation, performed through Tether (USDT).
As a reminder, back then links were found between the Bitfinex exchange and the Tether company, having the same management, to be exact. So back then there was a big emittance of USDT, which is paired with Bitcoin, not only on this exchange.
So, when on other online trading platforms Bitcoin price was going down, on Bitfinex it was artificially popped up with the help of certain patterns involving USDT.
Griffin is definite that Tether was used to stabilize and manipulate BTC prices.
Now what?!
Apparently, the idea of BTC price manipulation was in the air much earlier than this report came out, since in May the US Justice Department started an investigation of illegal practices through which, potentially, Bitcoin prices and the rates of other top digital currencies could have been manipulated.
It is too early to say, how the news regarding manipulation will impact the market further or whether it will damage somehow the reputation of Bitfinex and/or will finally clarify the situation on the links between the exchange and Tether.