The battle for the initiative on the market continues as all kinds of assets are reportedly testing local resistances and making attempts to break them or gain a solid foothold above them. However, some signs lead us to believe that the majority of investors are betting on a reversal in the foreseeable future.
XRP feels pressure
Compared to other assets, XRP has been showing one of the most unconventional performances on the market, as the asset has not broken any relevant resistance level but yet gained more than 21% to its value since the beginning of the recovery rally on the market.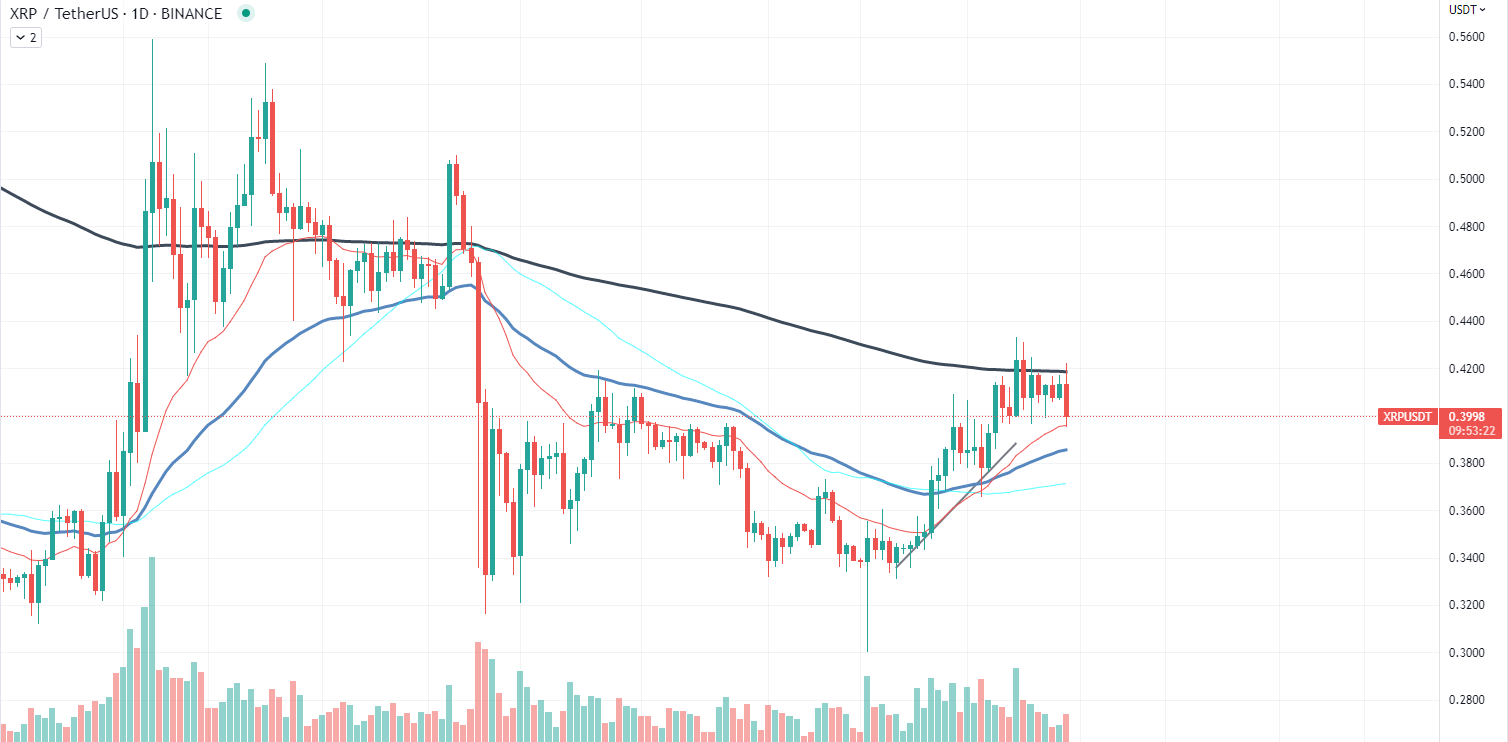 As for now, XRP is getting squeezed between the 200- and 50-day moving averages. The convergence of the two lines is usually considered a sign of an upcoming volatility spike. Unfortunately, there is no way to tell in which direction we will see the spike on XRP.
However, the asset might break the resistance and potentially attract more funding, which should push the asset upward thanks to traders that usually gain exposure to assets that are technically strong.
Ethereum holders are cashing out
According to on-chain data on the Ethereum network, the selling tendency prevails among whales and regular holders, who held Ether for the last three years, which might be considered an indicator of solid selling pressure that might become the catalyst for a bearish reversal.
Ethereum has not yet lost a significant part of its value, suggesting that no major pressure occurred on the market yet and the asset can still move upward, especially after breaking the local resistance level reflected in the 200-day moving average.
Despite the successful performance at the beginning of the month, the continuation of the rally is not guaranteed as, in addition to the bearish on-chain data, we are seeing a gradually descending trading volume — one of the most common and accurate signals of a descending rally.
Shiba Inu is not stopping
As U.Today highlighted in the recent article, SHIB's performance on the market suggests that the token is not yet reversing and dropping attempts at a breakout. Unfortunately, no additional funding yet occurs on the market that would help the meme asset to move past the prolonged trendline resistance.
At press time, Shiba Inu is trading at $0.000012 and would need to gain a foothold above the $0.000013 price level in order to complete the breakout. With upward movement in the foreseeable future, the possibility of a bearish reversal rises exponentially as indicators across the market suggest that we will see a correction this week.
One of the main reasons behind the stalemate on SHIB has been the rising selling pressure from whales that has been observed since Jan. 19 and lasted up until the weekend.