The article is written in cooperation with XFOC.
If you are looking for promising cryptocurrency projects, maybe you should pay attention to XFOC. At the moment, it's only planned to list the cryptocurrency on exchanges, but if the developers' plans turn out to come to life, 2020 will become eventful.
First, it's planned to launch its own electronic wallet and exchange, then a system of cashless payments, and then analogues of bank cards for the convenience of using the partner banks services. However, first things first.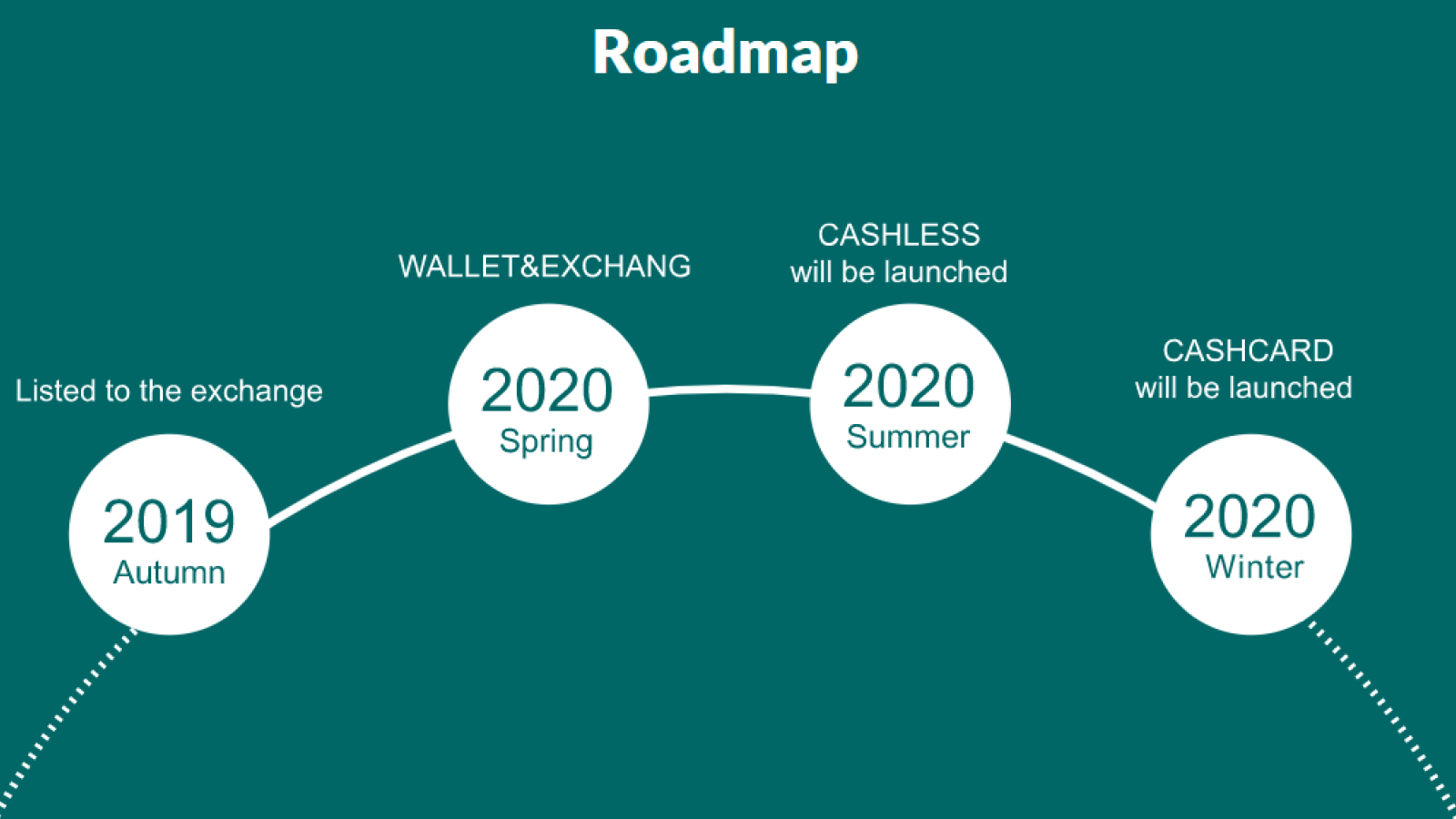 What is XFOC
XFOC is a cryptocurrency developed by FOOT D-LABO HOLDINGS LIMITED, which should become the center of an entire ecosystem. The main difference from many cryptocurrencies is that the XFOC blockchain will not have open source code and full decentralization. This problem is the stumbling block to the use of blockchain technology at the state level and in the banking sector.
The blockchain developed by FOOT D-LABO HOLDINGS LIMITED will be partially centralized, which guarantees security for both banking and government systems. The company already has experience in developing such solutions, and the blockchain, as reported in the company's press release, will be used in one of the banks that use the SWIFT code. Such progress puts the project ahead of many similar concepts that don't have their own blockchain.
Solutions for issues
It's said that the history of the XFOC began back in 2014, and by 2018 its creators had enough experience to develop their own product. The project aims to solve such problems in the cryptocurrencies world as:
Wallet security and constant hacks.
Network scalability issues.
Low transfer speed.
As reported, the XFOC blockchain will be able to deal with these problems. Block generation takes only 0.5 seconds. This speed allows the XFOC blockchain to serve as an alternative system for credit cards or electronic money. Such indicators will be especially suitable for use in the banking sector.
The first thing that should appear in 2020 is expected XFOC Wallet (white label) and this is an interesting development. The company promises ease of use and management of cryptocurrencies, fiat money and financial products in a single interface. If the wallet works as the developers claim, it will become a strong competitor in the hot wallet market.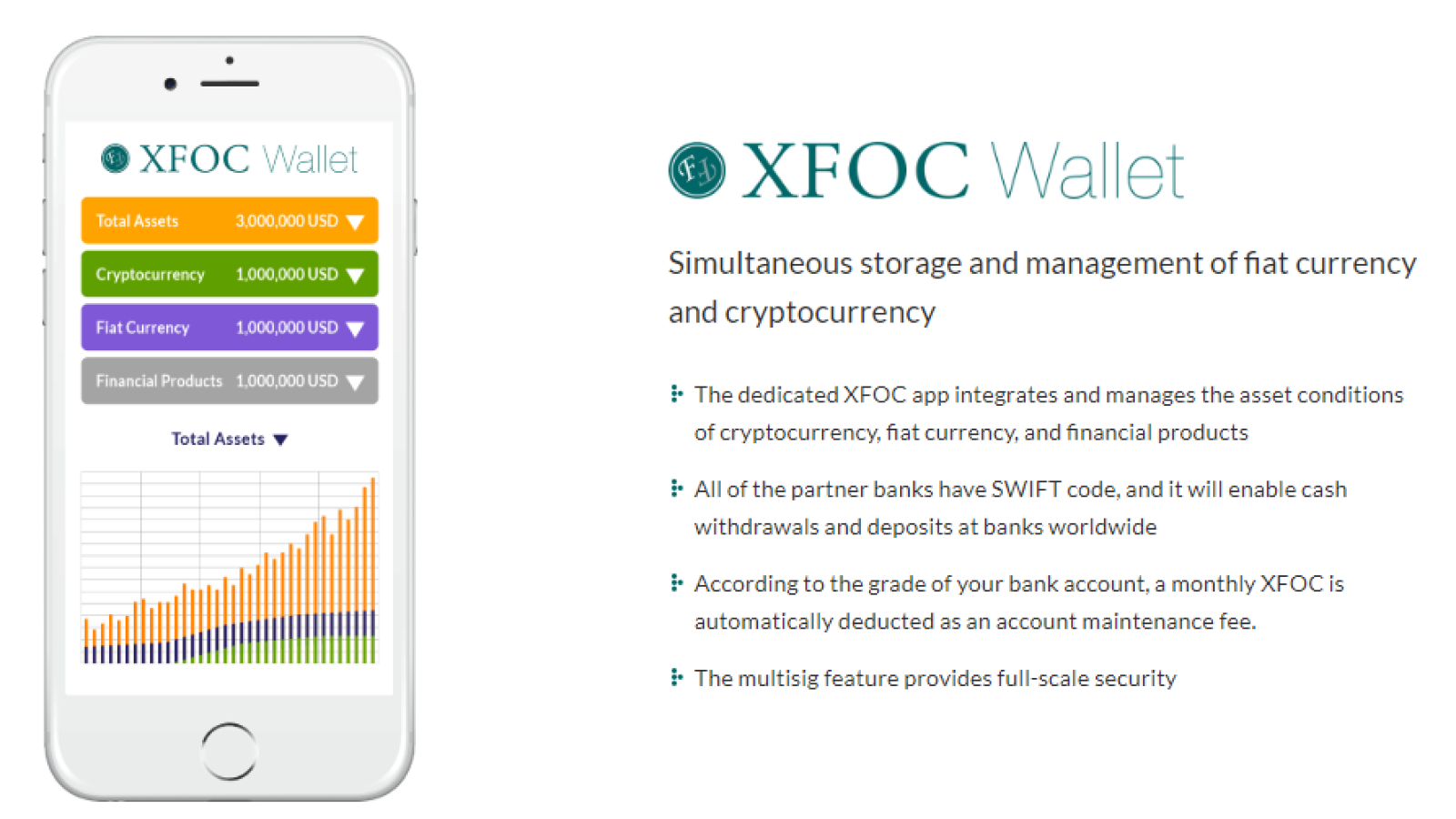 Let's say a few words about how this will work. A bank account can be opened online. XFOC dedicated application, WALLET, integrates and manages bank accounts with multiple currencies and cryptocurrencies. Thus, you can replenish, transfer funds, withdraw cash and invest in banks around the world.
At the initial stage of wallet servicing, only the balance in the bank account will be available, but later, after the development of the API application, it will be possible to make a direct withdrawal of funds from the wallet. Another interesting feature is the ability to connect multiple wallets at once through one account. It will be especially convenient for large investors with a huge number of cryptocurrencies.
XFOC Wallet Interface
Let's talk on the interface of the future XFOC Wallet step by step.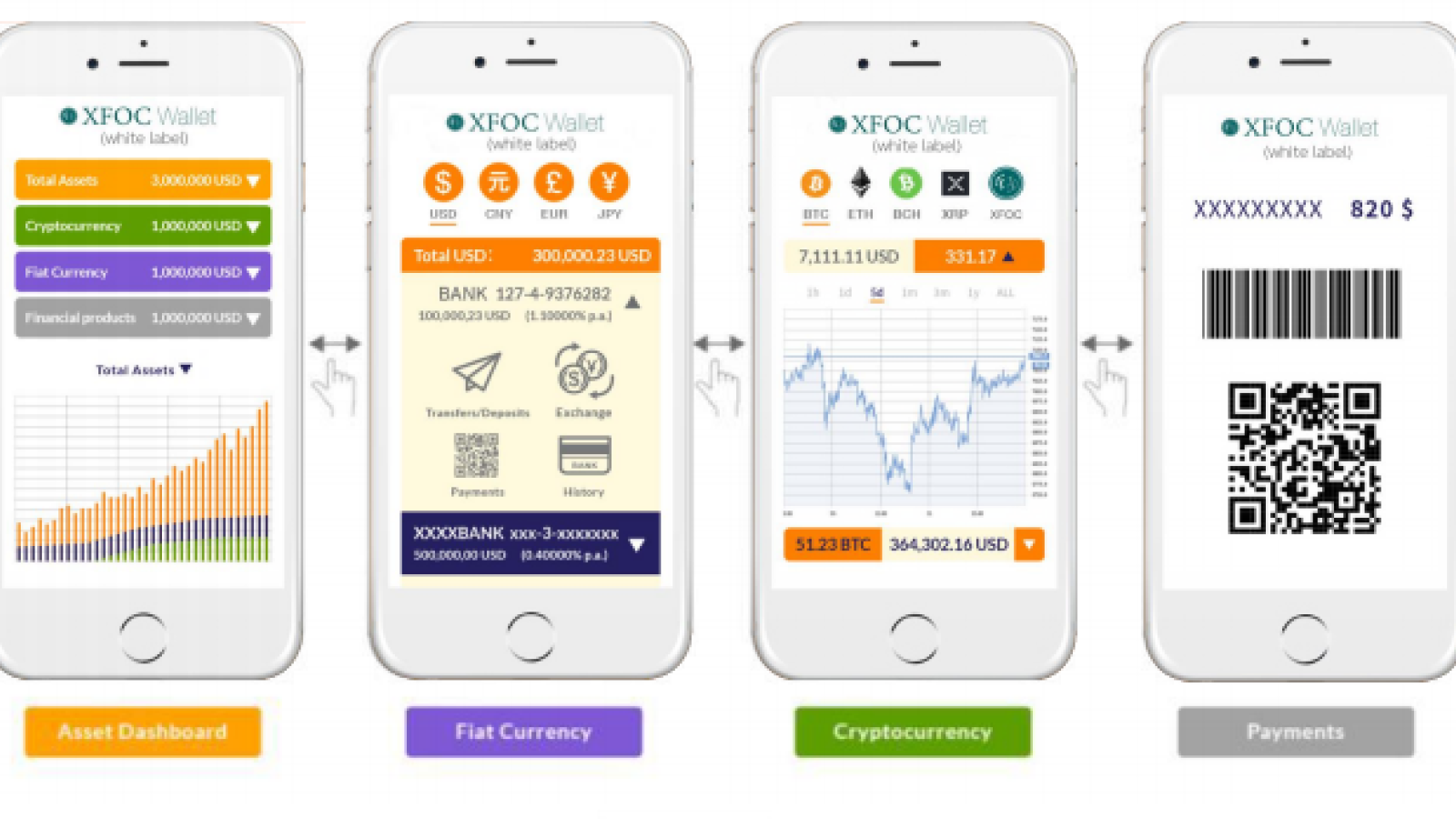 Account aggregation function.
It will centralize the bank account information of all the existing financial institutions. A very convenient function for analyzing information.
Cryptocurrency.
In this section, it will be possible to view information on each of the digital currencies, as well as make purchase and sales, which is very convenient. For some operations, the QR code will be used.
It's noted that the internal cryptocurrency of the company will be widely used because it will be used to conduct a variety of banking services inside the wallet. In general, it's planned to gradually issue 100 billion XFOC tokens, and the speed of the issue will depend directly on the increase in the users of partner banks.
Fiat money.
In this section, you can check the balance of each specified currency and its status: transfers and deposits, exchanges, payments and history. This aggregated wallet function associates it with other bank account information.
Payment.
This is the last section, the essence of which is clear without further ado. The company promises a wide selection of convenient payment methods, including the use of barcodes.
XFOC Exchange
Together with the wallet, the developers promise to launch the exchange. And here is an interesting feature — it will also work inside the XFOC Wallet.
A little about the features announced by the developers:
Convert crypto to fiat;
Convert fiat to crypto;
OTC compliance;
Standard trading of order books for cryptocurrencies.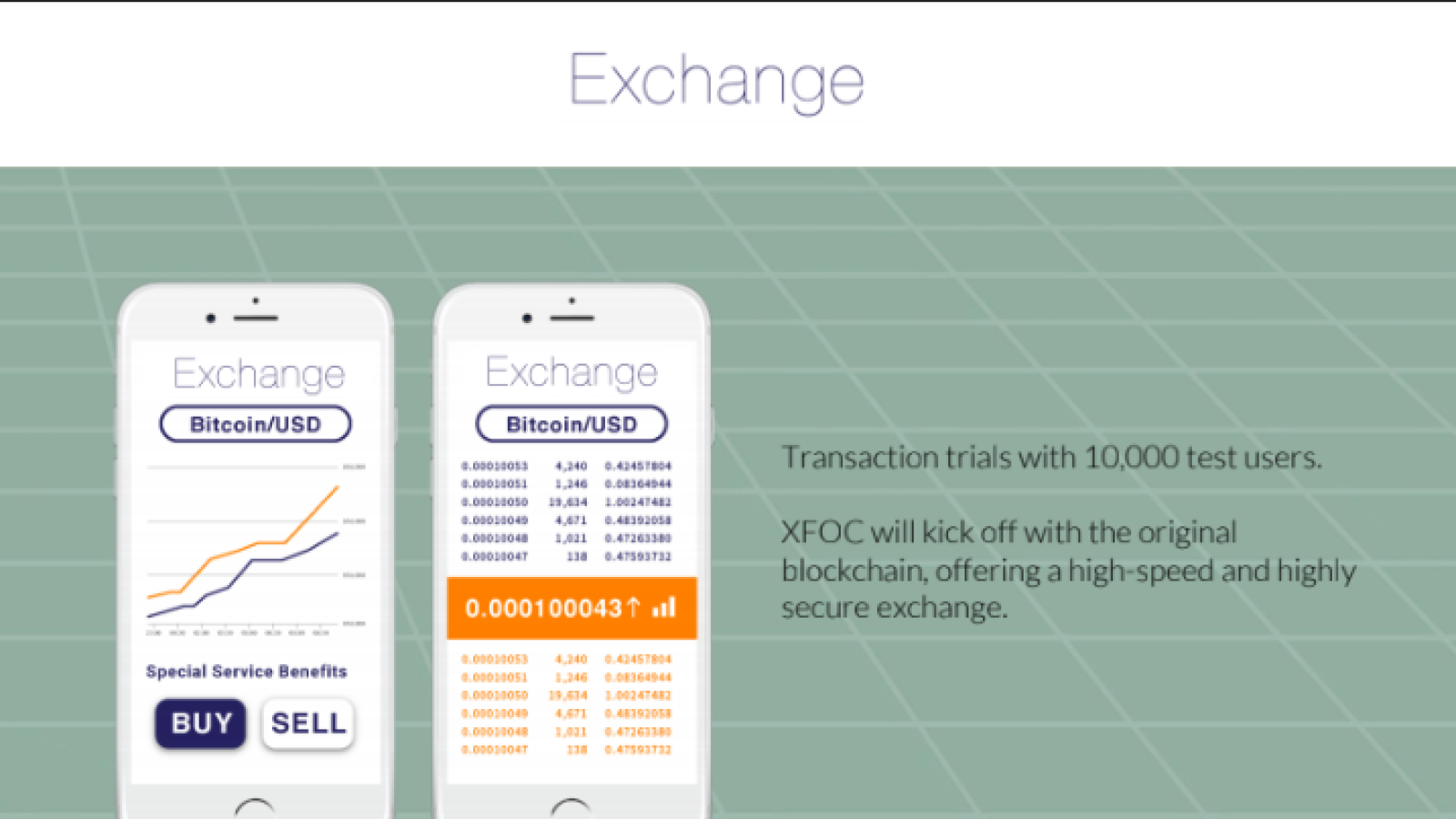 Owning an internal cryptocurrency company will reduce the transaction fee, while favourable rates can be received for credit transactions.
Security issues
Developers paid special attention to the security of the blockchain and applications.
Here are the main things:
Multi-signature. It will be possible to create a transaction flow in which approvals are required from several parties.
Rate ​​Limiting. As a countermeasure against technical attacks, temporary blockages are possible to maintain security.
Authority control for the internal system and operation log recording. The system is designed to minimize internal fraud by accurately controlling access rights to internal operational management functions.
System monitoring tools. A convenient interface with graphs and other components allows you to monitor malfunctions and quickly find their causes.
Account management. Of course, two-factor authentication will be available, as well as an assessment of password strength. Fraudulent entry attempts will be blocked, including by the bank's operations office.
Personal data encryption. All personal data of users will be encrypted.
Additional services
Some interesting features that will be launched after XFOC Wallet and Exchange are Cashcard and Cashless.
Cashcard is a physical card that allows the holder to withdraw money at branches of bank partners and their ATMs around the world. The transaction fee is automatically paid with XFOC in the account. Bank users are required to buy and keep a certain amount of XFOC in their accounts in this case.
Cashless is a non-cash payment option for goods and services. XFOC will allow you to pay using a QR code. It can be displayed in the smartphone application, which allows any user to transfer funds regardless of whether they are an organization or a private person. For the use of the service relies on cashback in XFOC.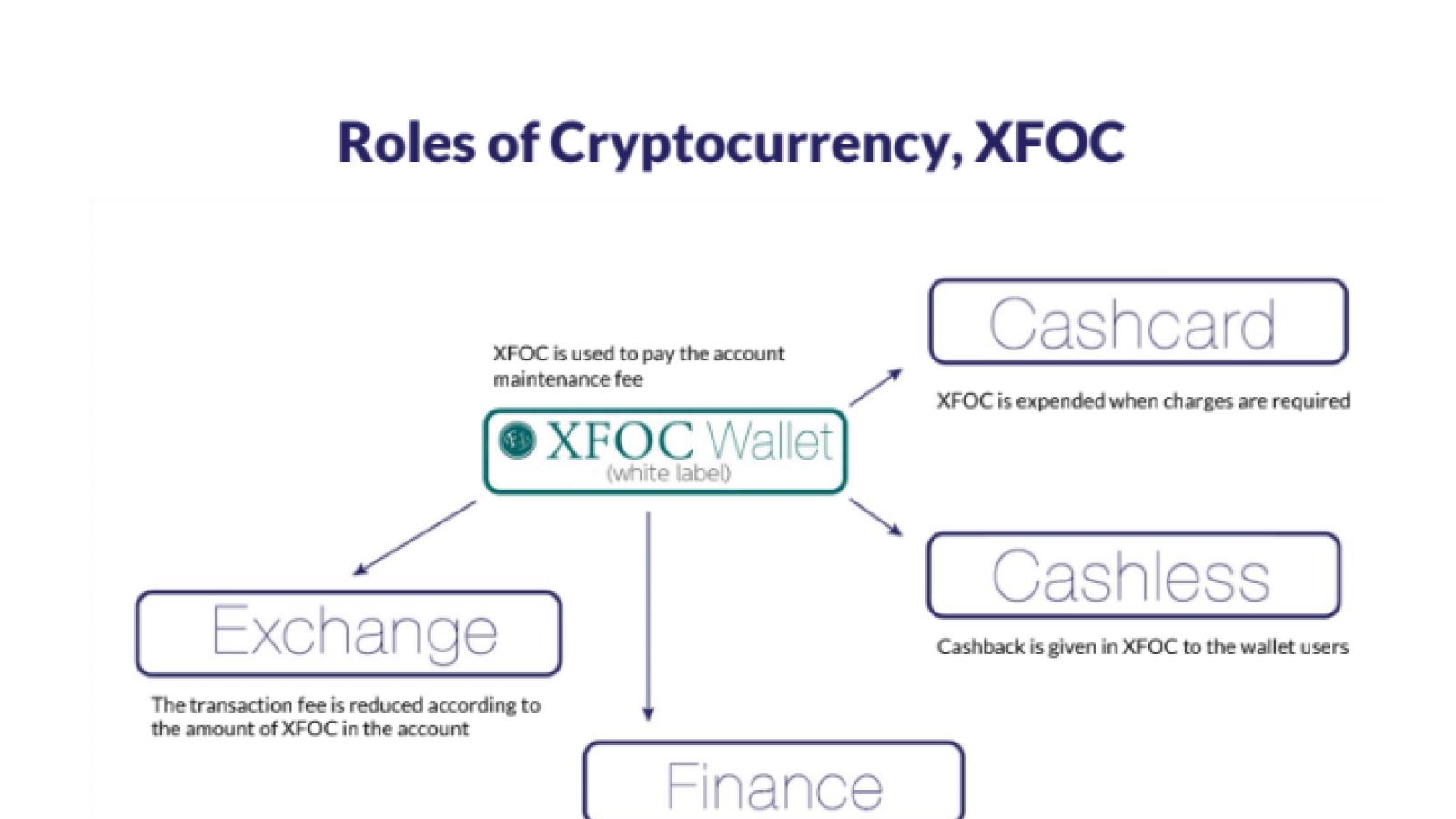 On paper, XFOC seems like a pretty ambitious project with a good vision of its future. Partnership with the bank at this stage gives reasons for positive on the project prospects, and the use of cryptocurrency for transactions speaks in favour of its use. In general, the development of XFOC is definitely worth watching!