San Francisco-based fintech giant Ripple has withdrawn another astounding XRP lump from escrow, releasing a new portion of crypto and sending roughly 30 million XRP to sell on a major exchange, according to Whale Alert.
Meanwhile, the anonymous whale that earlier this week was spotted moving 420 billion XRP chunks, has transferred a similar amount of XRP once again, leaving the community puzzled.
Ripple moves one billion XRP, price goes down
Crypto tracking platform Whale Alert has detected that within the past 24 hours, Ripple Labs transferred a whopping billion XRP, unlocking them from escrow in four massive transactions, carrying 400,000,000 XRP; 200,000,000 XRP; 100,000,000 XRP and 300,000,000 XRP. These four XRP lumps were worth $510,600,000 in total at the time the funds were moved.
This is one of the programmed monthly XRP releases that the company has been conducting since 2018 in order to promote the XRP token and support its liquidity on the market.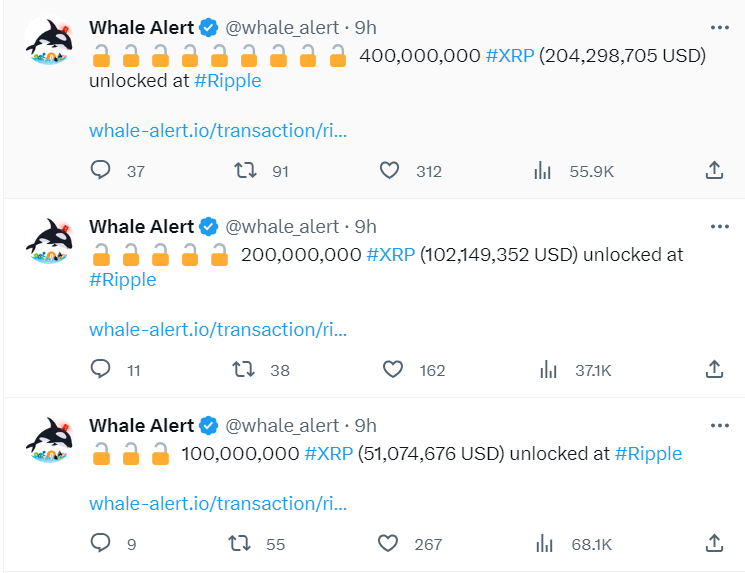 However, the day after releasing a billion XRP, Ripple usually locks around 800 million XRP back in escrow until the next month when the time comes to release crypto again. After the current release, Ripple now has approximately 40.9 billion XRP left in escrow addresses.
Aside from that, Ripple Labs, according to the aforementioned tracker, also transferred a total of 29,600,000 XRP to the Bitstamp exchange with an obvious intention of selling this crypto.
After Ripple shifted the billion XRP, the token's price went down by 4.60%. Since XRP is, one may say, already used to these regular token releases, the price may have been somewhat impacted by another massive XRP transfer as almost half a billion XRP exchanged wallets.
Anon wallets shift 444.5 million XRP
Another notable XRP transfer took place prior to Ripple injecting hundreds of millions of XRP onto the market. A wallet marked by Whale Alert as unknown transferred a mind-blowing 424,604,934 XRP worth $221,841,994.
Earlier this week, a similar amount of XRP was also moved from one anonymous wallet to another – 424,018,481 XRP.
Commenting on today's massive XRP transfer, an X (formerly Twitter) user said they believe these transfers are being made by the same crypto whale who is changing wallet addresses and moving hundreds of millions of XRP from them.
Still, XRP remains the fifth cryptocurrency by market capitalization, and after the recent victory over the SEC achieved by Ripple's legal team, the interest of investors in this coin has risen once again.