Major crypto wallet tracker Whale Alert has spotted Ripple moving a total of 800,000,000 XRP into escrow in two massive lumps, 500,000,000 XRP and 300,000,000 XRP. These funds were locked back up when, on Aug. 1, the fintech behemoth released one billion XRP coins in accordance with the plan of its monthly programmatic XRP releases.
Thus, Ripple has kept 200,000,000 XRP to inject them into the circulating supply through selling and locked the remaining amount back up.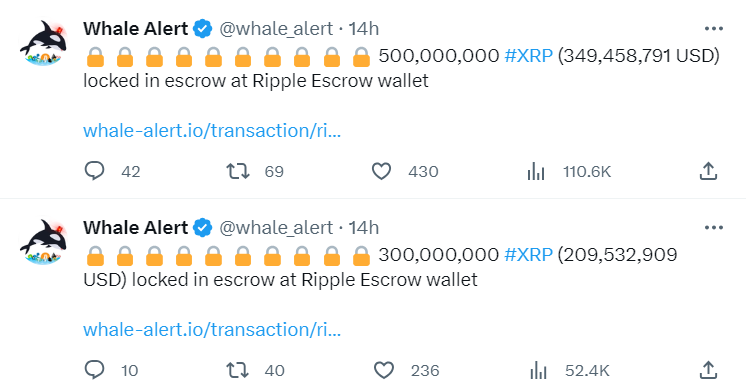 Ripple unveils its XRP bags in report
According to the performance report for the second quarter (Q2) of 2023 released by Ripple earlier this week, the blockchain firm still owns billions of XRP. In particular, its holdings can be divided into two categories — escrow holdings and the tokens the company holds on its balance.
The number of XRP contained in Ripple escrows stands at 41,900,000,005, while as a company it owns 5,551,119,094 XRP.
Q2 2023 XRP Markets Report is out!

Main highlights:
- Ripple has won a landmark court decision that XRP is not a security. It is a major victory for Ripple and the crypto industry as a whole.
- Ripple's XRP holdings have increased slightly since the last quarter.
- The vast…

— 🐼PandaRippleXRP🐼 (@RipplePandaXRP) August 2, 2023
Ripple also addressed several misconceptions that have aroused the community recently. In particular, the company debunked the idea that the court ruling made by Judge Analisa Torres was a "split" one, stating that XRP is not a security and despite some nuances of the ruling, the decision still allows Ripple to conduct business.
Ripple court ruling becomes questionable
As reported by U.Today earlier, U.S. District Judge Jed Rakoff, who is leading the legal case against Terraform Labs and its founder Do Kwon, has chosen not to differentiate between sales of LUNA made by Kwon to financial institutions and to retail investors.
This runs contrary to the decision of Judge Analisa Torres in the Ripple-SEC case and may even put it in doubt in the future, increasing the chances that the SEC can make a successful appeal should the regulator decide to conduct it.