On Wednesday Tron (TRX) managed to advance on the market cap level and, as U.Today predicted earlier, surpassed Tether stablecoin, moving it out of the way towards the top-four digital assets.
?#TRON has passed @Tether_to to claim 8th spot on @CoinMarketCap#TRX is less than $70 million from a $2 billion market cap ?@StellarOrg, we're coming for you & 7th spot 7️⃣

Not too bad for "garbage" eh, @JedMcCaleb ??#IAmDecentralized ??#niTROnSummit$TRX $BTT pic.twitter.com/TZSeELSHGD

— Misha Lederman (@mishalederman) January 9, 2019
Tron is nearly the only gainer
On Thursday, January 10, the top-10 list of virtual coins is under sellers' dominance. The only exception is Tron, which has shown a rise by 16.93 percent at the time of writing, and its former rival Tether (USDT), demonstrating a 0.28-percent increase, even despite being left behind by TRX.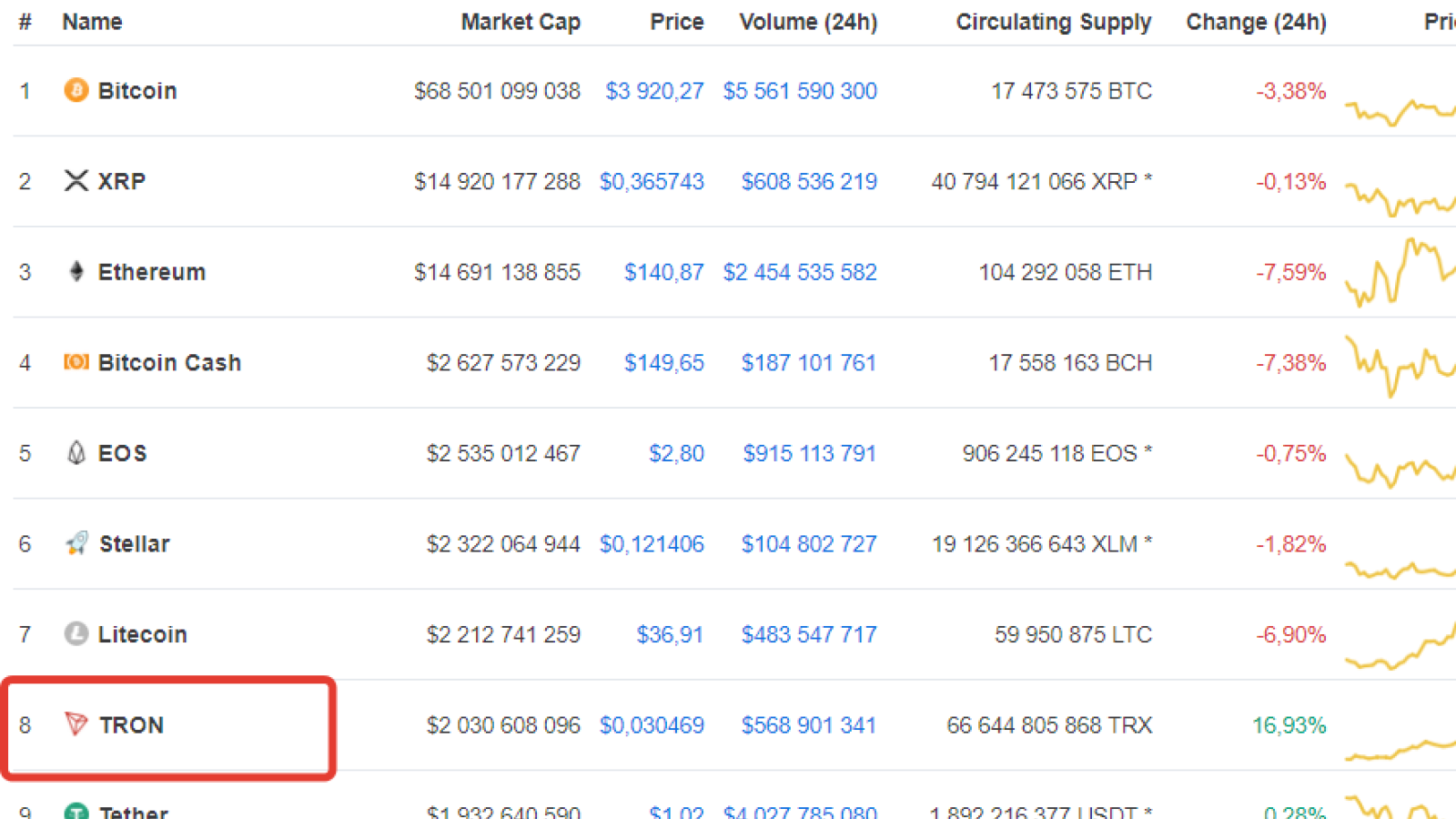 Bitcoin has fallen below the $4,000 level; this mark keeps changing from support to resistance for BTC. Currently, BTC is holding at $3,920 as per Coinmarketcap website.
The top loser here today is the second biggest crypto Ethereum (-7.59 percent), closely followed by the 'digital silver' Litecoin (-6.90 percent).
Yesterday, Tron bridged the gap between it and Tether just within several hours, quickly increasing its market cap, which seems easy for it, considering the circulating supply of TRX coins.
Tron has increased not only against the USD, but also against Bitcoin. TRX/BTC pair on many exchanges has risen over 13 percent.
Overall, TRX has added over 50 percent within five days. Experts believe that this is due to the launch of BTT – the native coin of Tron-owned BitTorrent file-sharing heavyweight. The new coin is based on the Tron's TRC-10 standard and it will be used as an incentive for people sharing files on BitTorrent.
In his tweet, the Binance CEO, CZ, has called this a curious case study.
OKEs support for TRX
The sudden jump of Tron on the crypto assets' scale may also have been caused by the fact that one of the largest crypto exchanges OKEx yesterday enabled TRX margin trading. The exchange team announced it through its official Twitter account on Wednesday.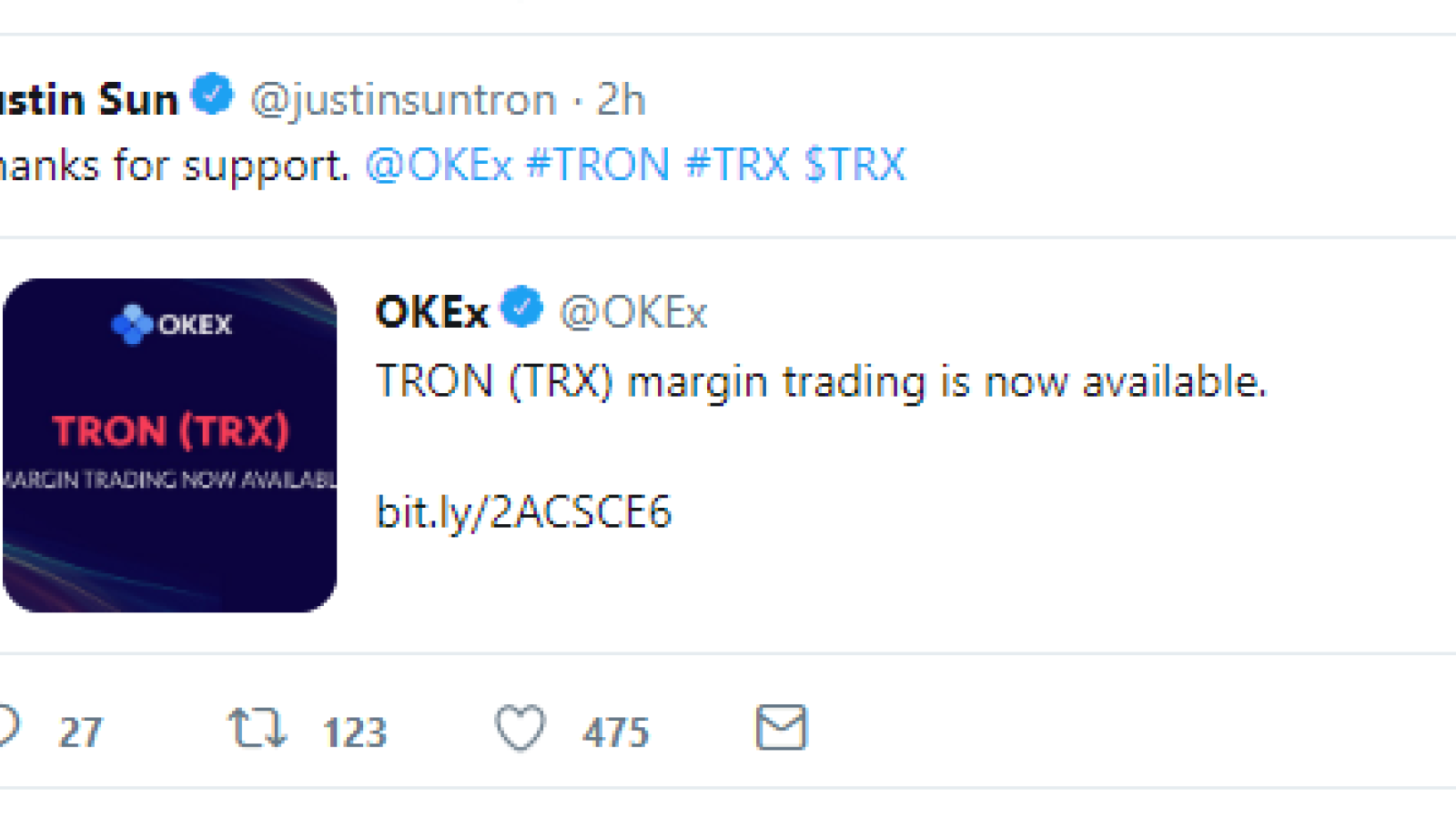 Not long ago, OKEx also launched margin trading for Bitcoin Cash.
Is a TRX correction coming?
Analysts believe, though, that Tron has overreached its short-time goals on taking new highs and traders will now want to fix their profits. Thus, a corrective movement is expected in this area.
Currently, TRX is going for $0.0304 as per Coinmarketcap.
TronGoo gets to the top
Meanwhile, the TronGoo game that has migrated from Ethereum to Tron (formerly, EtherGoo) has taken the first place on DappRadar.com within days from its migration, adding to the Tron's success on the crypto market.
TronGoo has taken the throne in less than 5 days. A huge congratulations for breaking records and becoming the #1 gaming DApp in volume (#2 in users) across all blockchains. It's been a pleasure for #TRONArcade to work with developers @WorldWarGoo and @FarmTron on this project. pic.twitter.com/6l3evYJA28

— TRON Arcade (@TRONArcade) January 10, 2019