Other than Bitcoin, Ethereum has always been one of the most popular and well known cryptocurrencies. However, the smart contract original has had a rough year or so and has started to drop off in some key metrics.
It has come to be that Tron, ranked eighth in terms of market cap, is beating Ethereum, up in third, when it comes to interest, transactions, accounts and price movement. This is important data for the price prediction of both coins as no doubt higher interest and use of Tron is good for its growth.
What is more interesting to note is that Tron is, in many respects, a direct competitor of Ethereum as they both operate as a platform for dApps. However, even in the dApp ecosystem, Tron is performing better than Ethereum.
Trending
Tron has, according to Google Trends, been outperforming Ethereum for some time now. In the last year, it has not only overtaken Ethereum in regards to Google searches, but also maintained its interest while Ethereum has started to dip.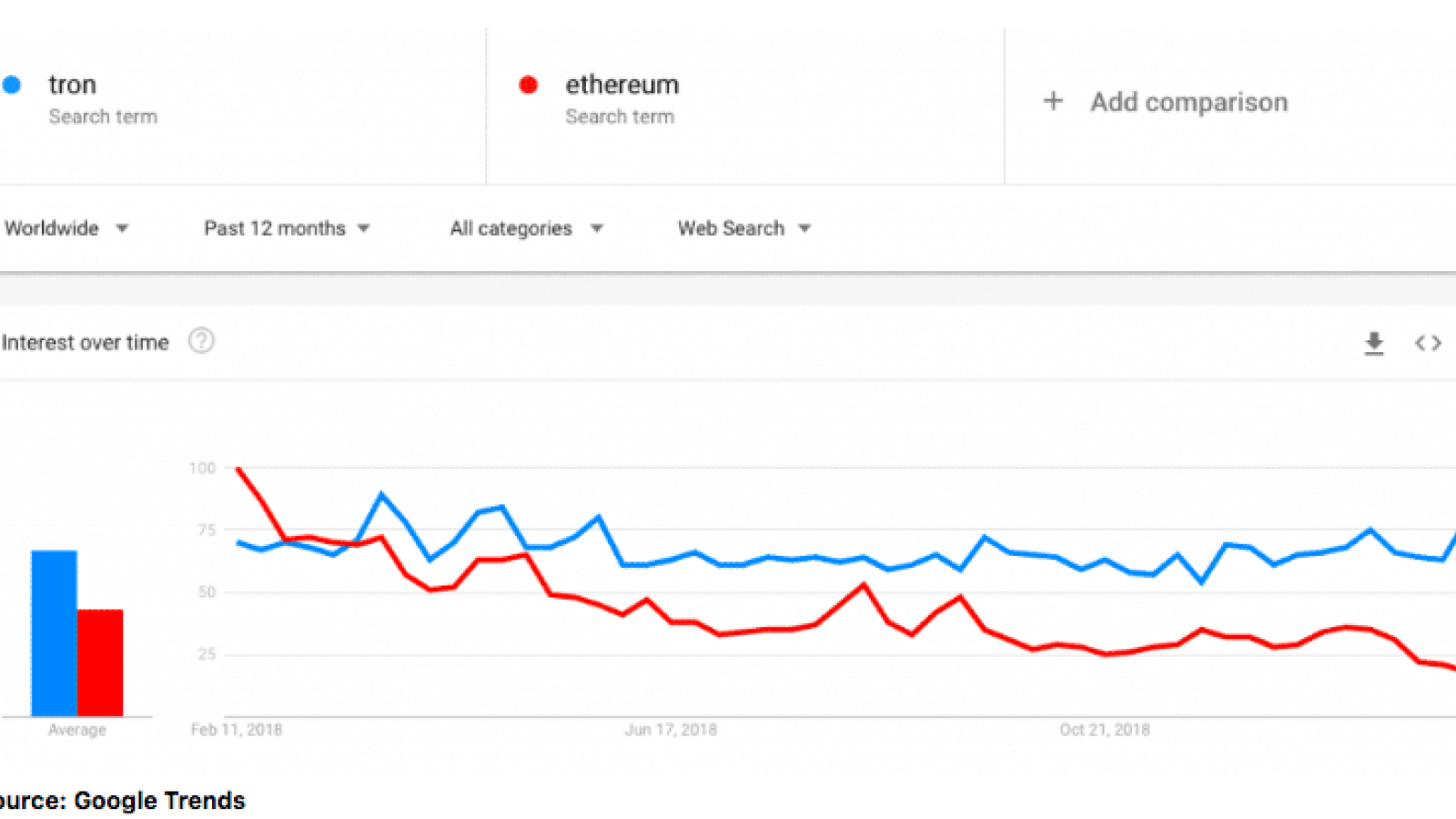 As a metric of growth, and by extension, price increase, Google Trends is massive. A side-by-side comparison of the Bitcoin price and the Google trend data for that coin shows an almost direct correlation.
Tron has been seeing some stability in the bear market and is now going on an ascent. This move in the opposite direction has created a gap between both of the cryptocurrencies' trend lines on Google and seems to be growing.
Winning where it counts
For blockchains like Ethereum and Tron, dApp development is incredibly important as they are mostly operating as a platform for a decentralised system. A look at the top 50 dApps by active users, Tron is again leading the way.
@dapp_review - Track 6 Chains, 2524 Dapps@DappRadar - Track 3 Chains, 1825 Dapps

Top 50 by 24h Active Users:
23 #TRON Dapps
23 #EOS Dapps
3 #STEEM Dapps
1 #ONT Dapp

The total DAU of #TRON is growing over last month. @mishalederman @Tronfoundation @ethereum @block_one_ pic.twitter.com/NNd6nLFExk

— DappReview (@dapp_review) 7 February 2019
Changing times
Much like when Bitcoin first appeared, there was very little competition from other blockchains, especially in terms of pure cryptocurrency. However, that is starting to change as the ecosystem evolves and grows.
The same is happening for smart contract blockchains. Ethereum was the original, but the blockchain itself has stagnated while others around it have advanced with the changing times.
Tron showing growth over Ethereum in these key metrics spells potentially good growth for the value of the coin based on more than pure speculation. They are starting to show deliverables on their promises and are reaching a stage of maturation.