2018 was very successful for the Tron Foundation and its network. During that year, Tron reached several major milestones, including getting off of Ethereum and onto its own mainnet as well as launching its own tokens. It also managed to get to position #9 on the top-ten coins list.
Also, in late 2018, Justin Sun addressed dApp makers of Ethereum and EOS through Twitter, urging them to leave their sinking ships behind and get over to Tron. TronGoo (formerly EtherGoo), one of the biggest and most popular Ethereum-based games, accepted the invitation quickly. By early 2019, Tron already made another achievement – getting over 200 dApps developed on it.
Dappradar.com data against Ethereum
The well-known in the crypto sphere website dappradar.com, which allows watching the activity of decentralized applications, has recently been showing some interesting stuff regarding Tron, Ethereum and EOS.
Every decentralized app in the top ten list of dappradar works either on EOS or Tron. Judging from this, Ethereum – the company that is said to be the 'father of dapps and smart contracts' – is lagging behind these two platforms when it comes to dApps.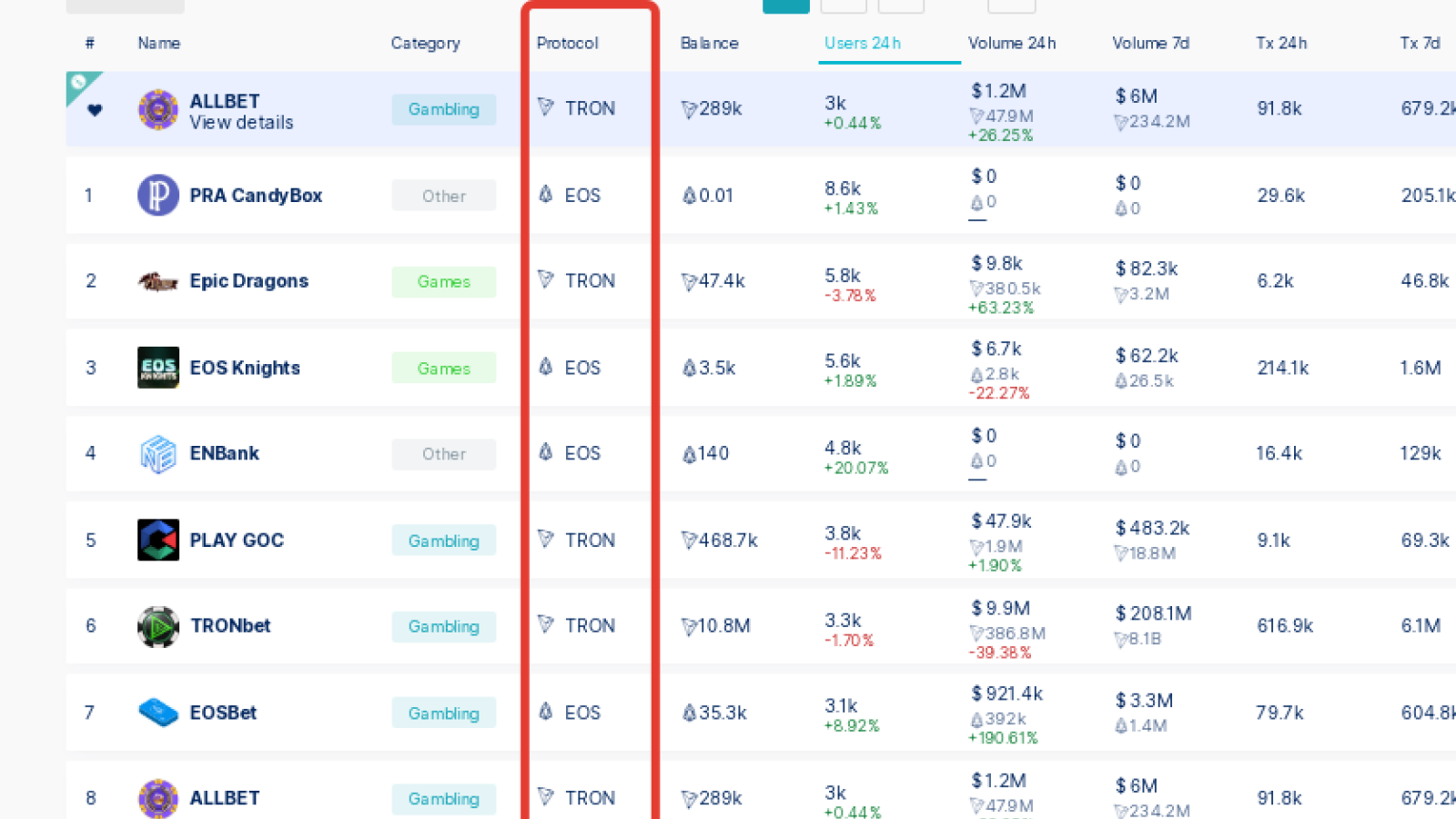 Tron beats EOS by transaction volume
At the moment, the ratio is 5:5 (Tron vs EOS), and this list shows the amount of users that utilize them on a daily basis. However, if you look at the number one EOS dApp, PRA CandyBox, which has nearly 9 thousand daily users, you see that it does not use any crypto and the volume of transactions here totals zero.
Compared to it, the Tron-based dApp game Epic Dragons comes in second by the amount of daily users – 5,500. However, this game passes through itself nearly 397,000 TRX daily (which is around $10,000). That is something to start with.
Number six on this list is TronBet, a gambling platform launched by Tron. Despite the relatively small number of daily users (3,200), the amount of cash that flows through it daily is nearly $25 mln per day. The dApp that comes closest to it is an EOS-based one on position #9 but with only $1.3 mln per day.
Dappradar.com shows that even with a smaller number of users, Tron-based dApps are way ahead on transaction volume than that of EOS, not to mention Ethereum. Experts believe that at this pace, Justin Sun's plan to make TRX enter the top-four coins list in 2019 may well be achievable.