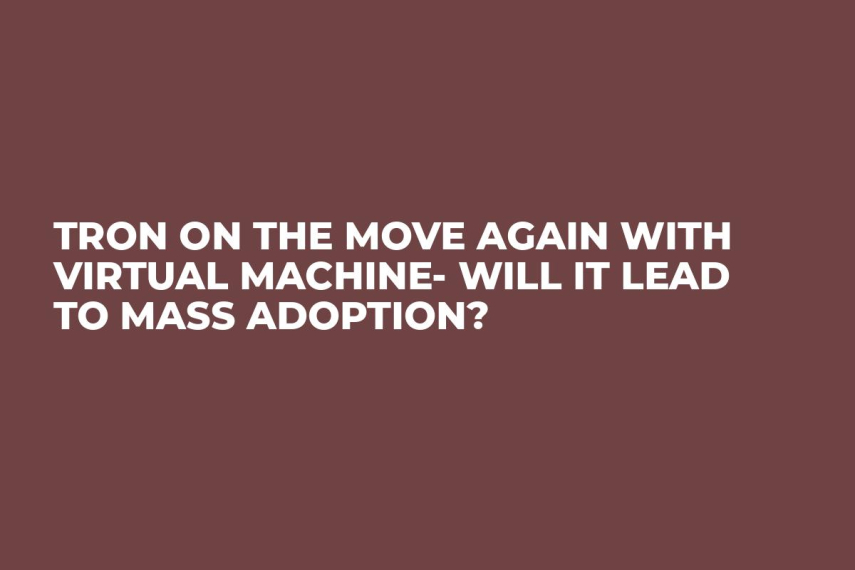 Cover image via U.Today
Tron has been busy in recent weeks, most notably with their mainnet launch and the validator elections that were tied to that, and now there is another big upgrade already in the works. The mainnet move still needs to settle, and there is an offering of big money to spot bugs, but Tron is not dwelling.
Next on the calendar for Justin Sun and Tron is the launch of the Tron Virtual Machine. It was made public by Sun with a countdown on the site with there being 14 days until it kicks off.
The Tron Virtual Machine is a lightweight machine developed specifically for the Tron ecosystem. It is important to mention that it is Turing complete– which means that it is computationally universal and can simulate other virtual machines in the market.
What is the Virtual Machine?
Because it is Turing complete, it means that it is compatible with the Ethereum Virtual Machine, and enables developers to easily transition to the Tron ecosystem. It is possible to program and debug using Solidity (Ethereum's programming language) and create a seamless migration between Blockchain networks.
While this is another big move for Tron, it is just part of what is going on in this frantic project. With the mainnet allowing them some more freedom, Tron is stepping things up and hoping these moves could help with adoption.
Busy days at Tron
At the end of the Virtual Machine countdown, there is also reportedly a secret announcement that will come at the same time. Some have linked the two, saying that secret project might be something linked to the Virtual Machine, while some believe it is linked to BitTorrent.
Tron recently acquired BitTorrent, the file-sharing giant, in a move that saw them go to court to solidify the deal.
Meanwhile, Twitter visited Tron office and the pictures were shared by Justin Sun.
Effect on the market
All this news coming out of Tron has helped it's price on the cryptocurrency markets, despite the bearish trends. TRON is the 11th largest cryptocurrency with a market capitalization of $2.45 bln, it has also seen recent growth with the positive uptrend that began this week, trading at $0.037.