Unlike blockchains of the first generation, Tron is not focused on its native coin only. Just like Ethereum or EOS, Tron allows developers to build decentralized apps and their own platforms on it, hoping to get the whole Internet decentralized in the end.
Tron's success with dApps
So far, Tron has been making progress in hosting dApps. Now reps of the platform report that there are more than 200 decentralized apps in the blockchain already.
Tron has been making fast progress in this area. Slightly over 20 dApps running on it have around 65,000 new daily users. Its rivals, EOS and Ethereum, which also produce dApps, do not have such popular applications running on them.
Dappradar.com
This website provides data on dApps that run on the major global DLT platforms. Dappradar says that among the most popular dApps in the world, three are Tron-based – PLAY GOC, Crazy Dogs Live and Epic Dragons. The first two are gambling ones, the last one is a game.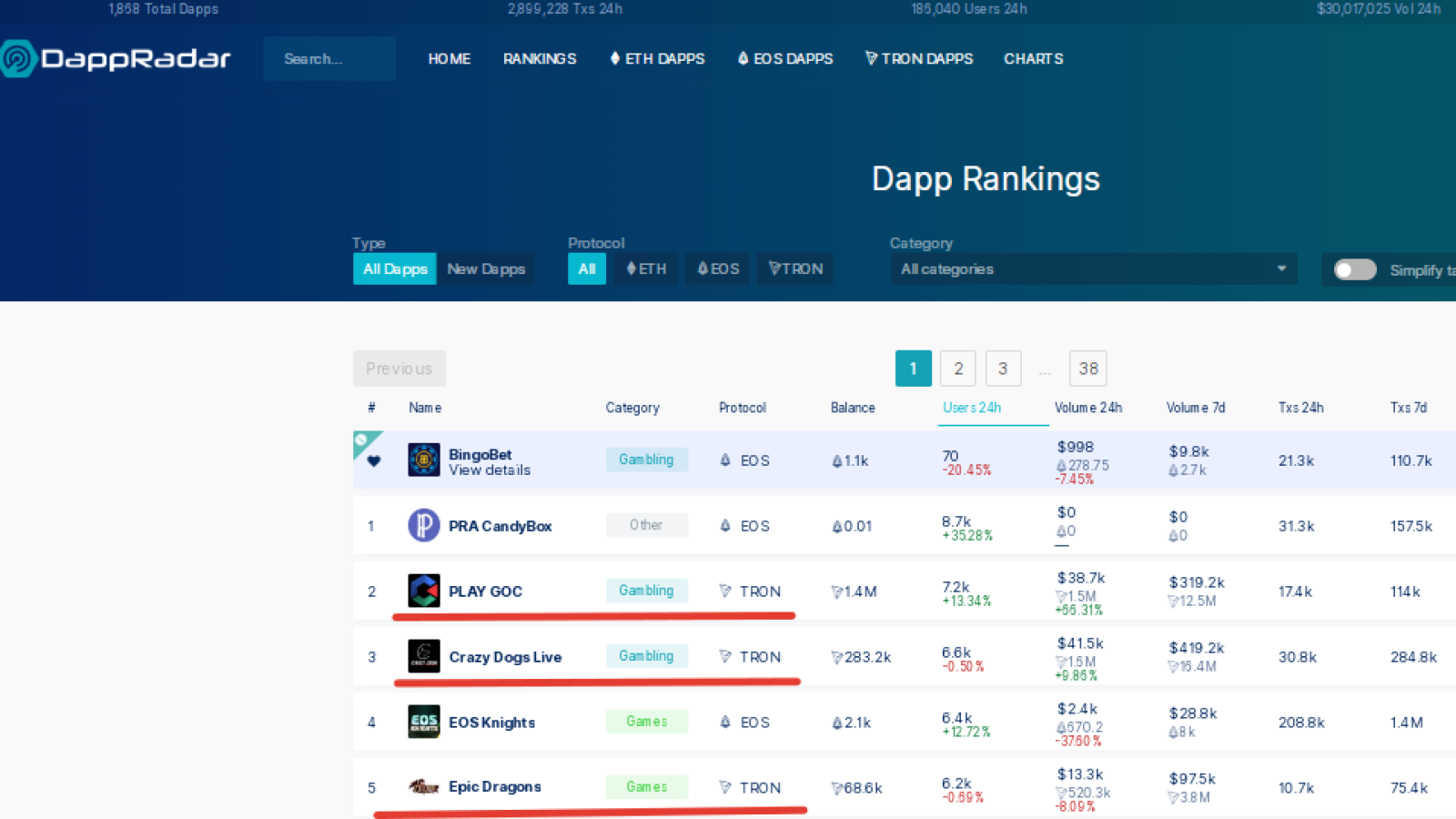 These three dApps are part of the top ten category. The other seven are EOS-powered. Tron has managed to reach this level of popularity in a short period of time – the platform was founded less than two years ago, and by the summer of 2018 it got off of Ethereum and onto its own mainnet. Thus, the success with dApps has been achieved in less than one year.
Tron burns its old tokens
A short while ago, Justin Sun tweeted that one more stash of old ERC20 coins has been burned. When launching its own mainnet in the summer last year, Tron announced a token swap where old Ethereum-based ERC20 Tron coins were exchanged for new TRX tokens based on the newly launched independent blockchain.
#TRON completed the 9th #ERC20 token coinburn of 339,707,697.730671 $TRX, we welcome the supervision from our supporters and believers. https://t.co/V9COyasZSM pic.twitter.com/L0ZOYzIpmH

— Justin Sun (@justinsuntron) February 19, 2019