According to Shibburn crypto tracker of burn transactions, three days ago, an anonymous whale sent a total of 1,695,524,269 Shiba Inu to a dead wallet.
However, a similar amount was locked in an unspendable wallet nearly a week ago.
Prior to that, per Shibburn data, an anonymous whale transferred an even bigger lump of SHIB - 2,005,265,274 coins - to a dead address. It also happened around seven days ago.
Since then, only much smaller chunks of SHIB have been burned so far. Hence, the burn rate over the past 24 hours is down by nearly 100%.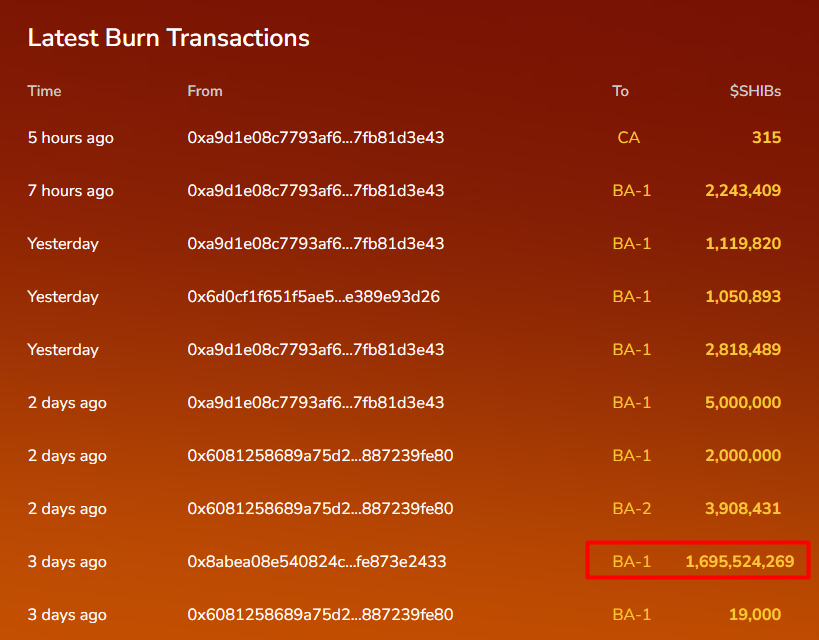 Burn rate down 81%
Shibburn tracking platform shows that within the past 24 hours, the total SHIB burn rate has plunged by 81.29% as only 2,243,725 Shiba Inu have been removed from the circulating supply over that period.
On May 9, the rise of the aforementioned rate constituted a staggering 13,100% after the community managed to get rid of the aforementioned 1,695,524,269 SHIB in a single transaction to a dead wallet.
Such massive transactions may have been the result of massive movements of SHIB on the Shibarium testnet.
SHIB price drops after recent rise
On May 10, prominent meme coin SHIB demonstrated a price rise of nearly 3%. However, after that, the price went down sharply, losing 2.85%.
Over the past week, Shiba Inu has lost nearly 13%. This could be attributed to the fact that the Shibarium mainnet has not been launched yet, even though at the start of the year, lead developer Shytoshi Kusama hinted that this may happen before May.
Now, the community keeps asking him again "wen Shibarium" on its official Telegram channel. Shytoshi recently responded to them that his words about May had been taken out of context and that he is focused on work, not on particular dates.
Still, the admins of that channel have recently stated that "good news" and updates are coming "very soon."
Bitcoin price surging, unlike SHIB
The flagship cryptocurrency Bitcoin, on the contrary, has been going up. On Wednesday, it managed to recover the $28,000 price level after the CPI report came out lower than expected. The decline in consumer prices (read: "inflation") means that the Federal Reserve may now decide to put further rate hiking on hold.