Shiba Inu (SHIB) is seeing a massive uptick in its burn rate today as this important metric has inked another 13,150% jump over the past 24 hours. Based on detailed records of this burn rate, this massive growth represents one of the most ambitious for the meme coin ecosystem this month, with more than 5 billion SHIB burnt thus far in April.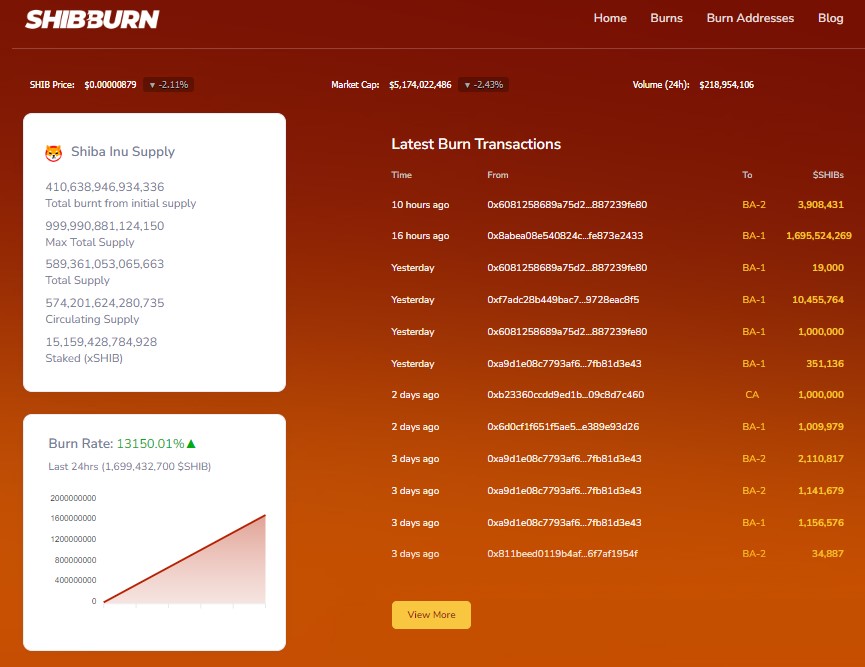 Possible SHIB burn triggers
Per the burn rate data, one single address is responsible for more than 95% of the total SHIB tokens sent to dead wallets.
While this is noteworthy, the centralization of the burning event might have been triggered by a whale moving large amounts of SHIB on-chain. With no more insights shared by Shibburn, the assumption is that the transaction stems from the Shibarium Puppynet testnet.
The Shiba Inu burn event has hardly translated into a price jump in recent times. While this is supposed to be a major impact, the overall outlook in the industry has forced Shiba Inu's price growth to be notably suppressed.
At the time of writing, Shiba Inu is trading at a spot price of $0.000008756, down by 2.52% over the past 24 hours and by more than 11.5% in the past week.
Highlight on competing meme coins
The focus of retail traders has notably shifted away from Shiba Inu and Dogecoin (DOGE) over the past few weeks as new players took centerstage. Chief among these new players is frog-themed meme coin PEPE.
PEPE's influence was so profound that even Binance exchange shunned its neutrality and listed the asset for trading on its platform last week in an attempt to fulfill its users' wishes. With PEPE still the focus for both retail and institutional investors, the relevance of SHIB has been pushed to the background.
While still maintaining its strides as the second largest meme coin, SHIB has longer-term viability, and this counts as its major attraction for now.