Our Stellar (XLM) article about its forecast in February 2019 will mention some price prediction ranges from various sources. As for the question whether Stellar will soon find a bottom, it is a very challenging one to answer.
As of Feb. 3, 2019, Stellar has a price of $0.082543, a 1-year performance of -74.50%, and a year-to-date performance of -$26.51. It has declined from the high price of $0.35 in February 2018 to the low price of $0.082543 and has made a recent top at the price level of $0.12 back in January 2019.
Some key statistics for Stellar as of Sunday, Feb. 3, 2019 are:
Market Cap: $1.582.140.630 USD, 455.573 BTC
Volume (24h): $116.923.545 USD, 33.668 BTC
Rank 9 on CoinMarketCap based on top 100 cryptocurrencies by market capitalization
Circulating Supply: 19.167.472.059 XLM
Total Supply: 104.682.543.032 XLM
52 Week Low-52 Week High: $0.0824- $0.4798
Stellar price prediction February 2019 from various sources
As Stellar is very close to its 52-week low price, what are some Stellar price prediction ranges to consider?
CoinPredictor has the following price-based forecast algorithm: "Our specific event-based Stellar prediction overview is guessing that XLM value is going to drop-off and will be -2.8% moving towards $0.080307 by 02-19-2019". A very conservative Stellar price prediction on a monthly basis.

LongForecast predicts that during February 2019 Stellar (XLM) will have an open price of $0.081, a low-high range of $0.056-$0.089 and a close price of $0.060, a monthly decline of -25.9%. Overall a bearish Stellar price prediction, estimating that the current downtrend has more room to continue.
Wallet Investor is optimistic about Stellar on a longer time frame, having a 1-year forecast price of $0.19, but for this month its Stellar price prediction is a range between $0.008-$0.007.
Crypto Ground has a 1-month price forecast of $0.0838 for Stellar Lumens, a gain of +3.26% compared to its current price of about $0.08.
30-Rates forecasts that on Thursday, February 28, 2019 the low-high range for the Stellar price will be $0.056-$0.064, and the average price will be $0.060. Another pessimistic Stellar price prediction for February.
In general, most Stellar price prediction ranges from the above sources are in favor of lower prices during February 2019.
Stellar price prediction February 2019 based on technical analysis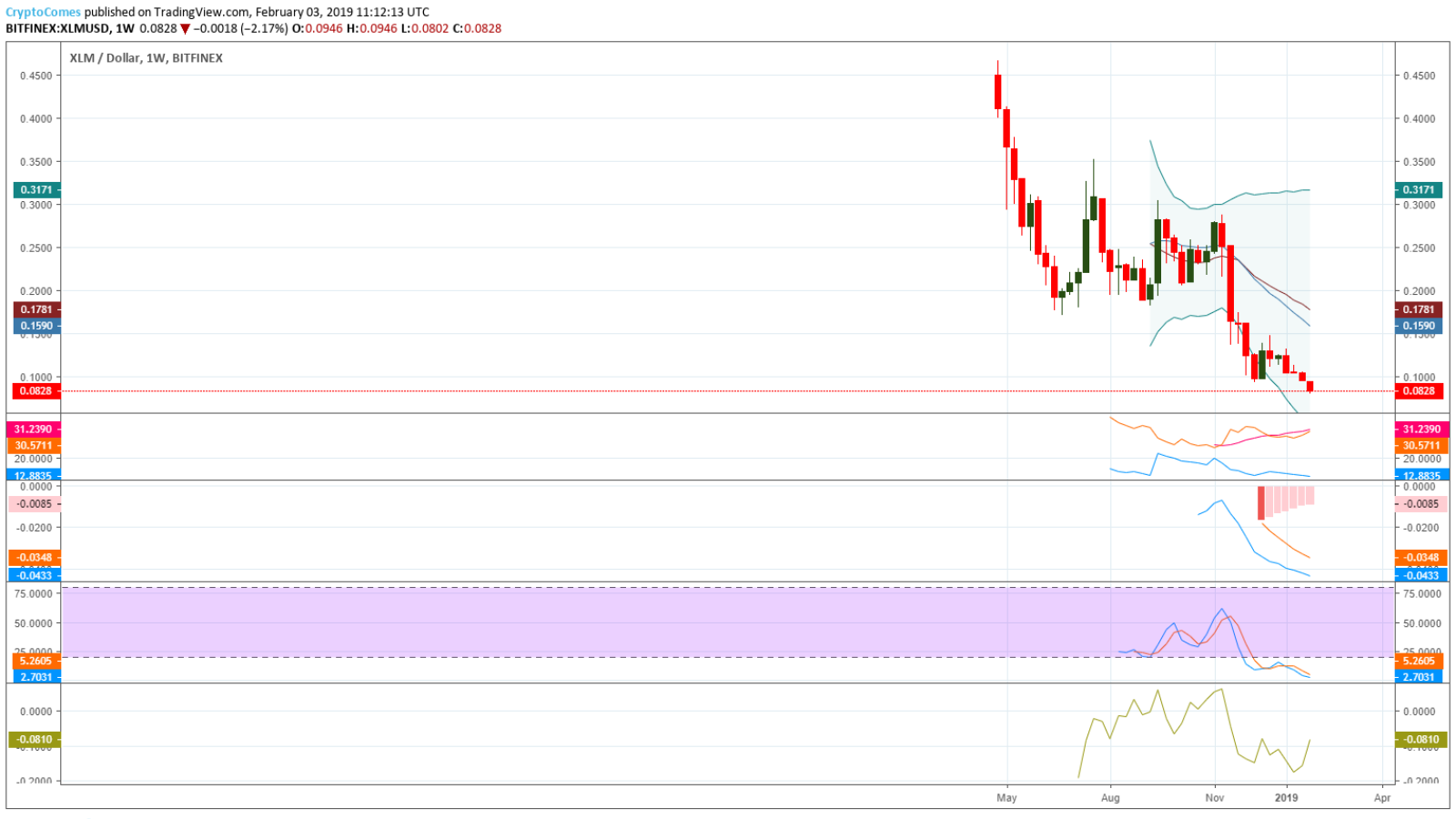 We will analyze both the weekly and daily charts for Stellar.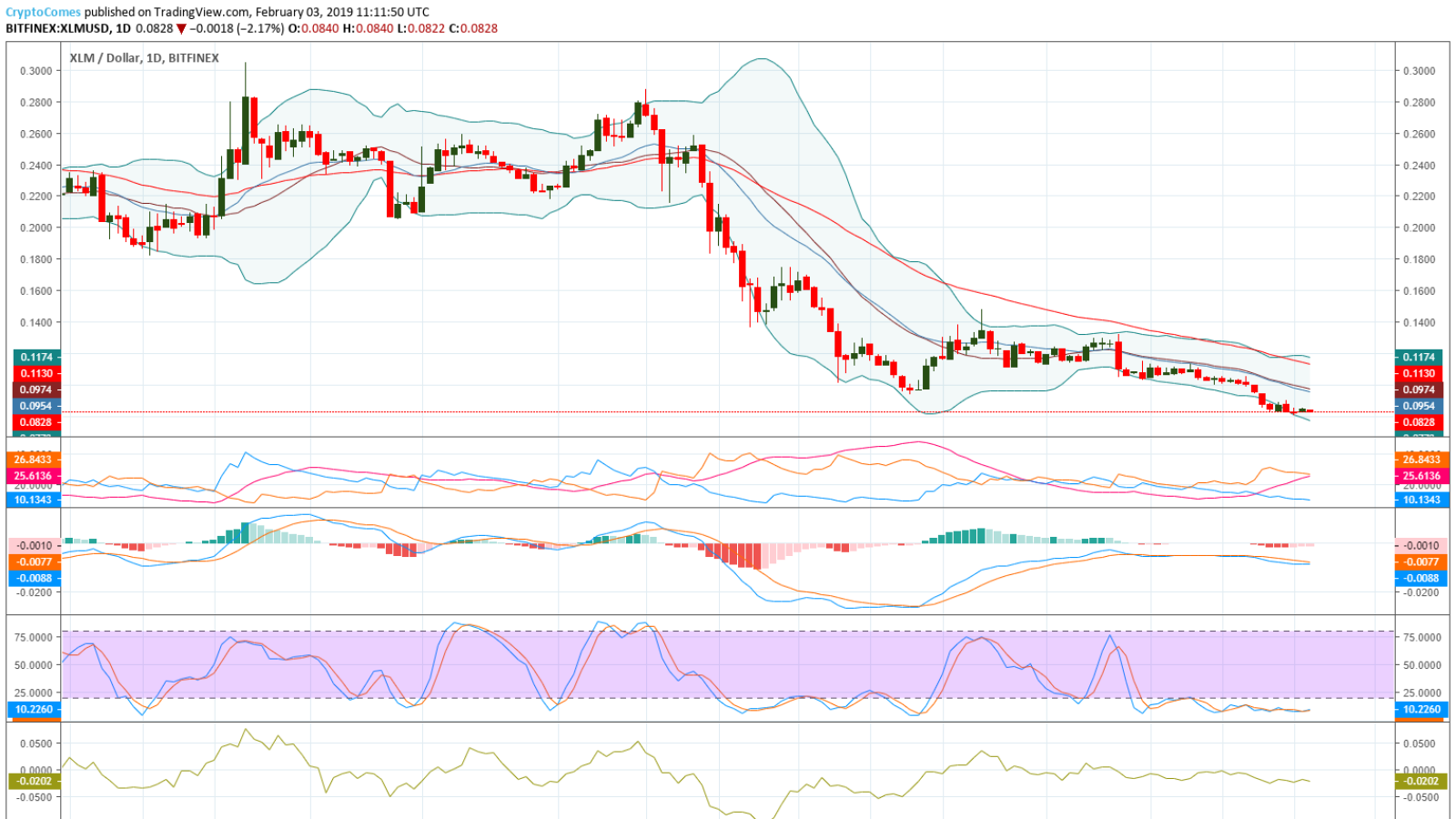 Stellar price prediction bullish scenario
The weekly chart shows a strong downtrend without any confirmed signals of trend reversal from a downtrend to an uptrend. The daily chart is also very bearish for the price of Stellar.
We can mention only two positive signals: a positive divergence for MACD and a Stochastic indicator (14,3,3) being in deeply oversold levels, below the level of 20. If the price is to bounce, a target would be the level of $0.0970, where there is both strong support, now turned to resistance and a declining 20-day exponential moving average. A higher target would be the upper daily Bollinger Band, currently at $0.1123.
Stellar price prediction bearish scenario
The well-known motto in trading 'do not fight the trend, until it reverses' is highly applicable to the current trend of Stellar in 2019 — a continuation of a very strong downtrend that started in 2018. It is very challenging to try and find a potential bottom for the price of Stellar Lumens at these very low levels. But it is just an opinion and not an investment recommendation.
The weekly chart shows a strong downtrend, without any support levels below the current price of $0.082 as of Feb. 3, 2019. The MACD indicator is pointing down, the strength of the trend measured by the ADX/DMI indicator is strong, and the Stochastic indicator is at extreme oversold levels but without any signs of making a bullish crossover yet.
The daily chart is similar to the weekly chart. The support level of $0.096, which was formed in December 2018, was retested and broken to the downside. With declining 20-day and 50-day exponential moving averages and a strong downtrend, it is very risky to be optimistic about the Stellar price at these levels. The odds are in favor of a further downtrend continuation. We cannot find any support level as a potential price target, but an estimate would be lower prices near the level of $0.007-$0.06.
The technical analysis for now is very bearish for Stellar and is too risky to predict a bottom. Our Stellar price prediction, just an opinion, is therefore that the downtrend most probably will continue in February 2019.