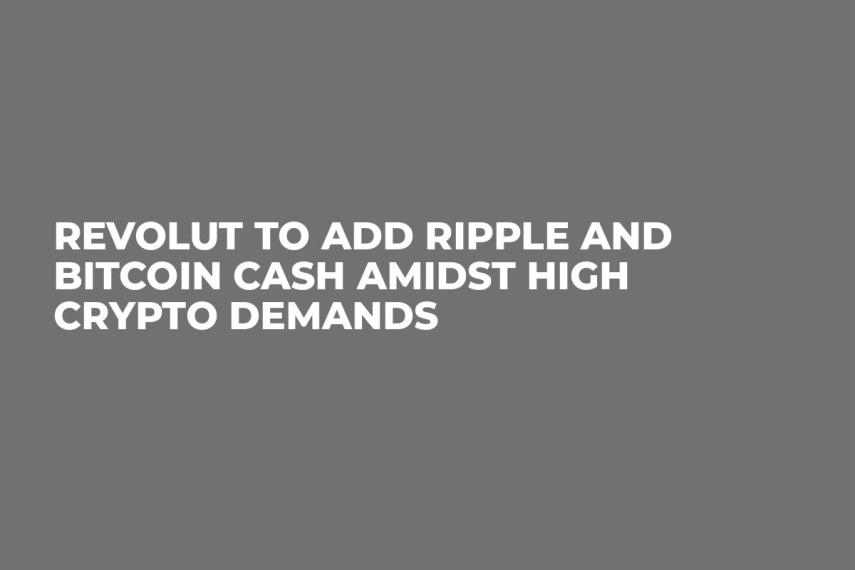 Cover image via U.Today
Revolut, a company thathas embraced the cryptocurrency revolution after it merged mobile banking with cryptocurrencies, offering the likes of Litecoin, Bitcoin and Ethereum, is now expanding.
The London-based company has now integrated controversial cryptocurrencies Ripple and Bitcoin Cash, because of high demands from their clients for more cryptocurrencies. The $90 mln-funded mobile banking startup is trying to erase the divide between old and new money.
More business
The move is one that is being explained as an attempt to make its crypto-savvy customers happy as they continually look for more and better ways to dominate the digital currency space.
"We are seeing a reluctance from the banks and card schemes to offer services or support to crypto-related companies," says Brian Jamieson, CEO of Centtrip, in explaining this new wave of banking alternatives such as themselves and Revolut. "We receive requests for accounts from crypto-based companies almost daily that we turn away."
For Revolut though, the hope is that bringing crypto aboard will translate into business (cross selling) for Revolut's other services. The London-based startup, which calls itself a "banking alternative," also provides services like a debit card, payment app, and travel insurance.
Revolut says 20 percent of its 1.95 mln customers have unlocked the crypto feature so far, and it expects more will do so thanks to the virtual tokens it's adding.
A new business model
Revolut is being seen as a pioneer in terms of changing the way people bank, using cryptocurrencies as its backbone, along with ordinary fiat currencies. However, their move as a pioneer will always be fraught with dangers, and expanding to new coins can be a danger in itself.
Providing buying and selling for crypto may be lucrative all on its own. Revolut doesn't charge for major fiat foreign-exchange during regular trading hours. But it does apply a 1.5 percent fee for crypto transactions, which it says is to help compensate for the additional volatility risk.
Despite their successes or failures, Revolut is a potential case-study for those to see how banking can evolve. Banks themselves are looking at the Blockchain, but Revolut's services are aimed at everyday customers who want a break from the norms of banking.