Rewards fly when Bitcoin is going high. Phemex is offering a new Bitcoin Bonus for all traders to grab.
With the Phemex Deposit Dazzle, you can earn a crypto bonus of up to $2,000 in free BTC.
The best part is, the event is easy to access and basically anyone can meet the minimum deposit requirements.
What is the Phemex Deposit Dazzle?
The short story is that the Phemex Deposit Dazzle is a BTC giveaway. You can get bonus Bitcoin for depositing BTC on the platform.
You'll receive a trading bonus for depositing at least 0.1 BTC into a spot wallet, then transferring it to your BTC trading account.
The bonus varies depending on your net deposit, starting from $20 (for the minimum deposit of at least 0.01 BTC) and goes all the way up to $2,000 (for deposits of at least 2 BTC.)
Here is the complete deposit-reward scheme: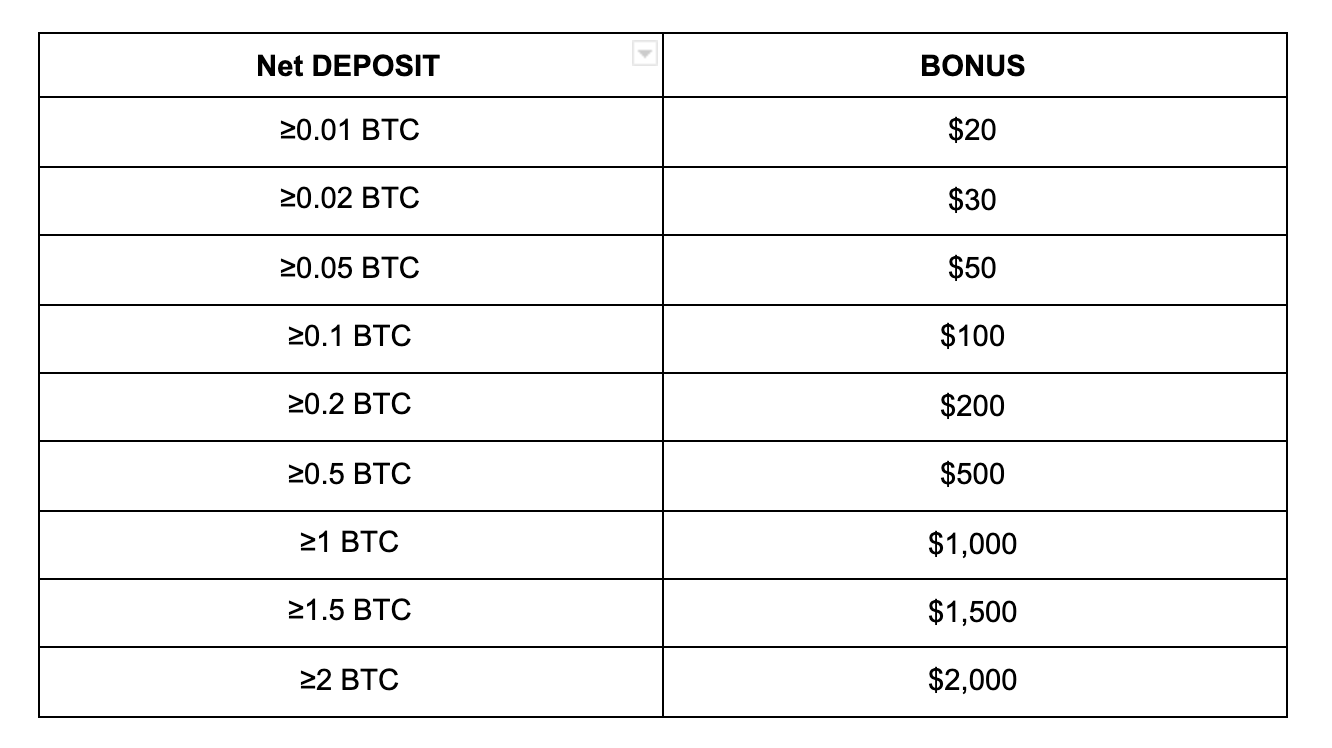 With this giveaway scheme, Phemex is sure to reward everyone who joins the event and makes a decent deposit. There are no losers - only winners.
How do I get the rewards?
The way to get the Phemex crypto bonus is by joining the Deposit Dazzle event.
Joining is as simple as can be.
You just have to log in to your Phemex account (if you don't have one, you can create one for free) then sign up for the giveaway on the event's page. The only step left is to deposit ≥0.01 BTC into your Spot Wallet, then transfer ≥0.01 BTC into your BTC Trading Account.
And that's it.
Although the process is simple and the rewards are guaranteed, do not take the event lightly. The Phemex Deposit Dazzle starts on August 23, and you must join before September 6 to be eligible for a Bitcoin bonus.
When the joining period ends, Phemex will calculate the rewards and distribute them on September 20.
Can I use my bonuses right away?
Once the Phemex Deposit Dazzle rewards are distributed, you can use them for trading contracts.
You should not attempt to withdraw your deposit before September 20 because doing so will diminish your reward. You also shouldn't withdraw the BTC reward you receive afterward because it is a trading bonus.
Instead, use it to trade contracts! Any profits you generate can be withdrawn or used to do whatever you like.
In the end, you'll only be incentivized to earn more, no matter what reward you receive from the event.
To stay up to date with Phemex's activity and events, follow them on Facebook, Twitter, and Telegram.