"Success doesn't come from what you do occasionally, it comes from what you do consistently." With the pillars of hard work and dedication, Arista crypto has begun to reach new heights, in this phase its users are playing a vital role by providing their trust and support to Arista.
The volatility of the cryptocurrency world is no secret to anyone. One day you could have one of the best crypto portfolios known to the world and the next the assets have lost most of their value. This is often the result of cryptocurrencies without a use case or a project in mind and people not purchasing for the long term.
There are many companies who set great examples of how presales can lead to massive success stories, and Arista is one of the most recent opportunities to join a project before it potentially increases in value.
Arista Token is an innovative cryptocurrency and a new system built upon three core components: Security, transparency and decentralization. To enable cross-chain crypto trading, as well as sourcing funding from a variety of liquidity sources so that trade and token swaps can be conducted at a competitive price, it is being established and developed.
The system will initially be administered by the management and our team but the team hopes to hand over complete control to the users so that they can enjoy every service properly.
Arista has proven to be a trustworthy and developing digital currency, and it has made its presale available to anybody who wants to take part in it.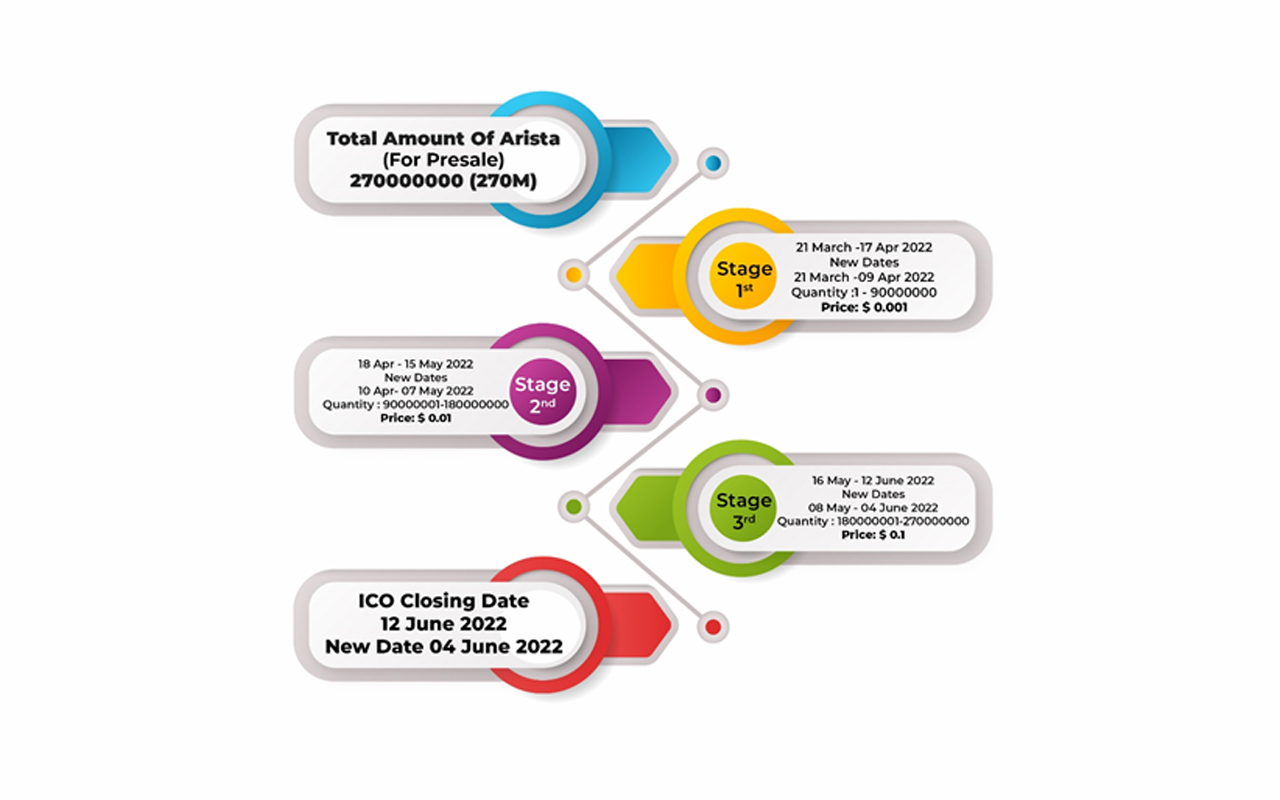 Mechanism of Presale (ICO Token Rate Forecast)
Arista started their ICO at a price point of approximately $0.001, and they have Total amount of 270000000 (270M) for presale purpose and they launched their ICO on 21 March 2022 06 AM GMT, and they have 3 stages for their ICO Presale.
Stage 1: 21 March -09 Apr 2022, New Dates: 21 March – 09 Apr 2022 Quantity: 1 - 90000000, Price: $ 0.001, which is sold out before time.
Stage 2: 18 Apr - 15 May 2022, New Dates: 10 Apr – 07 May 2022 Quantity: 90000001-180000000, Price: $ 0.01. Which is Live Now.
Stage 3: 16 May - 12 June 2022, New Dates: 08 May – 04 June 2022 Quantity: 180000001-270000000, Price: $ 0.1
Arista feels delighted and enthusiastic, after receiving so much attention from the people and for bringing more profit to its users they announce a reduction in second stage price which is $0.005. So, hurry up and go for Arsita Crypto.
Offer Price of ART (ARISTA): Valid from 13 April to 19 April 2022, Price: $ 0.005,
And already Arista gives 100x profit to their First Stage buyers, and their DEX launching price is $1 (PancakeSwap launching price is $1).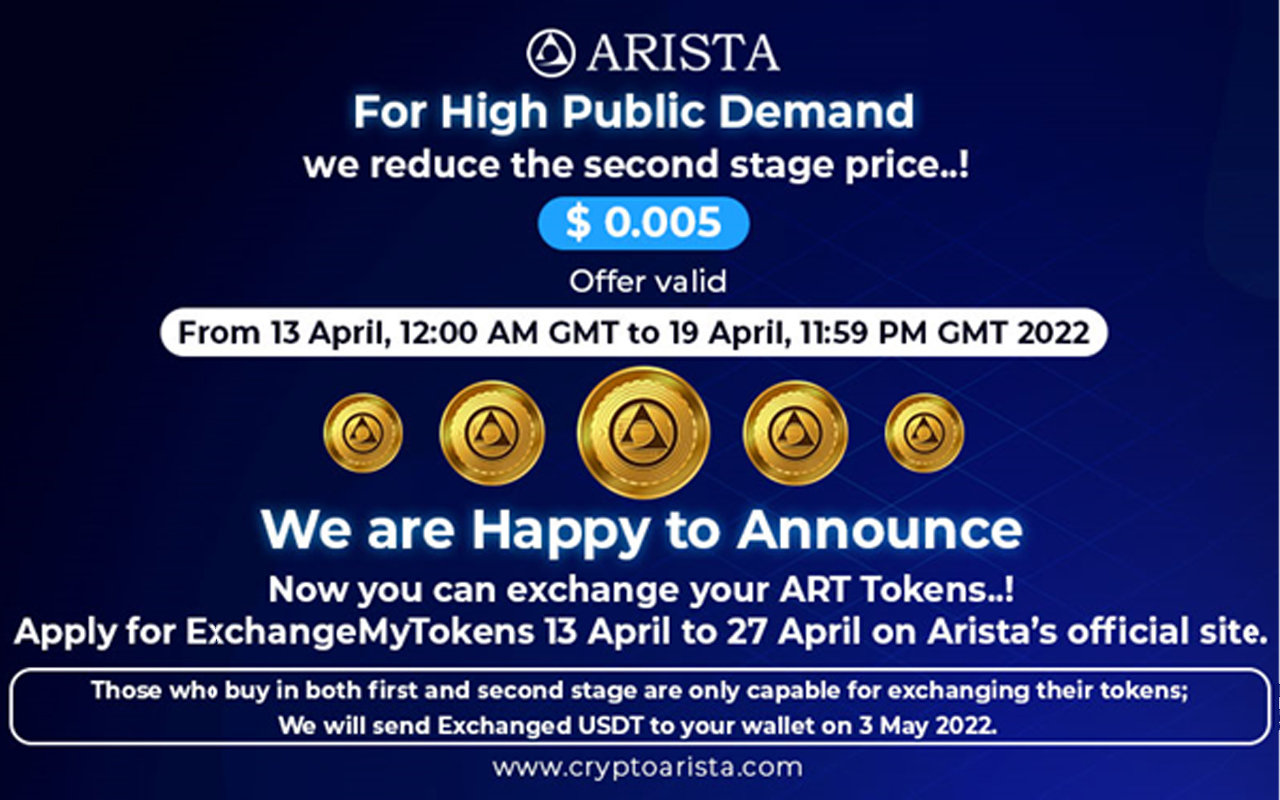 Arista Launching ExchangeMyTokens Platform
Here you can exchange ART Tokens to USDT pairs at a fixed $0.005 price. You can exchange only 35% of your total tokens from one wallet address. The buyers can easily apply for ExchangeMyTokens in between 13 April to 27 April on the official website of Arista Crypto. Arista Community will send Exchanged USDT to wallet on 3 May 2022.
Who can exchange ART Tokens? Those who will buy tokens from the first as well as second stage.
To exchange the tokens, you need to fill out a form which can be found at the link below.
Visit for Apply ExchangeMyTokens : https://www.cryptoarista.com/exchangemytokens-form/
Something big is coming in third stage of Arista.
In the last few years we have seen extensive blockchain implementations (even at the national levels) in this crypto world. Their demand is growing quite aggressively.
This is where Arista comes into play and provides a decentralized approach for managing and administering the benefit claims and disbursement of payments. In a very short span, they have taken onboard several insurance companies, benefits administrators, care organizations and employers,– which is a huge milestone!
Many investors are now investing in Arista Crypto as they are truly devoted to their work with full transparency and security. Now, more people are buying the Arista token and using it in their day today life.
For those who focus on the second stage of Arista, there is something special about the third stage of Arista.
Many institutions are showing their interest to buy Arista Crypto, because potential capital increase in the long term, and Arista have low transaction fees, quick transaction, liquidity and security, and they have presale offers which will be very useful for Institutions as they are looking into the future demands of the market.
Arista: The crypto that could become big in coming years, because Arista have liquidity, and interchangeability, globally, facilitating the legal and secure free flow of crypto and assets globally. The Future of Arista's projects mainly depend on its success. No information is intended, such as securities brokerage, investment, tax, accounting, etc..
Tokonomics of Arista
Tokonomics are an important aspect of the cryptocurrency ecosystem, allowing projects to prevent bad actors, create trust, and build a strong, long-term ecosystem.
The goal of tokenomic analysis is to understand the potential value of a DeFi project by considering all aspects of a token's creation and management including its supply, allocation, and distribution. Arista is so considerate about its duties and investment. The total supply was about 1000000000 (1B), which was further distributed among various categories like 27% for presale, 28% for Liquidity Lock For Aroo Exchange & Liquidity For Third-party Exchanges, 12% for Developers and Community, 12% For ARA Projects (Arapay,Araswap,Arachain(Ara-Blockchain)), 16% for events (Bonus Distribution, Staking Bonus, Marketing, Burning, Play To Earn, Web 3.0,Metaverse) and the last 5% was for the charity projects for the welfare of the people.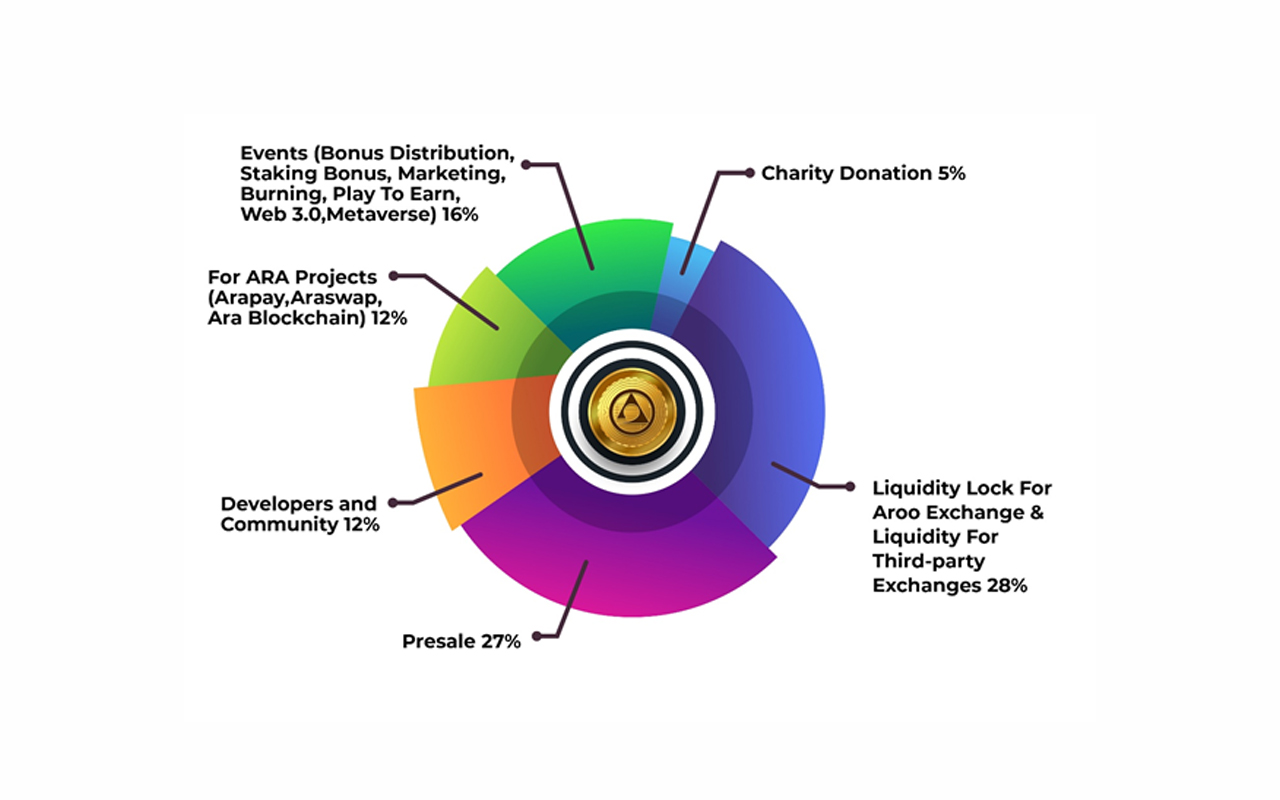 Our Strategy & Project Plans (Roadmap)
Our strategy involves 13 major steps:
1. The first step involves the generation of an appropriate idea which will be further processed.
2. Planning and research: It involves defining your objectives and scope, your goals and milestones (deliverables), furthermore the last consultation with experts is done in order to make surety.
3. Smart Contract Development: They are used to automate the execution of an agreement so that all participants can be immediately certain of the outcome, without an intermediary's involvement or time loss.
4. Smart Contract Audit, Main site update: The audit process for a smart contract focuses on the security of the code used for underwriting the terms and conditions in the smart contract.
5. Public Sale: Here an asset or service is launched in the market and is made available to all customers for purchase.
6. Launching on Pancakes Wap : Launching on PancakeSwap, liquidity lock for 10 years.
7. Coingecko and Coinmarketcap Listing
8. AraPay, AraSwap Launching
9. Listing on Top Three Exchanges
10. AraWallet Launching: For Storing and Stalking Of Arista
11. Aroo Exchange will start
12. Arista Blockchain Will Started
13. More Strategic Partnership and Collaborations Started: Here the company promotes and works on enhancing its networks for future investment.
Official Website links: https://www.cryptoarista.com/
ExchangeMyTokens: https://www.cryptoarista.com/exchangemytokens-form/