On Thursday, December 27, the CEO of Tron, Justin Sun, proudly announced that the Tron Foundation Facebook account now has gained over 800,000 followers. It would all be good if it were not for the fact that Justin Sun seems to have forgotten the promise he publicly made earlier this year: rewarding the owners of the first million Tron accounts with a 'considerable amount of TRX'.
This is great.?? https://t.co/UDssMNHH4z

— Justin Sun (@justinsuntron) December 27, 2018
Users: Justin Sun, where's the bloody TRX?
Some members of the Tron community, as usual, merely and humbly congratulate Tron and Justin Sun himself for this significant milestone. However, there are plenty of those who have reminded the Tron CEO that earlier this year he stated Tron would gain 1 mln accounts within a year and that this first million Tron account owners would receive a substantial amount of TRX as a reward.
Just recently, U.Today reported that Justin Sun had posted an invitation on Twitter for the owner of the 1-millionth account to contact him with a personal message or message the Tron Foundation account to receive his/her prize of $10,000. Sun even provided the wallet number of this person, stating that this offer is limited in time and will end soon.
?$10,000 to find the millionth user!

?Contact @Tronfoundation , you will get a gift worth of $10,000.?

?Retweet this and @ three friends, 5 users will get #TRON gift packages on Dec 28th.

?User's address :TWTZZv3C24sjmZALxk7cbE81bg2qK6NUXU

?Merry Xmas, everyone! #TRX https://t.co/u06q3WIOei

— Justin Sun (@justinsuntron) December 24, 2018
Tron is giving a Xmas present
Just the other day, U.Today reported that the newly launched TRXMarket exchange has brought its transaction fee down to zero. Back at the start of December, the fees there were as low as 0.1 percent but now TRXMarket is competing with the Robinhood app, which was the first to allow its users to trade crypto for free.
Tron community is expanding
Tron seems to be winning over many new followers and users at a pretty high rate. Recently, as was mentioned above, it reached 1 mln accounts. Now – over 800,000 followers on the world's biggest and most influential social media website.
However, the number of Justin Sun's followers on Twitter is also quite big – around 666,000. The number is considered ominous in European Christian culture but perfectly lucky for the Chinese.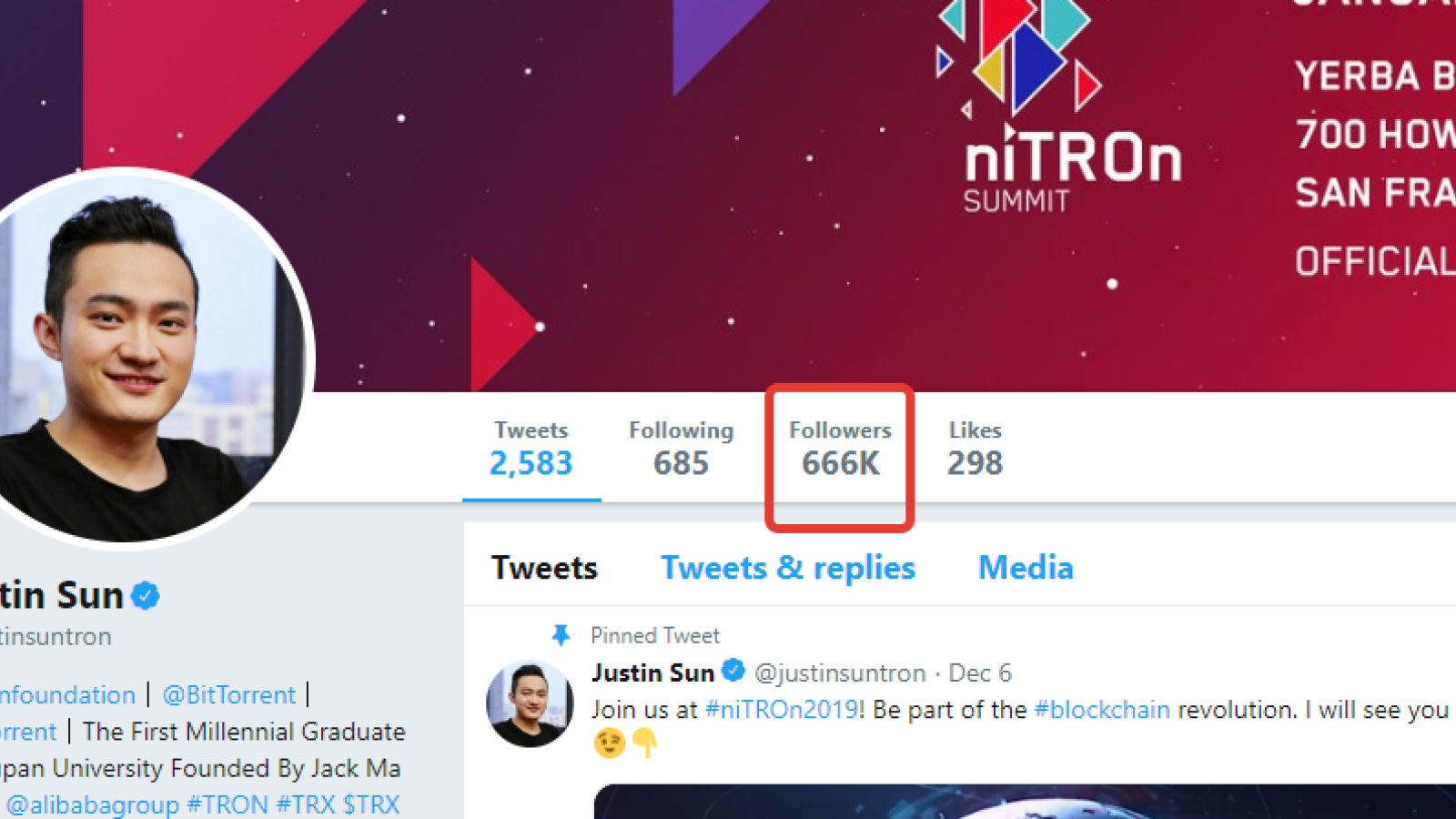 Thus, the Tron community is actively growing on all social media platforms and actively responding to all posts of the Tron Foundation and its CEO. Still, the question that many Tronics keep asking Justin Sun is, when will TRX go to the moon? This yet remains unanswered.