Saturday, December 29, keeps bringing cheerful news to crypto investors and traders, letting them watch the crypto market appreciate.
Ethereum rushes forward, USDT lags behind
If you look at the list of the top ten crypto coins, you will see that Bitcoin has grown 7.64 percent and is currently trading at $3,947 – that's nearly $60 higher than Friday night, as reported by U.Today.
Apart from the top major digital currency, the biggest gains at press time are being shown by Ethereum (+16.53 percent). Next comes EOS (+ 14.86 percent), followed by Bitcoin Cash (+14.29 percent).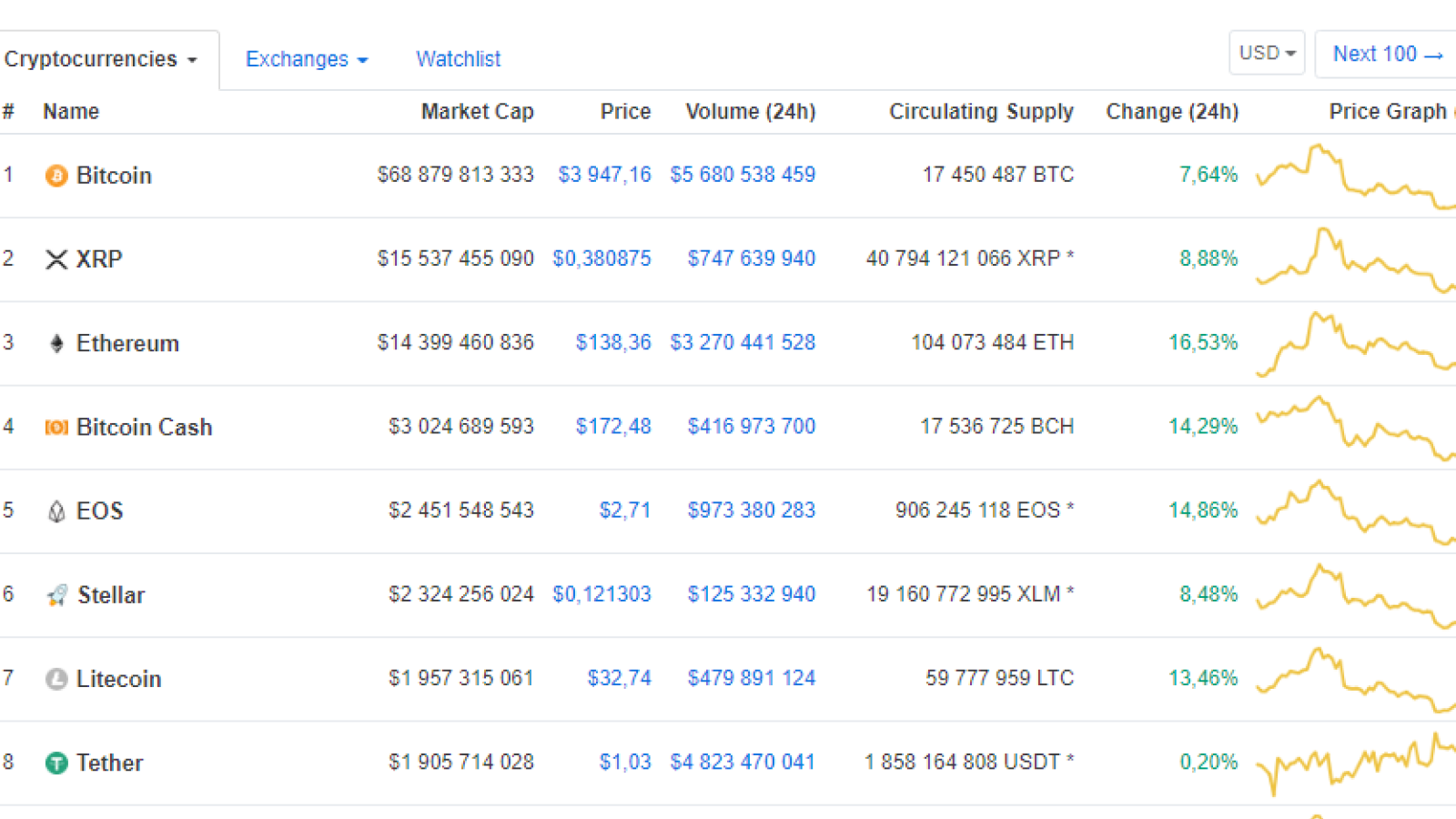 Bitcoin Cash, Litecoin are right behind
Yesterday's top gainer, Litecoin is showing a 13.46-percent growth today. Its current price is at $32.74, a little higher compared to yesterday's $32.12.
The coin that has risen the smallest so far is Tether (USDT), which last night was the only loser on this top-notch asset list.
At press time, Ethereum is going for $138.36.
Bitcoin Cash, even though it is behind ETH in terms of market cap, is trading at $172.48.
XRP has shown a rise of nearly 9 percent. Presently the market cap values of XRP and ETH are only $1 bln apart.
After this surge, just within hours, the total capitalization of the crypto market is back over $130 bln.
The word spread by analysts
The founder of Morgan Creek Digital Assets, Anthony Pompliano, who recently bet on digital assets to outperform the S&P 500 index within the next ten years, believes that the bullish rally that we see at the moment is a short-term one.
In his recent interview with CNBC, Pompliano expressed his expectations that Bitcoin may go down to the $3,000 mark in the near future to find the bottom. Still, he believes in the positive future of Bitcoin, hoping that after Bitcoin has fallen to $3,000, the crypto market will reverse completely.