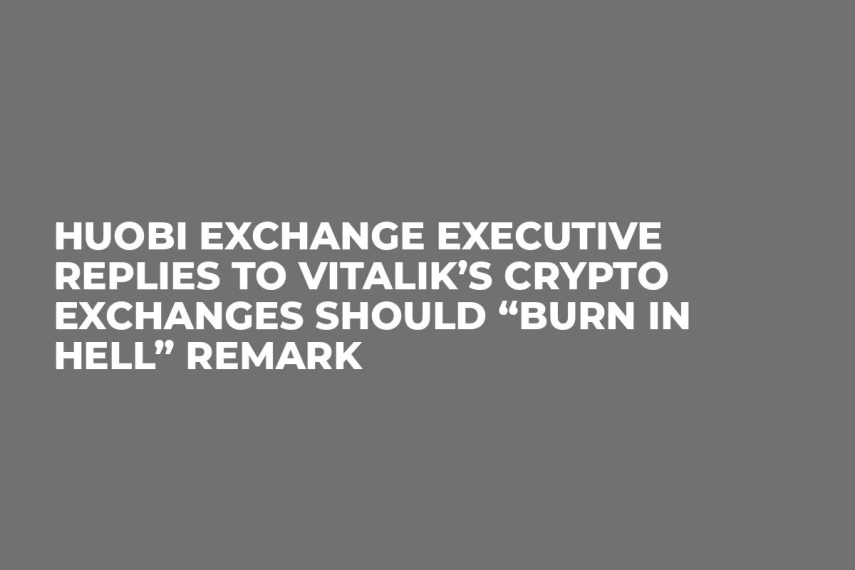 Cover image via U.Today
Josh Goodbody, CCO of Huobi UK, finds Buterin's remark visceral. He has stated that the world does not have to rid of centralized exchanges.
Huobi turning decentralized
Goodbody believes that both types of trading companies have their own good and bad points. He added that exchange reps always look out for all Vitalik's statements but this time he cannot agree with the crypto guru.
Josh Goodbody said that Huobi plans to become totally decentralized by means of a proprietary software. The platform has launched a contest among subcontractors globally to do this job for it.
Big traders prefer safe trading
The Huobi CCO believes that most difficult challenge for exchanges now is security. Recently this has become a very 'hot' topic after the centralized Bithumb and partly decentralized Bancor got hacked.
Goodbody reminded the journalists that Huobi has not been attacked for five years of its work. He is certain that exchanges one day will have to invest properly into security infrastructures in order to attract respectable institutional traders.
Setting money aside
Goodbody also mentioned that Huobi has been saving some of its trading profits since day one, making a fund to compensate its users' losses in case of a hack.
Whereas, Binance set up their SAFU (Security Asset Fund for Users) only after the recent hack took place, where the platform lost $45 mln.
Goodbody is convinced that all self-respecting exchanges should do the same to protect their users.