During its development, Tezos' concept was shaking the crypto community, which led to an outstanding ICO that raised $232 million USD and the following spike in prices. Unfortunately, that rally didn't last long and soon after a number of listings, XTZ started to drop due to the bear market and the project's internal issues.
Lately, the crypto space has been shifting direction after a long downtrend. As the environment becomes better and the future more promising, we need to choose projects with good potential to capture growth. Is Tezos one of them? In this article, we will evaluate the present state of the XTZ market and its perspectives towards the end of 2019. Let's dive into it!
Technical analysis of the current XTZ price
On the daily timeframe, we can see that XTZ went as high as $1.16 at the end of March. However, there was not enough fuel to drive the price up, so it corrected and reached the bottom at $0.82, lower than the crucial line of resistance at $1.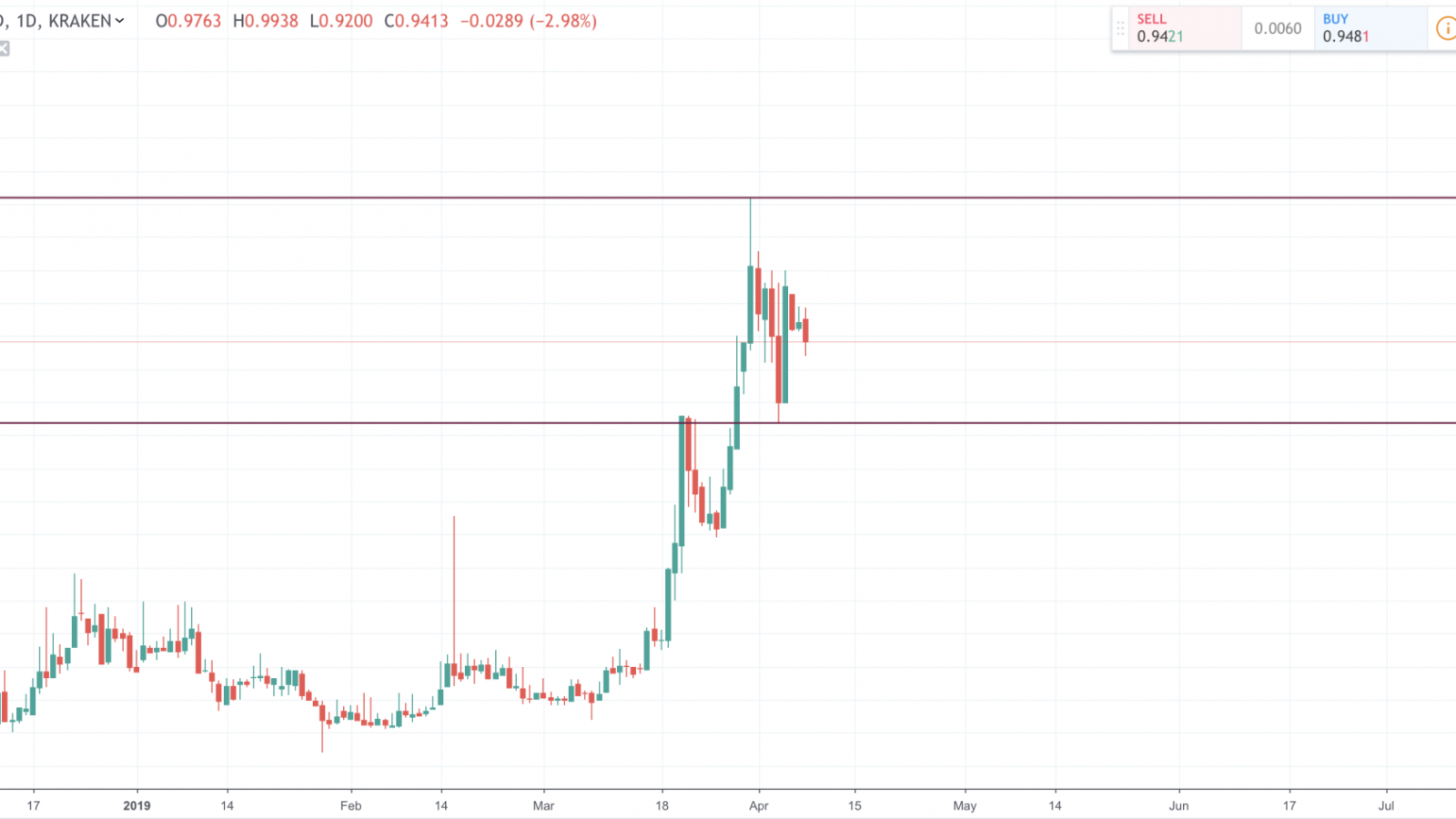 Fortunately, the bulls managed to bring Tezos past SMA200 & SMA50 for several times on the hourly, but they are still struggling with going past the major level of resistance. In the short to mid-term perspective, Tezos looks relatively stable and possibly bullish. The price moves in a range between ~$0.9 and ~$1.1. At the same time, Bollinger Bands have adjusted and Stoch RSI is still within its bounds, close to crossing. Considering the disposition of SMA 50 on daily near $0.9, the XTZ support is currently strong enough to keep the price from significant decline.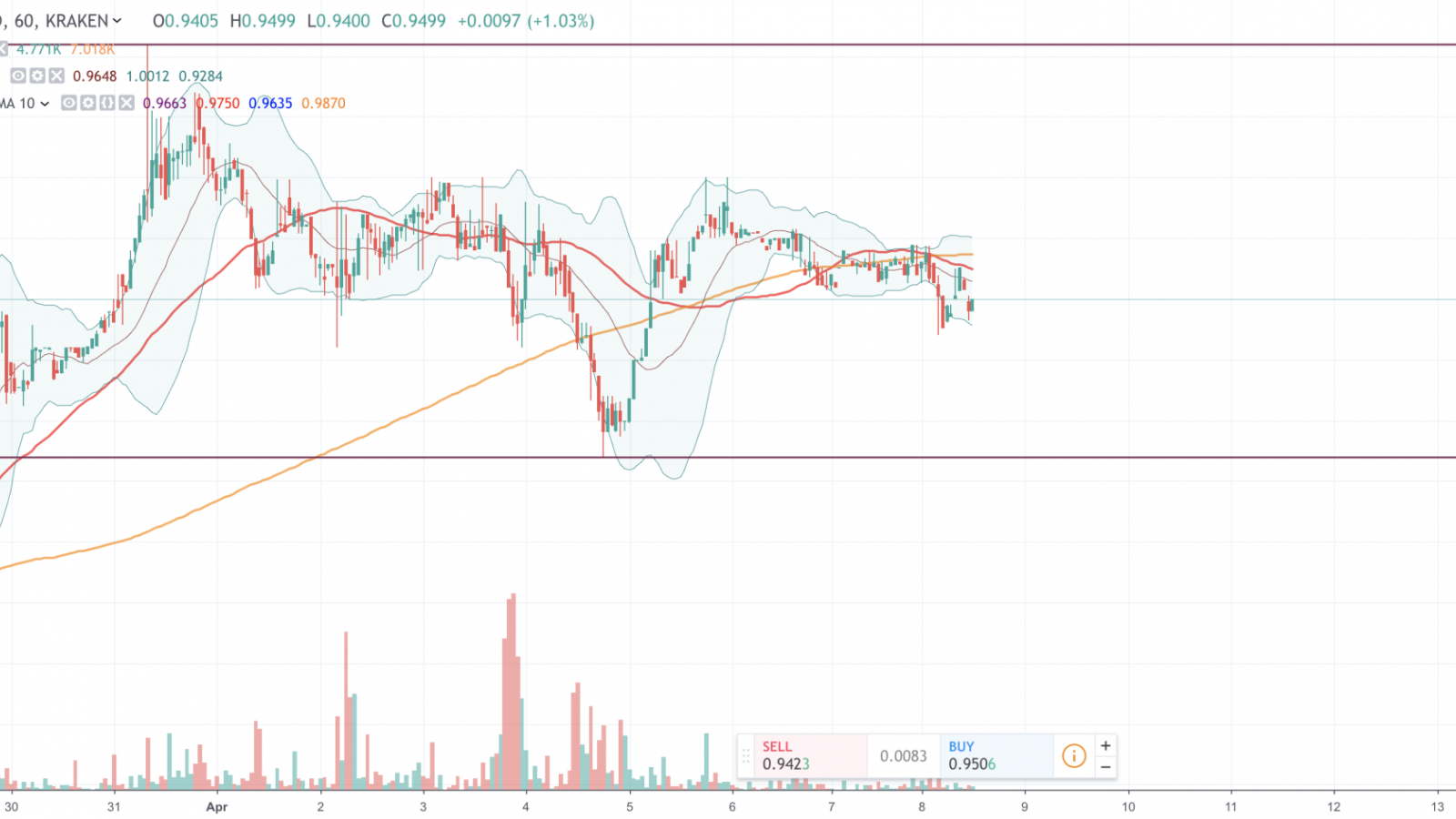 Tezos' price is going past moving averages for 12 and 26 days, if it's going to be held above these levels, this is a strong case for the bulls to proceed the previously marked high at ~$1.4. Further growth depends on whether the price will go higher than the downward trending line. Otherwise, XTZ will continue to go down, as the Elliot Wave Oscillator is bearish.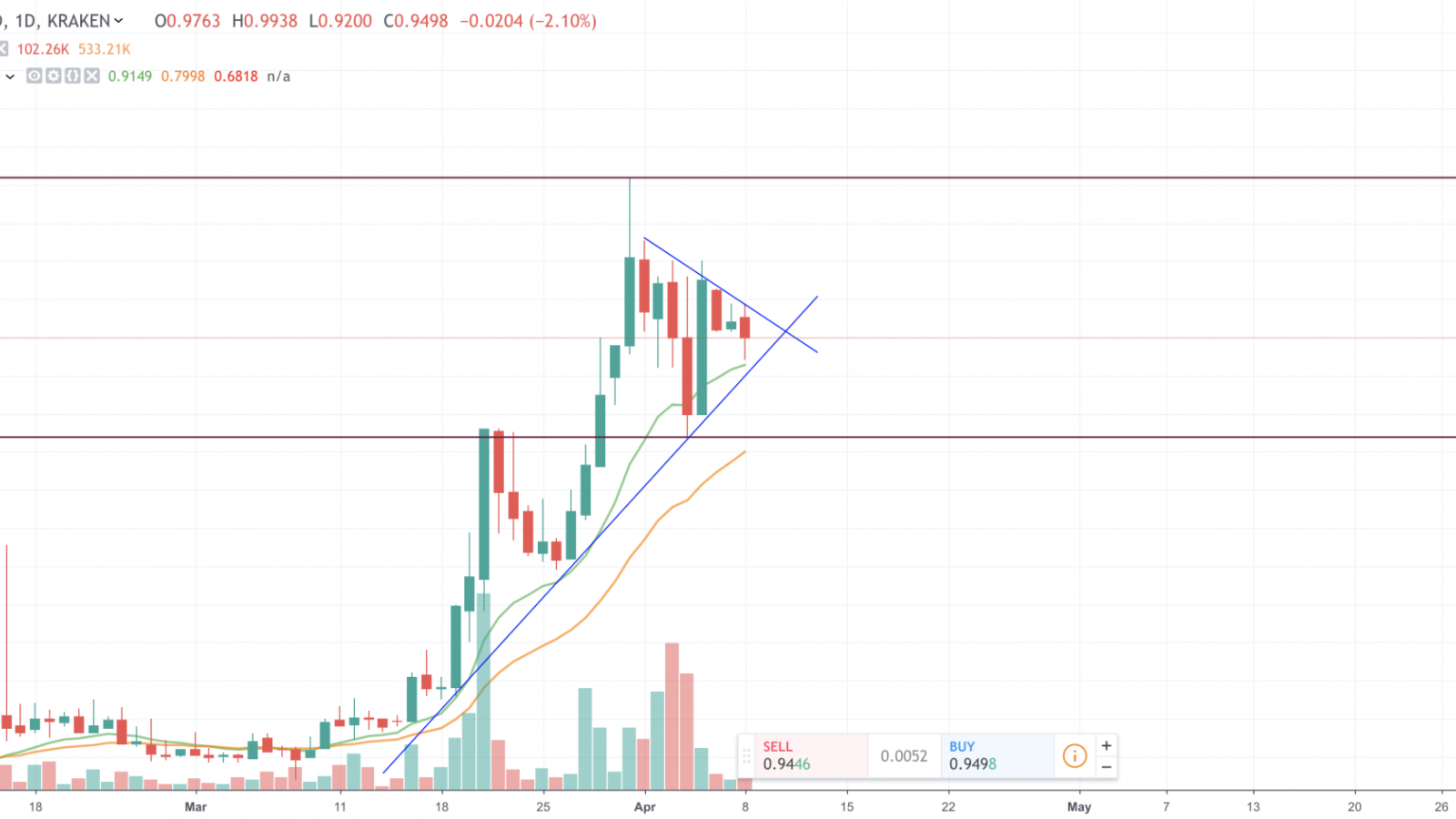 What do charts tell us about Tezos in 2019?
Since the beginning of 2019 Tezos has been moving within a price tunnel, which resulted in growth for more than 100% from the $0.4 price that started on March 16, 2019. However, this wasn't due to the coin's past performance, which was far from great in 2018. As the whole market rebounds, Tezos follows the pack.
Although similar to the case with the majority of other altcoins, XTZ moves along with Bitcoin (except for it does so approximately 2 times faster), we can indicate crucial price levels to give you an outlook on what can happen to the price of Tezos if Bitcoin grows, falls, or keeps relatively stable.
On the weekly chart, we see that Tezos seems to have bottomed at around $0.4, which is also close to the levels of its initial listing in 2018. This represents strong support, which can hold XTZ from moving lower in case Bitcoin experiences another slump or surge.
On the other hand, if Bitcoin continues to slowly ascend or keeps moving within a narrow price range, Tezos might go up to its key zones of resistance. The first zone is between $1.1 and $1.45, which is followed by a choppy zone until $2.5. The next major resistance is on $5.5, and then there is a low-volume zone with the ATH on ~$12. In order to go higher by the end of 2019.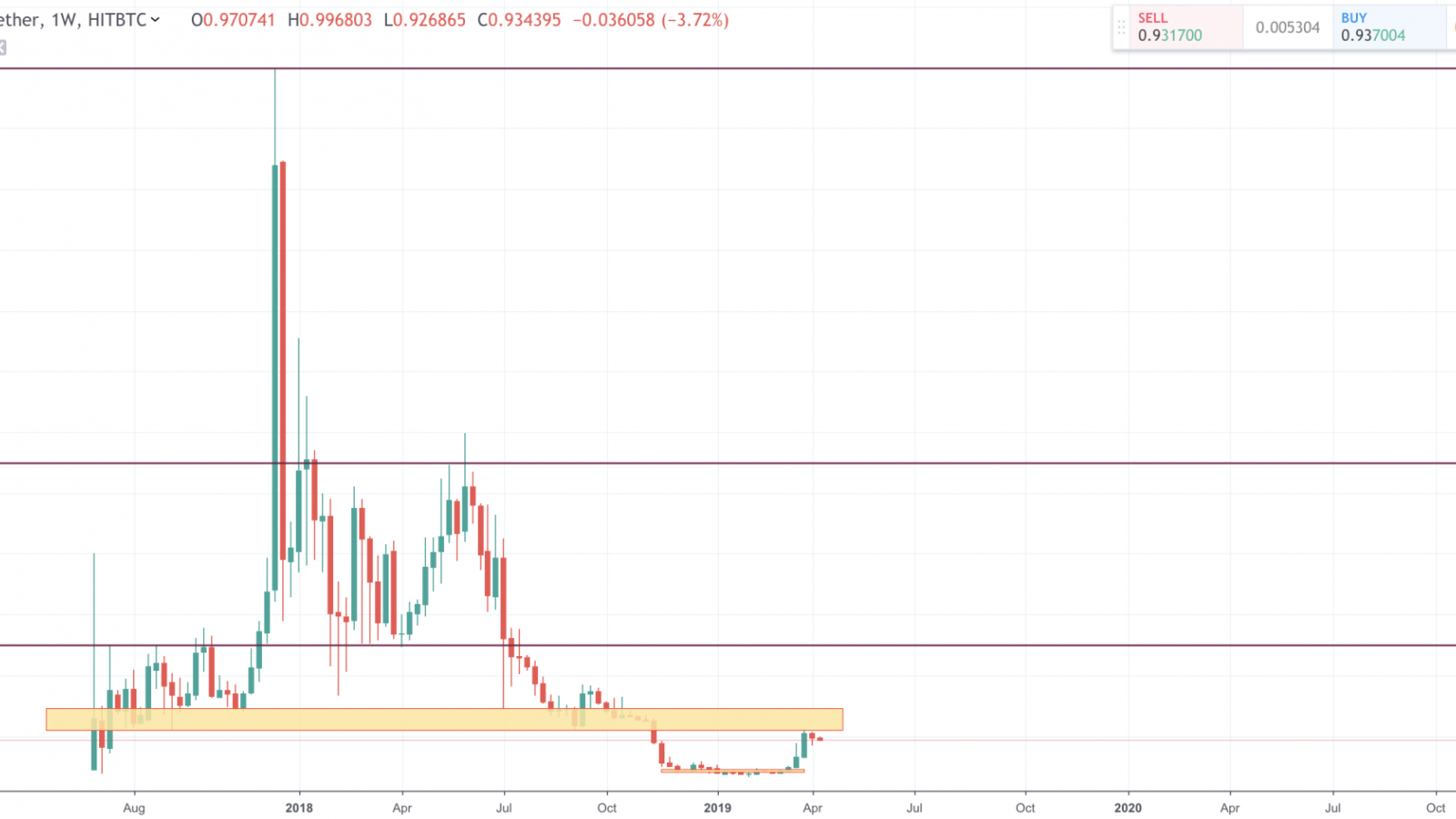 Tezos will need the blend of Bitcoin's relative stability, strong bullish indicators and hot news about fundamental improvements. Currently, there is not enough momentum for significant growth, MACD is rising, but it's not yet positive, and RSI is neutral on the weekly timeframe.
Fundamental factors that can influence Tezos rates
Tezos gained its popularity because it took a novel approach to the project's development. Instead of making endless hardforks, the XTZ team proposed digital commons to be in charge of arranging gradual improvements for the platform. In addition, the Tezos team introduced formal verification and incentives for developers to ensure complete decentralization. Considering the uniqueness of such an approach, Tezos definitely looks like a candidate for the top 10 on CMC.
Not so long ago, Tezos rates spiked more than 18% because of the news about launching a new platform for institutional investors, designed by the Coinbase team. The staking service of Tezos will allow receiving income from crypto, based on the PoS algorithm. It's worth noting that Tezos is the first PoS-based coin to be supported on Coinbase. The exchange developers promise yearly returns of ~6,6% on Tezos. They also reassure potential investors by claiming that all of the coins will be stored on insured cold wallets.
Binance showed its interest in XTZ as well, by adding it to its Trust wallet and planning to implement the staking mechanism before Q3, 2019. Hence, with the help of Tezos, Binance users will be able to both earn dividends and take part in the network's governance.
In 2018, Tezos Foundation announced that a portion of its funds will be dedicated to hiring more than 1000 developers for supporting the XTZ network. The financial help was to be provided to certain institutions that train software engineers.
The Tezos Foundation is proud to announce that it is committing funding to train at least 1,000 new Tezos-focused software developers in 2019.
As we see, Tezos has a lot going on to support its further price movement. Focus on the development and decentralized improvement along with the interest from large industry players and institutions provide a positive fundamental background for growth.
Expert outlook on the future of XTZ
The opinions on XTZ are mixed. For instance, WalletInvestor website's analytics claim that Tezos will experience a hard crash to $0.086 by 2020. On the contrary, TradingBeasts projects growth for Tezos starting from the latter half of 2019 and the upper limit of $1.33.
Cryptoground went an extra mile and used algorithms and neural networks to project the future of Tezos. The results were in favor of TradingBeasts' point of view; the price projection was that it should grow more than 4 times in the second half of 2019.
Analysts became more cautious in their claims after the prolonged bear market in 2018. At the beginning of last year, the price predictions were far more optimistic and in some cases pictured astronomic values for XTZ that would look unrealistic in terms of the current environment.
Summary
To sum up, Tezos is a very promising crypto project that is now trying to recover from the bear market together with the rest of the coins. Among its strength is the marvelous ICO with a huge amount of funds raised, attention from prominent market players & institutional investors, focus on developers, and relatively strong technical indicators. On the other hand, we still don't know whether the recent uptrend is going to last and with the correlation in crypto, Tezos may experience further downfall if BTC starts making big moves. On the bright side, if BTC skyrockets we shall enter the alt season, where Tezos may surpass its ATH.