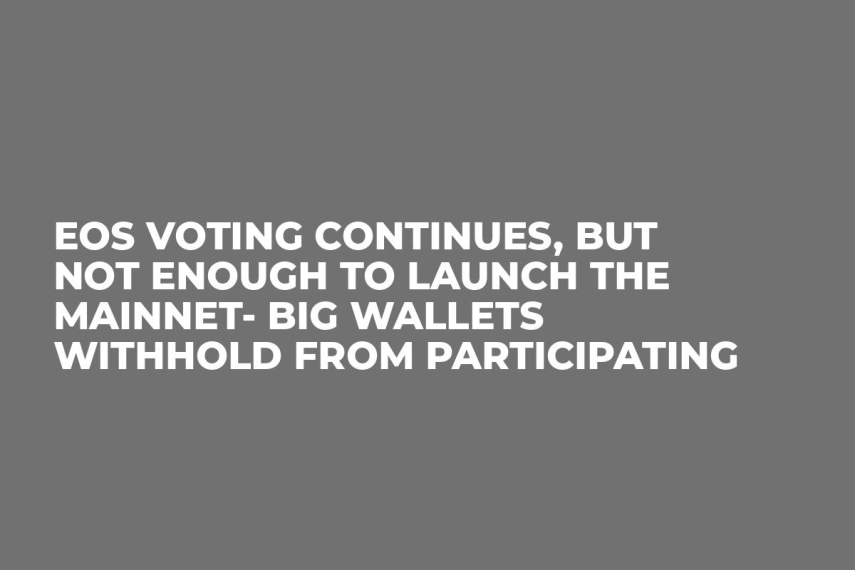 Cover image via U.Today
The EOS voting is still taking place; the community is choosing Block Producers. This is necessary for the new network to launch and 21 BPs are required. 15 percent of all EOS community have to vote. So far just 3.45 percent coins have taken part in the voting.
It gets complicated
The reality shows that in the case of EOS decentralization is only slowing everything down. For this reason, a centralized appointed Block Producer has been set, anonymous so far, to control the voting. The process is also taking place through specially created, centralized websites.
At the moment a lot of EOS tokens are stored on exchanges and all those who possess any of these coins are allowed to vote. Yet, tokens cannot be used for three days if they are unstaked.
Currently, 150 mln tokens are required to finish the voting. Basically, it could all be done by big wallets within minutes, and their owners could choose the BPs they want. However, it is not happening. Besides, among the BP candidates there is one that remains anonymous and some most active members of the community are warning against voting for this candidate until it identifies itself.
Please be aware when voting! Research on who you are voting for!

DON'T VOTE for #eosflytomars until they identify themselves. Right now they are ranked #4 and they got no website and we don't know much about them.https://t.co/dvdYo7zK6v#EOS #Alert #BlockProducers #eosio #vote

— Francis Perron (@francisperron) June 11, 2018
Market situation
The EOS rate has been stable amid the recent red wave in the market. The currency has only dropped to $11.32 and trade is going at very high volumes. One possible reason for this is that EOS is among those assets which are not traded against Bitcoin. Most frequently this coin is paired with Tether (USDT), which lets this coin move directly against USD-linked positions.
Market forecast
For the time being BlockOne has not yet voted and many others are not taking part in voting either, despite the fact they hold about 10 percent of the EOS supply.
At the moment, the community considers the voting to be successful, so when it finally gets to the necessary 15 percent, the market price of the coin may well go bullish.