March seems to have been a very lucky period for EOS: it has grown significantly and continues making its way to the top. Will it continue evolving in the short term? Let's find out what TradingView crypto experts think about it. Read EOS price predictions to find out which trading decisions to make, what to expect from EOS, and which tendencies will rule the crypto market.
EOS is trading perfectly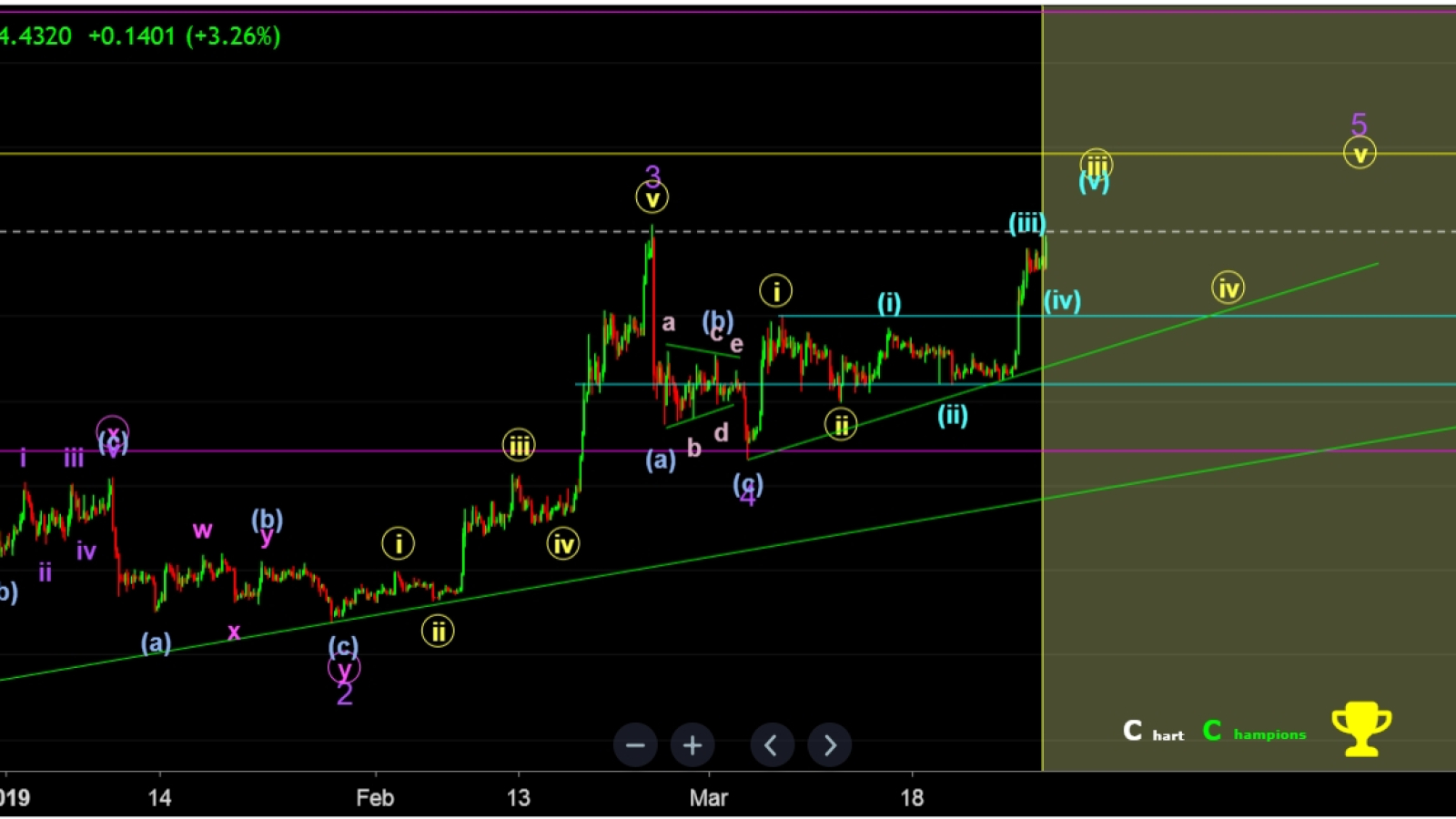 EOS price chart from ChartChampions
EOS has been trading perfectly for over a month now since it broke up from the ascending triangle on the 18th of February and hit its target to $1. What we see on this chart is perfect Fibonacci relationships with the Elliott Wave count. Although EOS is getting close to another major resistance, we can still enjoy one more wave up before a serious ABC correction.
EOS will reach $5 target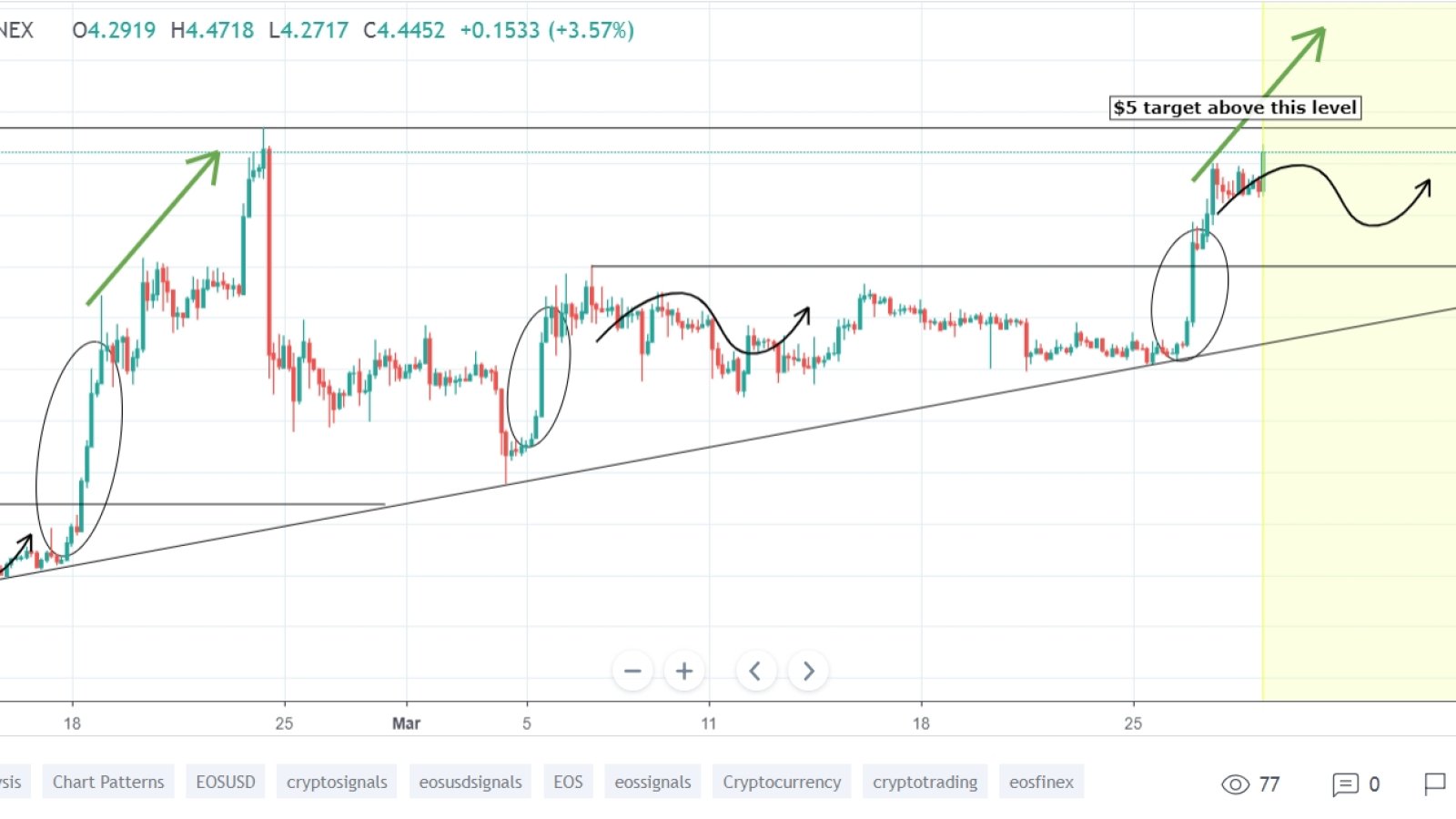 EOS price chart from TradingShot
If we look at the 1-day EOS price chart, we can see there's an Ascending Triangle. Such strong spikes since February have most of the times turned into sideways trading until the next one (hence holding the Ascending Triangle) with the exception of one (green arrow).
Although things are going pretty well, if EOS stumbles on its way to the top, the $4.00 level can be turned into support. Here's what user TradingShot says:
"I expect a similar pattern, but if the 4.5417 Resistance breaks, 5.0000 will be my target."
According to their EOS price forecast for a longer term, EOS will continue being bullish until reaching $8 mark (might happen sometime between May to July 2019).
EOS/BTC – healthy trading is around the corner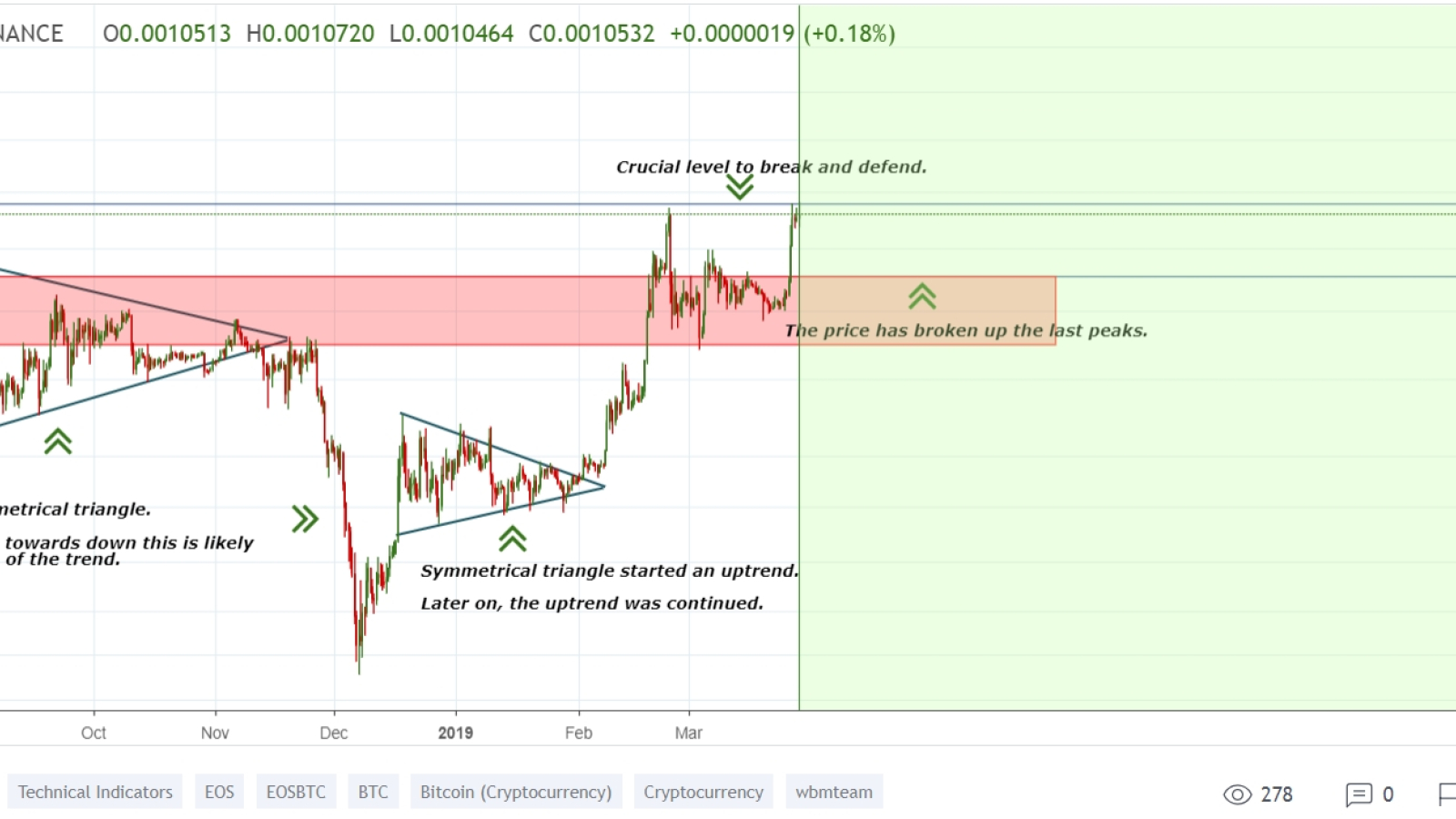 The EOS/BTC trading pair also looks peculiar. WBM_Team has noticed very healthy movements on EOS. The price has broken up the last peaks and there's a trend reversal on it. The symmetrical triangle could have been observed for 2 times: once it was bearish, and the second one was bullish.
There was a great bounce up till the level of 0.0010800, breaking up all the previous peaks. So, after small correction, the strong bullish mode has been established. Now, to enter safely the position the price has to break up the level of 0.0010800. There are great chances for that.
Possible further price levels are:
0.0012500

0.0014000

0.0020500

0.0024000
Keep tabs on EOS and don't enter before we break 0.0010800 for good.
Bears trying to regain control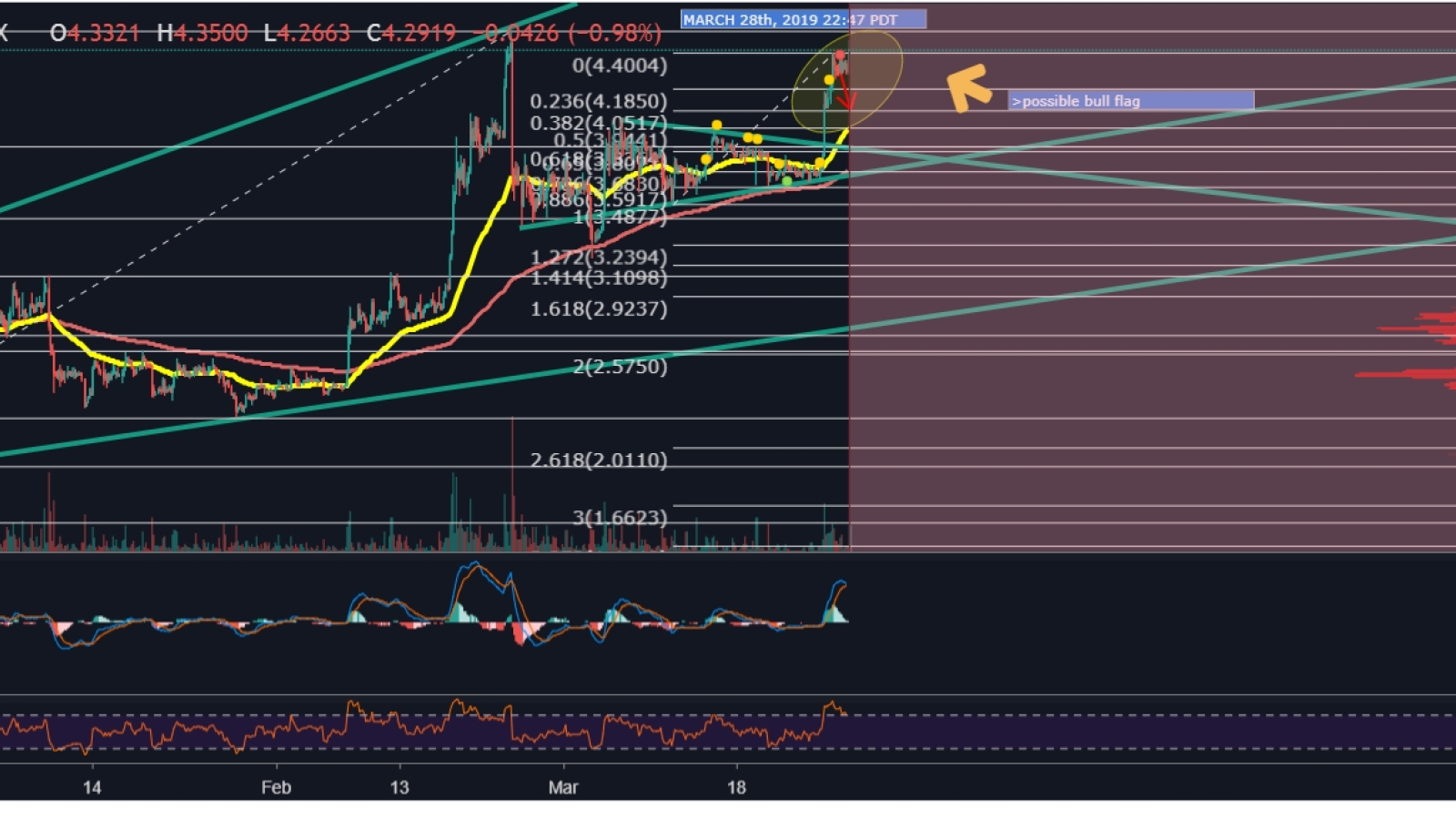 EOS price chart from aboveandphom
EOS continues fighting an impending retracement. Because we keep consolidating at this range after an impulse move, this can almost be classified as a bull flag or a potential bull pennant if you look on lower time frames. How to trade EOS in such conditions? Here's what aboveandphom recommends:
"I personally like to swing trade, so I'm basing movements off the 4HR charts but lower timeframes like the 15m –which is significant in crypto—tell a different story. Be that as it may, my position remains, but I may close out earlier than $4.05. I am now looking to take profit at $4.20 and then take more profit at $4.10 with the likelihood of re-longing at $4.00. There is still a possibility we move up from here and if that's the case, I am just going to short at $4.80 even though that may take some time."
All in all, EOS doesn't seem to show any bearish signs: slowly but steadily, it moves forward and keeps reaching new heights. Keep track of buy signals and don't let your profit opportunities slip by.
Disclaimer: The opinion expressed here is not investment advice – it is provided for informational purposes only. It does not necessarily reflect the opinion of U.Today. Every investment and all trading involves risk, so you should always perform your own research prior to making decisions. We do not recommend investing money you cannot afford to lose.